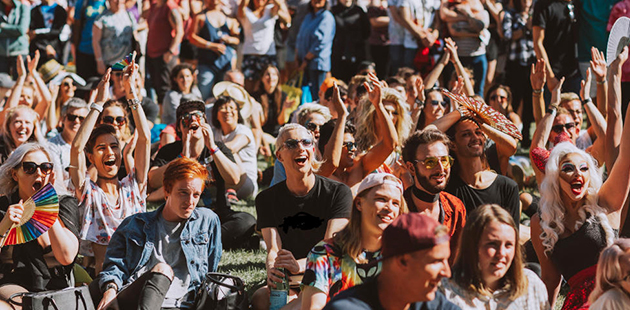 Melbourne's Midsumma Festival returns in all its wild finery this summer, bringing a wave of pre-eminent queer arts and cultural festivities from 14 January to 4 February 2018. Since its debut in 1988, the three-week event has celebrated the LGBTQIA+ communities, offering audiences a diverse display of spectacular performances, visual arts and social events.
The open-access festival features another stellar line up in 2018 with more than 170 events which promote and develop queer arts including theatre, dance, film, music, drag, sport, talks, visual art and parties. Key events include Carnival on Sunday 14 January, and Pride March on Sunday 28 January. The Australian Pride Network takes a look at twelve events worth checking out:
Au Cause Célèbre
Brunswick Mechanics Institute: 25 January – 3 February
Fresh from a premiere season at Melbourne Fringe, emergent cabaret queen Ms CeCe Rockefeller brings her sophomore work of oversaturated, tragically romantic melodrama to Midsumma with a high-gloss finish. Recounting a first love that unfolds in the wake of her sister's disappearance, Au Cause Célèbre discovers a young Cecilia with stars in her eyes, carried off on a whirlwind romance destined for disgrace, heartbreak and devastation. With a voice that has been described as "a glorious fusion of Kate Bush and James Blake," Ms CeCe Rockefeller captures the profound vulnerability of being in love – and losing it! – furnishing a space for sincerity and sentimentality on the contemporary drag scene.
Cry: Jessi Lewis
Abbotsford Convent Courtyard – Friday 19 January
A visual collaboration between portraiture and performance, which challenges the notion of masculinity, while transgressing the realms of sexuality. Is it still seen as a weakness for boys to cry, and what role can art play in progressing this ongoing shift in perception. The exhibition will include familiar faces from Melbourne arts and queer communities. In extension this work hopes to strike conversation that extends further than the gallery space, and act as a celebration of fragility, weakness and the ability to remain open to others.
The Cocoa Butter Club: Midsumma Special
Fairfax Studio – Arts Centre Melbourne: Friday 19 January
A special cabaret and performance event curated by queers of colour. The Cocoa Butter Club is a spirited soiree of unapologetic, oh-so-hot-right-now performers who are Indigenous and/or people of colour. Everyone is welcome to come revel in a variety night of stunning burlesque, performance art, dance, drag and more. Hosted by Nayuka Gorrie and Davey Thompson, the evening will feature stunning burlesque, live music, performance art, dance and drag performances including Zelia Rose, Mojo Juju, Garret Lyon , Krista Herrington, Raina Peterson & Govind, Illini Kabalan, Bu Lutiu, Olivia Leilani Crawford & Iki San, Wãni, and Anadiction.
Dolly Diamond's 15 Year Anniversary Gala
The Athenaeum Theatre: Saturday 3 February – 3.00pm & 8.00pm
n 2018, Dolly Diamond celebrates 15 years of performing in Melbourne's world-famous LGBTIQ arts festival. And this year Dolly is delighted to join forces with the Melbourne Gay and Lesbian Chorus, Footscray-Yarraville City Band and the Melbourne Rainbow Band for a celebration of song, laughter and Pride Dolly is also thrilled to be bringing back together some very special guests for this milestone event. Reuniting members of Australia's favourite a'cappella vocal group for the first time in two decades, Dolly Diamond proudly welcomes back The Phones for a one-off reunion!
Ego Jacket
The MC Showroom: 31 January – 4 February
By the age of 25 Phillip had lost 60 kilos, come out, had abdominoplasty, dealt with heartbreak and staged two shows about it, so you could say that all his troubles are behind him … right? With an upbeat attitude Phil prepares to stage a rock show for the ages, but can he sustain this newfound confidence? Do psychological scars ever really heal? Join Phillip Lee Curtis on an audio visual journey of self-discovery in this rock cabaret extravaganza that explores anxiety, self-sabotage and the deep internal void. Featuring a soundtrack of largely Australian classics, including songs by INXS, Nick Cave and Tina Arena, Phil lays bare truths he's kept hidden even from himself. But will it be too late? How much can the ego handle?
Leather Lungs: Son of a Preacher
Hares & Hyenas: 18 – 21 January
Pray for hymn, or he'll prey on you. This daring deviant crosses with religion, fist fights with sexuality and discos with dildos. Leather Lungs will penetrate and titillate your unholy soul. A master of falsetto and stiletto, Leather Lungs marries savage wit, outrageous innuendo and alien vocal range, to drag you screaming with laughter to the ball where devils dance. Leather Lungs will arouse you into a world of pleasure, amusement, distraction and challenge. Fresh from your boyfriend's bed, it takes a lot of blood, sweat and queers to get to this stage and this son of a preacher has broken his shackles. Be ready to resurrect your comfort zone.
Neon
Artboy Gallery: 18 – 27 January
Dave Behrens vivid and expressive works explore the themes of identity and often use the colours of the rainbow as his way of acknowledging his identity as a gay man. For his second solo exhibition, Dave will be experimenting with fluorescent paint and light also to create a visual feast for the senses and this, combined with his rigorously patterned works, will be a must-see event during the Midsumma Festival season.
RIOT
Fairfax Studio – Arts Centre Melbourne: 31 January – 9 February
A disorderly cocktail of party and politics, and a love-letter of hope to the future, RIOT is a thrilling, uplifting and unforgettable night out. Dance, drag, circus and comedy rolled into a gut-punch of wild theatre, RIOT infuses the excitement of a variety show with the energy of the dance floor, setting your hearts and minds ablaze. The all-star Irish cast includes Queen of Ireland Panti Bliss. This theatrical explosion will set hearts soaring and pulses racing, with a surprise local performer each night.
Steven Sumpton: Through the Screen
Mister Morris Gallery: 19 January – 8 February
In his debut solo exhibition, photographer Steve Sumpton recreates moments from his life that have helped shape the way he identifies with the LGBTQIA+ community. Manipulating visual cues to separate himself from these vivid, Crewdson-esque images, he invites you to connect with his work without restriction. Showing us that it isn't the moments that define us but the ways and intensities in which we experience them, this series brings an awareness to the role perception plays on our identity.
Strangers in Between
fortyfivedownstairs: 24 January – 11 February
Shane has fled his family and is seeking refuge in Sydney's Kings Cross. Confused and naive, he meets two strangers: the ultra-urban Will, who offers brotherhood, sex and something unexpected; and Peter, a fifty-year-old gay man whose mother is dying in a nursing home. With their help (or hindrance), Shane grapples to reconcile himself with events from his past. But how can he move on when he can't even use laundry powder? Directed by Green Room nominee Daniel Lammin, this timely new production features a stellar cast including Simon Burke, Guy Simon, and  Wil King. A funny and moving Australian classic by Tommy Murphy, playwright of Holding the Man
Summer Treats
The Melba Spiegeltent: 18 & 19 January
Directed by James Welsby and featuring performers Karen From Finance, James Andrews, Beni Lola, Hannie Helsden and Valerie Hex. YUMMY has become something of a phenomenon that looks set to leave its mark on Australia's stages. Tailor-made for a special Midsumma season, Summer Treats! sees the cast of legendary drag cabaret YUMMY in a seasonal spin off of 60s surf rock and salacious sunburns.
We Were There
Chapel Off Chapel: 23 January – 4 February
This new verbatim play offers a unique and untold perspective of HIV and AIDS. In contrast to the existing canon of Australian HIV and AIDS-themed plays, this project directly explores the lives and experiences of women – the sisters, mothers, wives, friends, medical professionals, and volunteers who cared for those dealing with AIDS-related illnesses and hears from women living with HIV today. Devised from interviews collected over the past two years with voices from across the nation, this verbatim theatre project honours these living monuments by celebrating their efforts and sacrifices and remembering those no longer with us. Conceived and developed by Dirk Hoult and Gavin Roach, the play features Leah Baulch, Perri Cummings, Jodie Levesconte, and Olivia Monticciolo.
The 2018 Midsumma Festival runs 14 January – 4 February. For more information and full program, visit: www.midsumma.org.au for details.
Image: The Crowd at Midsumma Carnival – photo by Jackson Grant