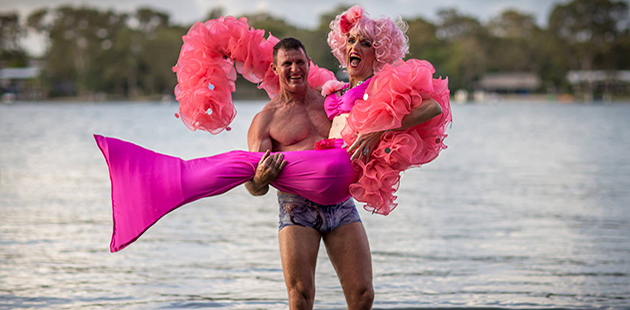 Queensland Cabaret Festival: 2 – 26 February 2022
Breathing new life into the cabaret canon, Cabfest '22 calls up from the depths the misfits, the oddballs, the eccentrics… the brilliant, the bright, the beautiful, and bewildering… After years of holding our breath, it's time to let it all out and come back into the light, onto the shores of creativity, music and storytelling…
---
Port Douglas Hot & Steamy Festival: 24 – 27 February 2022
Come and party with us for the Port Douglas Hot & Steamy Festival in Queensland, Australia! Whether travelling from overseas or locally, the event has been developed by a group of gay Port Douglas business owners and friends who want to showcase our stunning town and region to our broader community.
---
Sunshine Coast Mardi Gras: Saturday 26 February 2022
The 2nd annual Sunshine Coast Mardi Gras showcases the sunny LGBTIQ+ community and celebrates diversity in a family-friendly event. So get ready to party into the night at the famous Aussie World and hosted by some of the regions top personalities, with a range of performances lined up from drag queens and singers to the Police Marching Band. And local market stalls and a full range of activities for the kids.
---
Noosa Rainbow River Festival: March 2022 (dates to be confirmed)
Noosa will once again be bringing the Queens back to Queensland with the Noosa Rainbow River Festival. The highlight of the weekend is The River Parade – hire a boat, bring your own boat or join the official Rainbow Party Boat on a 2 hour fun-filled adventure up and down the scenic Noosa River and canals.
---
Brisbane Queer Film Festival:  March 2022 (dates to be confirmed)
Brisbane Queer Film Festival is a highlight of the Queensland queer community calendar, since its first outing in the year 2000. The festival aims to present, indulge and empower LGBT, intersex, queer and gender diverse film, filmmakers and screen content.
---
Gold Coast Pride Festival: 20 – 27 March 2022
The Gold Coast will come alive with a range of events for young and old as part of the second Gold Coast Pride Festival. The Gold Coast is home to many gay, lesbian, bisexual and transgender people – but until now there have been few opportunities for the community to gather.
---
MELT: Festival of Queer Arts and Culture (Brisbane Powerhouse): 20 – 30 May 2022
MELT: Festival of Queer Arts and Culture raises the curtain on another program of spectacular events, dazzling performances and provocative discussions at Brisbane Powerhouse. Now in its sixth year, this sizzling festival is designed to celebrate LGBTIQ+ arts and culture to promote visibility and inclusivity among the queer community. For 11 days, MELT will inject both sparkle and substance into Brisbane Powerhouse, with a mix of theatre, cabaret, music, visual arts, storytelling, forums, panels and conversations.
---
Cairns Queer Film Festival: May – June 2022 (dates to be confirmed)
The Cairns Queer Film Festival (CQFF) is a celebration of queer films for lesbian, gay, transgender and all queer people in Cairns and Tropical North Queensland. It is a social event for the community, by the community that enables the inclusion of all LGBT+ people. Connecting through films and endeavouring to educate while supporting the health and well-being of all.
---
The Annual Queen's Ball Awards Gala (Brisbane): Saturday 25June 2022
With a history spanning 60 long years, the Queens Ball is Queensland's premier awards night for people of diverse genders and sexualities and the longest continuously running event of its kind in the world. 2022 "theme" to be announced soon!
---
Better Together Conference: 17 – 18 June 2022 (Cairns & Port Douglas)
Celebrating respect and difference, Better Together will bring LGBTIQ+ people and their allies together to shine a spotlight on what is already happening in our community and discuss the issues that matter through a series of participatory workshops and presentations. (please note date change!)
---
Brisbane Festival: 2 – 24 September 2022**
Step into Brisbane Festival, a Brightly Brisbane program of events and experiences in 2021, inviting the city to re-emerge, connect, celebrate and shine brightly under Brisbane's expansive skies. The uniquely Brisbane program celebrates the city with an awe-inspiring line-up of premiere productions, cutting edge collaborations, commissioned new work, award-winning performances, surprising venues and the brand new BOQ Festival Hub. Brisbane Festival will fill the city with art, music, dance, theatre, cabaret and joy for 23 days this September.
---
Gold Coast Queer Film Festival:  September 2022 (dates to be confirmed)
Curated by Gold Coast Film Festival, the five vital films to be screened showcase the lived experience of LGBTIQ culture and politics, both its pleasures and what has to be fought for. Lovers of drama and history, comedy and politics are invited to join us at HOTA for this year's Queer Film Festival.
---
Brisbane Pride Festival: September 2022 (dates to be confirmed)
Now in its 29th year, Brisbane Pride Festival is Queensland's largest and Australia's third largest LGBTIQA+ event, attracting more than 10,000 festival-goers over a four week period each year.
---
Brisbane Pride Fair Day: September 2022 (date to be confirmed)
Last year Fair Day hosted some 5,000+ festival goers, who transformed New Farm Park into an energetic and fun-filled loud and proud playground. Complete with live performances, exciting and enticing market stalls, delicious street food and community participation activities, Fair Day delivers on atmosphere and engagement.
---
Cairns Pride Festival: 8 – 23 October 2021
Whether you live in Cairns or anywhere in FNQ, or are thinking of visiting this tropical paradise, we want to welcome you to join us for the 15th annual Cairns Pride Festival with events planned across the calendar for our Lesbian, Gay, Bisexual, Transgender, Intersex, Queer, Sistergirl and Brotherboy people, communities and allies.
---
Cairns Pride Festival Fair Day: Sunday 17 October 2021
LGBTIQ+ Sistergirl and Brotherboy communities come together at the Tanks Arts Centre for a fun and fabulous day celebrating diversity, PRIDE & resilience all in an inclusive, safe environment. Featuring an exciting line-up of entertainers, interactive stalls, food vans & lots more!
---
Northern Exposure (Brisbane):  14 – 17 October 2021
Hosted by Brisbears – the event will celebrate the diversity of our Bear family. It doesn't matter what body shape you are, how much hair you can grow or what mix of chromosomes you have, if you are a gay male bear or male admirer please come party with us and celebrate everything that makes the bear community so special to us all.
---
Wynnum Fringe Festival: November 2022** (dates to be confirmed)
Brisbane's home of fringe is back for an even bigger and better year when it takes over the Brisbane bayside streets in November 2021.
---
Woodford Folk Festival: 27 December 2022 – 1 January 2023** (event to be confirmed)
The Woodford Folk Festival is held annually over six days and six nights – beginning each year with the iconic Opening Ceremony and closing with the spectacular showcase, the Fire Event on New Year's Day. More than 2,000 local, national and international, artists, musicians and presenters put on over 438 acts to an audience of an estimated 132,000 people. The festival experience is deep, rich and colourful. It is based on a vision of inclusive and creative community, culture and tradition passed through generations, expressed through story and ceremony.
---
If your festival or event is not listed above, and you would like to submit for consideration, please send an email to: reception@australianpridenetwork.com.au Your festival or event must be not-for-profit and primarily coordinated by those who identify as LGBTIQ. (Events organised by individuals or commercial entities will not be considered)
Image: Geoff Marshman and Melony Brests at the Noosa Rainbow River Festival (supplied)
Note: ** festival contains significant LGBTIQ content