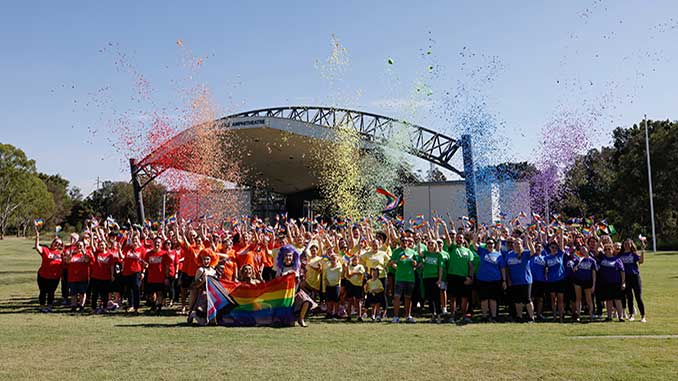 Port Douglas Hot & Steamy Festival: taking a break in 2024!
Come and party with us for the Port Douglas Hot & Steamy Festival in Queensland, Australia! Whether travelling from overseas or locally, the event has been developed by a group of gay Port Douglas business owners and friends who want to showcase our stunning town and region to our broader community.
---
Noosa Rainbow River Festival: March 2024 (date to be confirmed)
Noosa will once again be bringing the Queens back to Queensland with the Noosa Rainbow River Festival. The highlight of the weekend is The River Parade – hire a boat, bring your own boat or join the official Rainbow Party Boat on a 2 hour fun-filled adventure up and down the scenic Noosa River and canals.
---
Queensland Cabaret Festival: March 2024 (dates to be confirmed)
Leave your comfort zone and step into a cabaret inspired world of live music, storytelling and creativity… The Queensland Cabaret Festival asks you to take one step beyond – into the intimate sphere of the brilliant, the bright, the beautiful, and bewildering… Cabaret is the original metaverse – where theatre and music collide – a playful, shared space where individuality and uniqueness are celebrated through story and song.
---
Brisbane Comedy Festival:  April – May 2024**(dates to be confirmed)
Comic musings, side-splitting stories and tear-inducing tales… Brisbane Comedy Festival returns in 2024, bursting at the seams to host a hand-picked selection of the funniest folk in the country.
---
Cairns Queer Film Festival: May – June 2024 (dates to be confirmed – currently on a sabbatical)
The Cairns Queer Film Festival (CQFF) is a celebration of queer films for lesbian, gay, transgender and all queer people in Cairns and Tropical North Queensland. It is a social event for the community, by the community that enables the inclusion of all LGBT+ people. Connecting through films and endeavouring to educate while supporting the health and well-being of all.
---
Gold Coast Pride Festival: June 2024 (date to be confirmed)
Spend the day celebrating Pride on the Gold Coast. Macintosh Island Park comes alive with Fair Day,  Drag  Pageant and After Party. Wear your brightest rainbow colours to the beach as we stroll together along the foreshore of Surfers Paradise Main Beach in the Beach Parade.
---
Moreton Bay PrideFest: Saturday 9 June 2024 (date to be confirmed)
Welcome to Moreton Bay's biggest LGBTIQAP+ celebration boasting a star-studded line-up. On Saturday 9 June 2024, Pine Rivers Park will come alive with rainbow flags, glitter, and all things fabulous, as we introduce the first-ever Moreton Bay PrideFest hosted during World Pride month.
---
Sunshine Coast Mardi Gras: Saturday 9 June 2024 (date to be confirmed)
The 4th annual Sunshine Coast Mardi Gras will showcase the sunny LGBTIQ+ community and celebrates diversity in a family-friendly event. So get ready to party into the night at the famous Aussie World and hosted by some of the regions top personalities, with a range of performances lined up from drag queens and singers. And local market stalls and a full range of activities for the kids.
---
Out and About: Bilo Rainbow's Fun in the Sun (Biloela): June 2024 (date to be confirmed)
Bilo Rainbow are keen to celebrate Pride month with the LGBTQIA+ community in the Banana Shire. Biloela Lion's Park will come alive with a relaxed family friendly atmosphere complete with live busking, market stalls, face-painting and lawn games. With the help of The Rabbit Hole Coffee & Cafe we have VIP Picnic grazing packages available for those who want to really get into the picnic atmosphere
---
Queen's Ball (Brisbane): Saturday 16 June 2024 (date to be confirmed)
With a history spanning 60 long years, the Queens Ball is Queensland's premier awards night for people of diverse genders and sexualities and the longest continuously running event of its kind in the world.
---
The Rangebow Festival: 10 – 13 August 2023
The Rangebow Festival takes place annually primarily across the Sunshine Coast Hinterland communities of Maleny, Montville, Flaxton and Mapleton. The festival returns with 30 events over four big days this August including a number of brand new community events including theatre performances, film premieres, immersive experiences, family events and more.
---
Brisbane Festival: 1 – 23 September 2023**
One of Brisbane's most anticipated event of the year, bringing people together as they awake from their winter slumber for an explosion of arts performances and experiences. Brisbane Festival is unlike anything else you can experience in the world. The festival redefines what an International Arts Festival looks and feels like, staying ahead of the game and bringing the next generation with us.
---
Gold Coast Queer Film Festival:  September 2023 (dates to be confirmed)
Curated by Gold Coast Film Festival, the films to be screened showcase the lived experience of LGBTIQ culture and politics, both its pleasures and what has to be fought for. Lovers of drama and history, comedy and politics are invited to join us at HOTA for this year's Queer Film Festival.
---
Brisbane Pride Festival: 1 – 30 September 2023
Now in its 33rd year, Brisbane Pride Festival is Queensland's largest LGBTIQA+ event, attracting more than 10,000 festival-goers over a four week period each year. Brisbane Pride Festival is committed to improving the health and wellbeing of all LGBTIQ+ people and communities to live well and free from all forms of discrimination.
---
Brisbane Pride Rally and March: Saturday 23 September 2023
The Rally and March is a powerful expression of unity and a testament to the strength of our community. Join us as we march together, demanding progress and positive change. The Rally and March is more than just a parade; it's a platform for advocacy and social change. We come together to address important issues affecting the community. With the worrying rise in anti-trans rhetoric, and the Voice to Parliament referendum just around the corner, it's just as important we are heard now!
---
Brisbane Pride Fair Day: Saturday 23 September 2023
Fair Day is a celebration of diverse genders and sexualities, where the LGBTIQ+ community and allies come together for a day of fun and inclusivity. Join us for a day filled with performances, live music, cultural showcases, and more. Discover a variety of food vendors offering delicious eats and browse through a marketplace with crafts and LGBTIQ+ merchandise. Additionally, engage with business and government as they showcase what they have to support our community.
---
Big Gay Day: Sunday 1 October 2023
Brisbane's biggest and best rainbow festival is back for 2023 for its 23rd instalment featuring musical acts, drag extravaganzas and so much more, all in support of local LGBTQIA+ charities.
---
Northern Exposure (Brisbane):  18 – 22 October 2023
Celebrating 30 years, Northern Exposure returns for 2023 t0 celebrate the diversity of our Bear family.
---
Cairns Pride Festival: October 2023 (dates to be confirmed)
Whether you live in Cairns or anywhere in FNQ, or are thinking of visiting this tropical paradise, we want to welcome you to join us for the 16th annual Cairns Pride Festival with events planned across the calendar for our Lesbian, Gay, Bisexual, Transgender, Intersex, Queer, Sistergirl and Brotherboy people, communities and allies.
---
Cairns Pride Festival Fair Day: October 2023 (date to be confirmed)
Cairns Pride Festival's Fair Day is at the wonderful big open green space that is Fogarty Park this year! Fair Day brings you a wonderful, colourful day of culture, stalls, entertainment, dog show, a bake-off competition, chill out spaces, food, connection spaces and more! Come and re-connect, remember and have a chat about Pride in to the future. Bring your families, friends, chosen families and fur babies along throughout the day.
---
MELT: Festival of Queer Arts and Culture: 11 – 26 November 2023
Brisbane's forward and fearless annual celebration of queer art, artists, allies and ideas is back for an eighth edition with a vibrant and eclectic 2023 program. Featuring ground-breaking home-grown music artists alongside international sensations, provocative and hilarious theatre, exhibitions showcasing exquisite photography, textile art and installations as well as a book launch and talk, MELT will take over Brisbane Powerhouse this November.
---
Wynnum Fringe Festival: 15 November  – 3 December 2023**
The award-winning Wynnum Fringe celebrates non-mainstream arts, entertainment and cultural experiences taking place in the bayside suburban precinct of Wynnum. It creates venues from under-used public and private spaces,  presenting a program of both ticketed and free arts and cultural events that appeal to a wide range of audiences, ages and backgrounds.
---
Woodford Folk Festival: 27 December 2023 – 1 January 2024**
The Woodford Folk Festival is held annually over six days and six nights – beginning with the iconic Opening Ceremony and closing with the spectacular showcase, the Fire Event on New Year's Day. More than 2,000 local, national and international, artists, musicians and presenters put on over 400 acts to an audience of an estimated 132,000 people. The festival experience is deep, rich and colourful. It is based on a vision of inclusive and creative community, culture and tradition passed through generations, expressed through story and ceremony.
---
If your festival or event is not listed above, and you would like to submit for consideration, please send an email to: reception@australianpridenetwork.com.au Your festival or event must be not-for-profit and primarily coordinated by those who identify as LGBTIQ. (Events organised by individuals or commercial entities will not be considered)
Image: Launch of the Moreton Bay PrideFest (supplied)
Note: ** festival contains significant LGBTIQ content