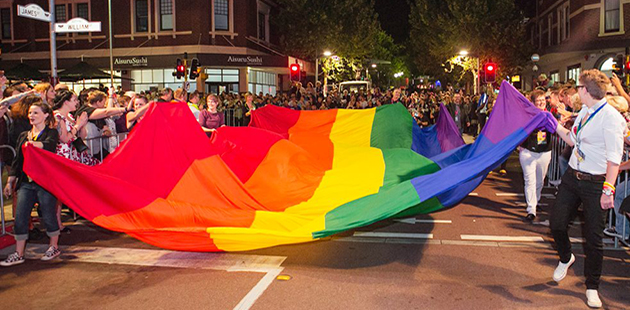 Fringe World: January / February 2019**
Fringe World is one of the fastest growing events in the Southern Hemisphere and the largest annual event in Western Australia. The 2018 Festival played host to more than 750 shows at over 130 venues and performance spaces spread across Perth and further afield in local communities and neighbourhoods.
---
Busselton Pride: Saturday 24 March 2018
To be held at the ArtGeo Cultural Complex, this will be the City of Busselton's first ever pride event. It will play host to some fabulous entertainment including Drag Queens, Burlesque, Performing Arts, Bands and headlining the event will be The Tommyhawks.
---
Perth International Queer Film Festival: 12 – 18  September 2018
Building on the success of the first 2 years, Perth International Queer Film Festival will screen 9 sessions over 7 days – featuring a range of the best queer films from around the world with premier short and feature films.
---
Pridefest: October / November 2018 (dates to be confirmed)
Pride WA has been an integral part of the Western Australian community since 1989. It grew out of a community movement protesting laws that actively discriminated against members of the LGBTI community, to evolve to incorporate a festival and events calendar.
---
Perth Pride Fairday: October 2018 (date to be confirmed)
Fairday is an annual event making up part of Pride WA's PrideFEST. Feast on a selection of international cuisine while perusing wares from local community vendors and learning more about local LGBTQI organisations. It's the perfect hybrid of picnic and party.
---
Perth Pride Parade: November 2018 (date to be confirmed)
The extravagant Pride parade will be a highlight of this years' PrideFEST with the community going all out to celebrate their freedom. With a brand new route through Northbridge, the Pride Parade is guaranteed to bring thousands to the streets in a rainbow sea of colour, celebration and happiness.
---
If your festival or event is not listed above, and you would like to submit for consideration, please send an email to: reception@australianpridenetwork.com.au Your festival or event must be not-for-profit and primarily coordinated by those who identify as LGBTIQ. (Events organised by individuals or commercial entities will not be considered)
Image: Pride WA Parade
Note: ** festival contains significant LGBTIQ content