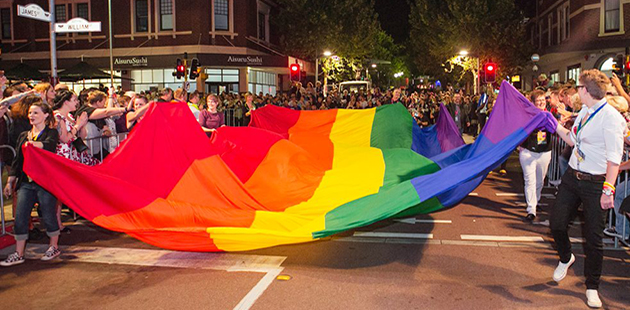 Fringe World: 15 January – 14 February 2021**
Fringe World is one of the fastest growing events in the Southern Hemisphere and the largest annual event in Western Australia. The 2020 Festival played host to more than 700 shows to choose from – offering everything from theatre, comedy, caberet, circus and more at over 150 venues all over Perth and Regional WA.
---
Perth Festival: 5 – 28 February 2021**
Perth Festival has been disrupting and celebrating Perth and Western Australia for over 65 years. It is Australia's premier curated multi-arts festival and one of the greatest in the world, known for commissioning major new works, celebrating the unique qualities of Perth and engaging diverse audiences.
---
Albany Pride: 12 – 27 February 2021
Albany Pride is determined to be rural Western Australia's premier Pride Festival, and no matter where you are, we want you to come down to Albany and see what our glorious little city has to offer: we may be able to boast some of WA's most spectacular views, but we reckon we can also boast a fabulous Queer community that is looking forward to showing the state what we have to offer.
---
Broome Mardi Gras Festival: 24 – 28 February 2021
Broome Pride was created to encourage and produce community events that promote social inclusion for all LGBT+ as well as their family and friends in the Kimberley and surrounding Region.
---
Busselton Mardi Gras: Sunday 20 March 2021
Busselton Mardi Gras (formerly Busselton Pride) was established in 2017 by a community group of volunteers and has developed into an annual LGBTQI+ pride festival and parade which takes place in regional Western Australia. Busselton Mardi Gras celebrates the LGBTQI+ community and creates opportunities for networking in a regional area. Our events engage, entertain, inspire and provide cultural, social and other meaningful benefits to LGBTQI+ people and the broader communities.
---
PrideFEST: November 2021 (dates to be confirmed)
PrideFEST is Western Australia's ultimate celebration of all things queer – and a state wide celebration of the LGBTQI+ community: our history, our presence and our future. Pride WA encourages the LGBTQI+ community and the broader WA community to come out in force and show its support for the groups, performers, community and its events during PrideFEST 2020. Despite these turbulent times, our community can still show its Pride!
---
Perth Pride Fairday: November 2021 (date to be confirmed)
A fun and friendly day outdoors for all the family. Fairday boasts a variety of market stalls, food and drinks on the green with entertainment from some of the best performers within Western Australia's LGBTQI+ community.
---
Perth Pride Parade: November 2021 (date to be confirmed)
The Perth Pride Parade is the flagship event on the PrideFEST calendar. The largest parade in Western Australia, the Perth Pride Parade sees the LGBTQI+ community take to the streets of Northbridge to celebrate diversity in all forms, queer culture and the artistic creations of the community. Whether you're a participant or spectator, the Pride Parade is guaranteed to bring thousands to the streets in a rainbow sea of colour, celebration and happiness.
---
If your festival or event is not listed above, and you would like to submit for consideration, please send an email to: reception@australianpridenetwork.com.au Your festival or event must be not-for-profit and primarily coordinated by those who identify as LGBTIQ. (Events organised by individuals or commercial entities will not be considered)
Image: Pride WA Parade
Note: ** festival contains significant LGBTIQ content