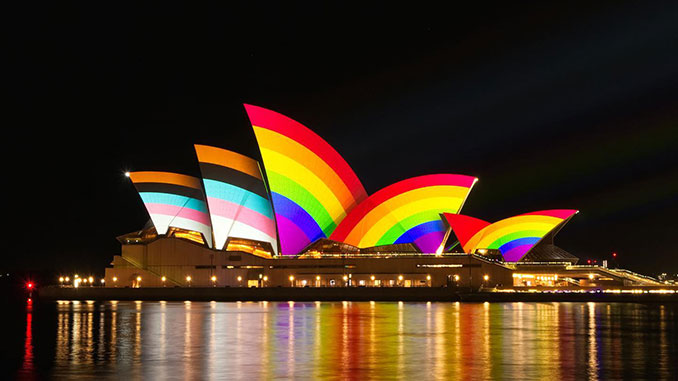 Sydney Festival: 5 – 28 January 2024**
Embracing the art of summer since 1977, Sydney Festival is a city-wide celebration of culture, creativity and the questioning mind. From the streets to the beach, in stately theatres and in secret basements, it animates locations across Greater Sydney with a trailblazing free and ticketed program of theatre, music, dance, visual art and all the experimental in-between places of live performance.
---
Queer Screen – Mardi Gras Film Festival: 15 – 29 February 2024
A celebration of the diversity of sexualities and gender identities through queer storytelling on screen, the 31st Mardi Gras Film Festival will bring the latest and best LGBTIQ+ films to cinema screens across Sydney. So, block out your calendars and prepare to sit back and enjoy a plethora of LGBTIQ+ feature films, short films, documentaries and events, curated by queer people, for queer people.
---
Sydney Gay and Lesbian Mardi Gras: 16 February – 3 March 2024
Sydney Gay and Lesbian Mardi Gras (SGLMG) is one of the oldest continuously operating LGBTQI organisations in Australia. SGLMG was built on the foundations laid by early community activists who fought for LGBTQI rights in a time of wide-spread, institutionalised oppression and discrimination. From these origins, SGLMG has evolved to include a strong focus on celebration while maintaining a commitment to social justice for LGBTQI communities.
---
Sydney Gay and Lesbian Mardi Gras Fair Day: Sunday 18 February 2024
Mardi Gras Fair Day is the biggest and best-loved free community event of the season – more than 80,000 people come together in Victoria Park in Camperdown for a fun day filled with live entertainment, Doggywood, the Sports Village and over community & commercial 200 stalls.
---
Bear Essentials: (Sydney): 16 February – 3 March 2024
Running since 1995, Bear Essentials is the Harbour City Bears' annual festival held over Mardi Gras. For Bear Essentials 28, a full schedule of events is planned to meet your furry brethren, make new friends and see our beautiful city.
---
Sydney Gay and Lesbian Mardi Gras Parade: Saturday 2 March 2024
Join over 500,000 fabulous people as they unite for a glittering Pride parade in the heart of Sydney's LGBTQIA+ district. The Sydney Mardi Gras Parade is an event that stops the nation and reverberates around the world. Born from a single night of celebration and political protest, the true Mardi Gras spirit lives on over four decades later. The Parade joyously celebrates how far our communities have come, yet recognises the journey ahead. The theme for 2024 is: Our Future…
---
Sydney Gay and Lesbian Mardi Gras Party: Saturday 2 March 2024
Join international and local partygoers at the largest LGBTQIA+ party in the Southern Hemisphere. Each year the Mardi Gras Party bursts with music, light and performance across stunning fantasy worlds for you to immerse yourself. Extraordinary guest performers and DJs fill the atmosphere with pulsing techno, tantalising house and euphoric gay anthems.
---
Wagga Wagga Mardi Gras: Saturday 9 March 2024
Wagga Wagga Mardi Gras aims to raise the visibility of the lesbian, gay, bisexual, transgender, queer and intersex communities in the Riverina, providing an opportunity to express their creativity and celebrate their identity. Organisers invite the whole community along for the ride, including an evening of amazing floats, laughs and fun. More information coming soon…
---
Tropical Fruits Easter Party (Lismore): Saturday 30 March 2024 (date to be confirmed)
Held on the Easter long weekend, Tropical Fruits' Easter Party is the biggest little party you have ever been to! As the first party after all the excitement of New Year, Easter is a chance for the fruity family to get together for an uplifting electro-house, slightly hands-in-the-air euphoric groove-thang!
---
Sydney Comedy Festival: 22 April – 19 May 2024**
The Sydney Comedy Festival is Sydney's biggest annual comedy event. Each year, over 250 of the best comedians from Australia and beyond take to stages across Sydney for a massive month of comedy – offering up everything from stand up to sketch, satire, impro, musical, absurdist, theatre, magic and kids comedy.
---
Sydney Candlelight Memorial: Sunday 20 May 2024 (date to be confirmed)
The AIDS Candlelight Memorial is a time when members of the community can come together and reflect on and remember all those who have passed away from HIV/AIDS.
---
Sydney Pride Festival:  1 – 30 June 2024
The Sydney Pride Festival is a special time for the LGBTQI community as we remember the history and celebrate the present and look forward to a day when everyone is Equal.
---
Sydney Film Festival: June 2024** (dates to be confirmed)
The world's best new films come to Sydney this June for 12 days and nights of inspiring and entertaining premieres, talks and parties. Join us and be among the first in Australia to see the greatest, strangest and most exciting work that cinema has to offer.
---
bentART Annual Exhibition (Blue Mountains): June 2024 (dates to be confirmed)
bentART was established in 2005 to celebrate works in the visual arts of Australian Lesbian, Gay, Bisexual, Transgender and Intersex ("LGBTQI") artists. Each year over the June long weekend, the annual 4-day bentART exhibition is held in the Blue Mountains of New South Wales.
---
Tropical Fruits King's Birthday Party (Lismore): Saturday 9 June 2024 (date to be confirmed)
An intimate and friendly party, it has a special significance to local members as it is the party that marks the birthday of Tropical Fruits. Their very first party was held back in 1988.
---
Lismore Lantern Parade (Northern NSW): June 2024** (date to be confirmed)
Lismore Lantern Parade is an annual community event held on or around the longest night of the year, being the Winter Solstice. Each year the Lantern Parade involves participants from Lismore, throughout the Northern Rivers and visitors to the region who have attended workshops in lantern, mask and costume making. 2023 sees the Lismore Lantern Parade celebrate 29 years of bringing light to the heart of our community.
---
Aurora Ball (Sydney): June 2024 (date to be confirmed)
Aurora's Annual Ball is one of the most iconic occasions on the Sydney social calendar. By attending the Aurora Ball, you are giving a helping hand to terrific LGBTIQ community organisations and projects – from youth outreach, to counselling, inclusion, education and creative projects.
---
Bear Pride Week (Sydney): August 2024 (dates to be confirmed)
Harbour City Bears presents Bear Pride Week – save the date! More information to come…
---
Honour Awards: August 2024 (date to be confirmed)
First held in 2007, the Honour Awards celebrates outstanding service to, and achievements within, LGBTQ communities in NSW. Finalists are selected from nominations across nine categories covering the health, HIV, youth, community, business, entertainment, visual arts, media and cultural sectors. The awards are also a gala fundraising event for ACON – NSW's leading HIV and LGBTQ health organisation.
---
Queer Screen Film Fest: (Sydney): August 2024 (dates to be confirmed)
Queer Screen Film Fest is coming in hot this winter with almost 40 of the best and freshest queer films, straight from major international festivals, landing in time for their 10th anniversary this August.
---
Sydney Fringe Festival:  1 – 30 September 2024** (dates to be confirmed)
Each September culture creators from all over the city join forces with Sydney Fringe to demonstrate the type of city they want to live in all year round. As an open access festival, it is the largest independent arts gathering in NSW, annually hosting over 400 events across 21 postcodes during the 30 day festival.
---
Broken Heel Festival: (Broken Hill): September 2024 (dates to be confirmed)
The Broken Heel Festival is a fabulous five-day festival which celebrates the theatrical anniversary of Priscilla Queen of the Desert at her spiritual home – The Palace Hotel and the township of Broken Hill, New South Wales. Expect performances from our nation's best cultural personalities plus DJ's Showgirls, Bio Queens, Drag Queens & Drag Kings representing every corner of Australia's diverse community.
---
Fruity Fair Day (Lismore): September 2024 (date to be confirmed)
Tropical Fruits annual Fair Day and FUNdraising event for fruity families, friends and pooches. Join Tropical Fruits at the Lismore Showgrounds Farmers Market area for another fun-filled day with your beloved favourites like Bake Off, Dog Show, Hat Competition, DJs, Performances, Raffles, Bar, Café, Food Vendors and Stalls, as well as some new surprises, all with plenty of parking, loads of love and that familiar fruity community vibe.
---
Tamworth Pride Fair Day: September 2024 (date to be confirmed)
Tamworth Pride Inc would like to invite you to their 4th Annual Fair Day. This is an event that supports our local LGBTQIA+ community and our theme this year is Technicolour Dreams – we are inviting everyone to wear as much rainbow and bright colours as possible. With plenty of entertainment (including a dog show), there will be plenty of food, coffee and information stalls from some of our local community groups and services.
---
Coastal Twist Festival: (Central Coast NSW): September – October 2024 (dates to be confirmed)
Central Coast NSW's good vibes, all out LGBTIQ A+ inclusion festival. Burst into spring with a bumper weekend of Queer happenings. This dynamic festival embodies authentic inclusion of all peoples with the intention of a Happier, Healthier and more welcoming Central Coast. 75mins from Sydney, 90mins from Newcastle. Coastal Twist is the ultimate Queer Spring getaway.
---
Leeton Pride Festival: September 2025 (date to be confirmed)
Leeton Pride Festival is a dedicated to celebrating and supporting the queer community and its allies. We strive to create a safe and welcoming atmosphere for everyone, regardless of their sexual orientation and gender identity. Party down Main Street, where tons of fabulous folks, extravagant outfits and colourful floats will march with pride. Then join us at Mountford Park for Fair Day.
---
Newcastle Pride Festival: October 2024 (dates to be confirmed)
Newcastle Pride is an inclusive, vibrant, fun Newcastle based incorporated association, an LGBTQIA+ community-based charity organisation established in March 2018 and is 100% run by volunteers. Our vision is to make the Newcastle, Lake Macquarie and Hunter Region a happier, healthier, safer and more culturally rich place for all of the LGBTIQA+ community.
---
Parramatta Pride Picnic: October 2024 (date to be confirmed)
Now in its 16th year, the Parramatta Pride Picnic is a rainbow coloured day of fun and pride for the whole family at River Foreshore Reserve. The day will feature fabulous food stalls, free entertainment, activations, travel, health and sporting groups and a fully licenced bar.
---
Rainbow on the Plains Festival (Hay): 17 – 19 November 2023
Rainbow on the Plains is a festival of fun, support, inclusion and celebration of our local and visiting lesbian, gay, bi, trans and intersex communities, their friends and families. We celebrate with a street parade and party, alongside various community events. This year's Festival is themed Titanium, which is a reflection on the strength and reliance all LGBTIQA+ community members have to carry with them always.
---
Tropical Fruits New Year's Festival (Lismore): 27 December 2023 – 1 January 2024
Join Tropical Fruits at Lismore Showgrounds for their famous New Year's Eve Festival. This year's theme is Bush Magik – paying homage to the beauty and enchantment of this great land, while celebrating the connection between the Australian bush and the 'magikal' forces that have shaped the landscapes of ourselves and each other as LGBTQ+ people. Tickets now on sale!
---
Celebration NYE (Sydney): Sunday 31 December 2023
Looking for a safe and welcoming space, with amazing rooftop views and a gorgeous friendly international crowd? Since 2009, Celebration NYE has welcomed thousands of wonderful LGBT+ people to experience the Sydney New Year's Eve fireworks. Join Points of Difference Travel & Events on the Sculpture Terrace at the Museum of Contemporary Art, with unobstructed rooftop views of Sydney Harbour, taking in both the Sydney Harbour Bridge and Sydney Opera House.
---
If your festival or event is not listed above, and you would like to submit for consideration, please send an email to: reception@australianpridenetwork.com.au Your festival or event must be not-for-profit and primarily coordinated by those who identify as LGBTIQ. (Events organised by individuals or commercial entities will not be considered)
Image: Sydney Opera House Progress Pride Sails – courtesy of Sydney Gay and Lesbian Mardi Gras
Note: ** festival contains significant LGBTIQ content