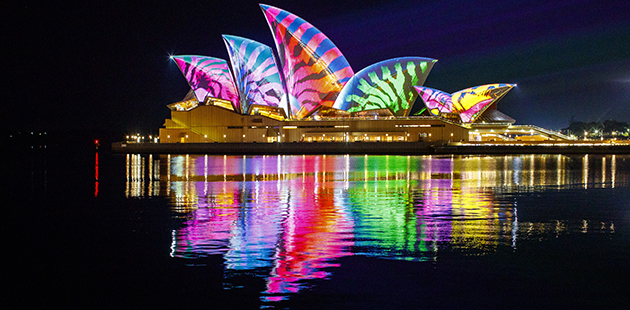 Sydney Festival: 6 – 26 January 2021**
Every January, Sydney Festival starts the new year with a bang, transforming the city with a bold cultural celebration based on critical ideas and cutting-edge art and performance.
---
Queer Screen – Mardi Gras Film Festival: 18 February – 4 March 2021
A celebration of the diversity of sexualities and gender identities through queer storytelling on screen, by inclusive and respectful communities full of creativity, inspiration and pride.
---
Sydney Gay and Lesbian Mardi Gras: 19 February – 7 March 2021
Sydney Gay and Lesbian Mardi Gras (SGLMG) is one of the oldest continuously operating LGBTQI organisations in Australia. SGLMG was built on the foundations laid by early community activists who fought for LGBTQI rights in a time of wide-spread, institutionalised oppression and discrimination. From these origins, SGLMG has evolved to include a strong focus on celebration while maintaining a commitment to social justice for LGBTQI communities.
---
Sydney Gay and Lesbian Mardi Gras Fair Day: Sunday 20 February 2022
Mardi Gras Fair Day is the biggest and best-loved free community event of the season – more than 80,000 people come together in Victoria Park in Camperdown for a fun day filled with live entertainment, Doggywood, the Sports Village and over community & commercial 200 stalls.
---
Bear Essentials: (Sydney): February / March 2022 (dates to be confirmed)
Harbour City Bears is the only community group in Sydney for bears, cubs and their admirers. Bear Essentials takes place in the week leading up to the Sydney Gay and Lesbian Mardi Gras.
---
Sydney Gay and Lesbian Mardi Gras Parade: Saturday 5 March 2022 (date to be confirmed)
Get ready for a spectacular celebration of pride, protest, passion and diversity from over 100 LGBTQI+ community groups. More to come…
---
Sydney Gay and Lesbian Mardi Gras Party: Saturday 5 March 2022 (date to be confirmed)
After the spectacular Parade, come and enjoy the night with us… and over 12,000 of your newest and closest friends! The Mardi Gras Party is Australia's biggest LGBTQI event of the year. It's our tribe, our people… our time to let loose and dance all night.
---
Wagga Wagga Mardi Gras: March 2022 (date to be confirmed)
Wagga Wagga Mardi Gras aims to raise the visibility of the lesbian, gay, bisexual, transgender, queer and intersex communities in the Riverina, providing an opportunity to express their creativity and celebrate their identity. Organisers invite the whole community along for the ride, including an evening of amazing floats, laughs and fun. The 2021 event has been cancelled!
---
Rainbow on the Plains Festival (Hay): March 2022 (dates to be confirmed)
Rainbow on the Plains is a festival of fun, support, inclusion and celebration of our local and visiting lesbian, gay, bi, trans and intersex communities, their friends and families. We celebrate with a street parade and party, alongside various community events.
---
Tropical Fruits Easter Party (Lismore): Saturday 16 April 2022 (date to be confirmed)
Held on the Easter long weekend, Tropical Fruits' Easter Party is the biggest little party you have ever been to! As the first party after all the excitement of New Year, Easter is a chance for the fruity family to get together for an uplifting electro-house, slightly hands-in-the-air euphoric groove-thang!
---
Sydney Comedy Festival: 19 April – 16 May 2021**
The Sydney Comedy Festival is Sydney's biggest annual comedy event. Every April and May, hundreds of the world's funniest comedians take to stages across Sydney to entertain an audience of more than 120,000 people
---
Tropical Fruits Staged: Saturday 24 April 2021
Tropical Fruits is excited to announce that they will be holding their first public event since NYE 2019. Staged – a cabaret dinner in the 'Ballroom' at the Lismore Workers Club. Doors open 6.00pm – dinner and the show will commence at 7.00pm. Check out the dazzling lineup of performers they have enlisted to bring us all together once more including Lyntex, Deb Jackson, Vinegar Tom, Kara Van Park, Buckles & Bows, Foxy Brown-eye, Fantasia Towers, Batala Afro Brazilian Drummers and Gurlesque Burlesque. Tropical Fruits have arranged a very special guest as their MC for the night… can you guess who it is? Dress code is formal – usual club dress rules apply.
---
Sydney Candlelight Memorial: Sunday 16 May 2021
The AIDS Candlelight Memorial is a time when members of the community can come together and reflect on and remember all those who have passed away from HIV/AIDS.
---
Sydney Pride Festival:  June 2021 (dates to be confirmed)
The Sydney Pride Festival is a special time for the LGBTQI community as we remember the history and celebrate the present and look forward to a day when everyone is Equal.
---
Tropical Fruits Queen's Birthday Party (Lismore): Satuday 19 June 2021 (date to be confirmed)
Held on the Saturday night of the long weekend in June – it is Tropical Fruits' winter wonderland party. An intimate and friendly party, it has a special significance to local members as it is the party that marks the birthday of Tropical Fruits – the very first party was held back in 1988.
---
Lismore Lantern Parade (Northern NSW): Saturday 19 June 2021**
Lismore Lantern Parade is an annual community event held on or around the longest night of the year, being the Winter Solstice. Each year the Lantern Parade involves participants from Lismore, throughout the Northern Rivers and visitors to the region who have attended workshops in lantern, mask and costume making. School and community workshops start at Easter each year with many other volunteers travelling from across the Northern Rivers region, South East Queensland, around NSW, South Australia and Victoria to participate in this event.
---
Aurora Ball 2020 (Sydney): June 2021
Aurora's Annual Ball is one of the most iconic occasions on the Sydney social calendar. By attending the Aurora Ball, you are giving a helping hand to terrific LGBTIQ community organisations and projects – from youth outreach, to counselling, inclusion, education, and creative projects.
---
Sydney Film Festival: 18 – 29 August 2021**
The world's best new films come to Sydney this August for 12 days and nights of inspiring and entertaining premieres, talks and parties. Join us and be among the first in Australia to see the greatest, strangest and most exciting work that cinema has to offer.
---
Newcastle Pride Festival: 12 August – 5 September 2021
Newcastle get ready! The Newcastle Pride Festival 2021 theme is THIS IS ME! 2021 is set to be huge with an amazing program of LGBTIQ+ events including; Fair day, Dance Party, Cabaret, Cinema, Sports, Trivia, Art, food, wine and much more to come.
---
Sydney Fringe Festival: 1 – 30 September 2021**
Each September culture creators from all over the city join forces with Sydney Fringe to demonstrate the type of city they want to live in all year round. As an open access festival, it is the largest Independent arts gathering in NSW, annually hosting over 400 events across 21 postcodes during the 30 day festival.
---
Queer Arts Festival: Queer & Visible (Wollongong): September 2021 (dates to be confirmed)
Aims to provide LGBTIQ+ creatives in the Illawarra and South Coast an opportunity to participate in various events and activities over the 2 week festival. This includes exhibiting visual art (all mediums including digital/multimedia, photography, drawing, painting, sculpture); performance art (drama, drag, poetry/spoken word, singing, dance, music); and/or volunteering.
---
Fruitopia Fairday (Lismore): September 2021 (date to be confirmed)
Tropical Fruits' annual family fun day sees the Northern Rivers LGBTIQ community gather their families, friends, pooches and picnic rugs for an outdoor extravaganza. With dog shows, kids games, great food, stalls galore, live music and a cake bake-off, Fruitopia welcomes spring with gay abandon.
---
Broken Heel Festival: (Broken Hill): 9 – 13 September 2021
The Broken Heel Festival is a fabulous three day festival which celebrates the theatrical anniversary of Priscilla Queen of the Desert at her spiritual home; The Palace Hotel and the township of Broken Hill, New South Wales.
---
Queer Screen Film Fest: (Sydney): September 2021 (dates to be confirmed)
Since 2013, the Queer Screen Film Fest has become a major event that delivers the latest LGBTIQ movies to Sydney's screens in the month of September.
---
Fambo Slo-Mo: online program for 2020
Fambo: A Queer Festival for All Kinds of Families is a Biennial performance and visual arts festival for children and families that celebrates queer contemporary arts and culture. The festival program provides intergenerational, participatory experiences developed by local LGBTIQA+ artists in collaboration with community.
---
Coastal Twist Festival: (Central Coast NSW): 1 – 4 October 2021
Central Coast NSW's good vibes, all out LGBTIQ A+ inclusion festival. Burst into spring with a bumper weekend of Queer happenings. This dynamic festival embodies authentic inclusion of all peoples. 75mins from Sydney, 90mins from Newcastle. Coastal Twist is the ultimate Queer Spring into Spring weekend getaway.
---
Liveworks Festival of Experimental Art: October 2021** (dates to be confirmed)
Each year, Performance Space brings together the most groundbreaking artists of our time to push artistic boundaries and create unexpected experiences. Internationally known as a creative platform for captivating new work, Liveworks Festival of Experimental Art invites audiences to connect with bold and innovative performances, installations, parties, workshops and conversations over 11 days.
---
Parramatta Pride Picnic: November 2021 (date to be confirmed)
It's a rainbow coloured day of fun and pride for the whole family by the river in Parramatta. The day will feature stalls, entertainment, drag, food trucks, rainbow kids activation, the Team Sydney sports village, charity BBQ, face painting, yoga, sports exhibitions, DJs and a fully licenced bar.
---
Tropical Fruits / LIVE Fruits: NYE 2020: (Online Event): Thursday 31 December 2020 – from 8.00pm
The LGBTIQ family may not be able to head to Lismore as usual this year – however, Tropical Fruits are presenting a very special edition of their monthly LIVE Fruits for this New Year's Eve – featuring three of their favourite DJs (DJ Marty, DJ Chip and DJ Amanda Louise) who will dish up a huge serving of delicious dance grooves from 8.00pm to 2.00am.
---
If your festival or event is not listed above, and you would like to submit for consideration, please send an email to: reception@australianpridenetwork.com.au Your festival or event must be not-for-profit and primarily coordinated by those who identify as LGBTIQ. (Events organised by individuals or commercial entities will not be considered)
Image: Lighting Of The Sails, Vivid Sydney – photo by Audio Creatures
Note: ** festival contains significant LGBTIQ content