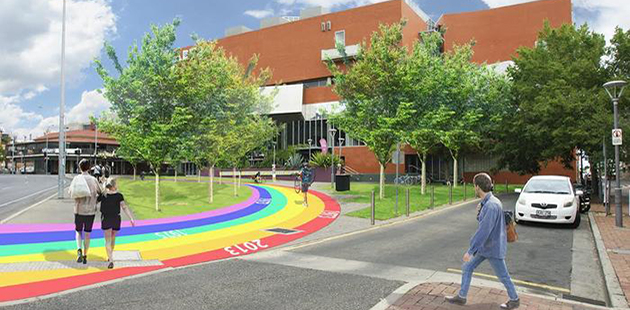 The Garden of Unearthly Delights: 16 February – 17 March 2024** (dates to be confirmed)
Each year, The Garden of Unearthly Delights creates a unique festival playground including multiple performance venues, bars, carnival rides, an array of world foods, market stalls, and the most unexpected sideshow surprises. Over the past nineteen years it has evolved into one of the greatest arts events in town and the heart of Adelaide's summer arts festival season.
---
Adelaide Fringe: 16 February – 17 March 2024**
Adelaide Fringe is the Southern Hemisphere's largest, and Australia's biggest ticket selling open access arts festival. Venues big and small, pop-up and permanent, house thousands of artists from all over Adelaide, Australia and the world. With free events, groundbreaking work, new talent, innovative thinking and original voices, Adelaide Fringe is for everyone!
---
Adelaide Festival: 1 – 17 March 2024**
For more than 60 years, audiences have delighted in an outstanding mix of internationally acclaimed theatre productions, an eclectic array of world-class musicians, breath-taking dance pieces, renowned writers and striking visual arts displays. Enjoyed amid warm March days and starry nights, Adelaide Festival's celebration of creative excellence makes for an event of truly epic proportions. The Adelaide Writers Festival runs: 2 – 7 March 2024.
---
WOMADelaide: 8 – 11 March 2024**
WOMADelaide is a four-day festival of Music, Arts and Dance celebrating cultural and creative diversity held since 1992 in Adelaide's beautiful Botanic Park. The festival has become a truly unique part of the Australian festival landscape, showcasing the best, the essential – and the surprising – in global music, dance, art and ideas.
---
Adelaide Cabaret Fringe Festival:  May / June 2024** (dates to be confirmed)
The Cabaret Fringe features the best of home-grown and national talent and features the breadth of artistic expression in cabaret in Australia. From Berlin to Broadway, Downtown to the Outback – cabaret artists have found a home and dedicated audiences in the clubs, bars and venues of Adelaide through the Cabaret Fringe.
---
Adelaide Cabaret Festival:  7 – 22 June 2024**
The Adelaide Cabaret Festival is an annual festival commencing on the Queen's Birthday long weekend each June. Established in 2001 and the biggest festival of its kind, it is a major event in the international and Australian arts calendar. The festival has garnered a reputation of highlighting the best local, national and international artists through an eclectic program of classic and contemporary cabaret performances.
---
Illuminate Adelaide: 28 June – 30 July 2023**
A celebration of innovation, art, light, music and technology. Australia's newest major winter event returns bigger, brighter and bolder – a beacon, an invitation, a city-wide spectacle of art, light, sound and imagination, daring you to shake off the winter blues and rekindle a sense of wonder. Shining a light on South Australia for the month of July, Illuminate Adelaide welcomes people from all walks of life to experience a program of free and ticketed events by local, national and international artists and companies.
---
Pride March Adelaide: Saturday 28 October 2023
Pride March Adelaide celebrates South Australia's LGBTIQ+ love, strength and diversity each year with a joyous march through the streets of Adelaide in November. Adelaide's first Pride March was held more than 40 years ago in 1973 when homosexuality was still illegal – it has grown to become one of the biggest, best loved events on the Adelaide community calendar.
---
Feast Festival:  1 – 19 November 2023
Feast is Adelaide's only not-for-profit LGBTI Queer Arts and Cultural Festival that celebrates Pride and Diversity. Feast began in 1997 providing a safe and inclusive platform for the LGBTIQ community to share and express themselves through art and culture.
---
Picnic in the Park: Sunday 5 November 2023
Kick back and relax at Feast's annual community picnic. This year Picnic will lead Feast Festival to celebrate inclusivity and diversity in all its rainbow glory – expect ongoing classics such as the dog show, plus a return of your favourites from the past 25 years. More details to come…
---
If your festival or event is not listed above, and you would like to submit for consideration, please send an email to: reception@australianpridenetwork.com.au Your festival or event must be not-for-profit and primarily coordinated by those who identify as LGBTIQ. (Events organised by individuals or commercial entities will not be considered)
Image: Adelaide Pride Walk
Note: ** festival contains significant LGBTIQ content