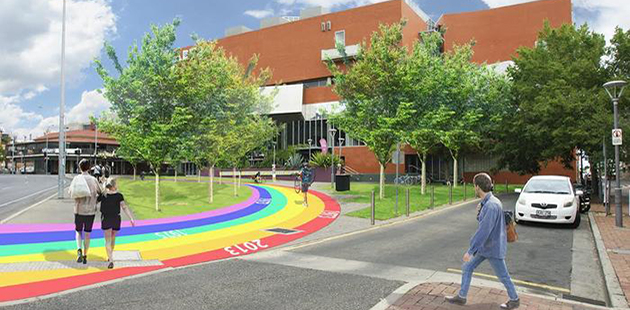 Adelaide Fringe: 14 February – 15 March 2020**
Adelaide Fringe is the Southern Hemisphere's largest, and Australia's biggest ticket selling open access arts festival. Venues big and small, pop-up and permanent, house thousands of artists from all over Adelaide, Australia and the world. With free events, groundbreaking work, new talent, innovative thinking and original voices, Adelaide Fringe is for everyone!
---
Feast on the Foreshore: Sunday 15 March 2020 (date to be confirmed)
The annual Feast on the Foreshore is a free family-friendly event that celebrates our LGBTIQ community! There is always lots to see and do. Be a part of the infamous dog competitions, grab some friends and join in the tug-of-war hosted by the super fit Firefighters from the MFS! Be enveloped by the delicious tastes of local food vendors and be tempted by the wares at the artisan stalls.
---
Adelaide Cabaret Festival:  7 – 22 June 2019**
The Adelaide Cabaret Festival is an annual festival commencing on the Queen's Birthday long weekend each June. Established in 2001 and the biggest festival of its kind, it is a major event in the international and Australian arts calendar. The festival has garnered a reputation of highlighting the best local, national and international artists through an eclectic program of classic and contemporary cabaret performances.
---
Feast Annual Quiz Night: Friday 26 July 2019
A great Winter warmer to get you through the colder months. Hilarious queer quiz questions and fantastic must-have auction items. Fun games, a prize for Best Supper and loads of other prizes. Plus entertainment, good company and celebrity hosts.
---
Pride March Adelaide: Saturday 2 November 2019
Pride March Adelaide celebrates South Australia's LGBTIQ+ love, strength and diversity each year with a joyous march through the streets of Adelaide in November. Adelaide's first Pride March was held more than 40 years ago in 1973 when homosexuality was still illegal – it has grown to become one of the biggest, best loved events on the Adelaide community calendar.
---
Feast Festival: 9 – 24 November 2019
Feast is Adelaide's only not-for-profit LGBTI Queer Arts and Cultural Festival that celebrates Pride and Diversity. Feast began in 1997 providing a safe and inclusive platform for the LGBTIQ community to share and express themselves through art and culture.
---
Picnic in the Park: Sunday 24 November 2019
Bring your friends, family and don't forget your dog. Kick back and relax at Feast's annual community picnic. There's something for everyone – stalls, tasty food and bars flowing with refreshments. The famous Dog Show is back along with the Tug of Peace presented by the Metropolitan Fire Service, live music to picnic by, novelty races, Kids Zone and some new surprises.
---
If your festival or event is not listed above, and you would like to submit for consideration, please send an email to: reception@australianpridenetwork.com.au Your festival or event must be not-for-profit and primarily coordinated by those who identify as LGBTIQ. (Events organised by individuals or commercial entities will not be considered)
Image: Adelaide Pride Walk
Note: ** festival contains significant LGBTIQ content