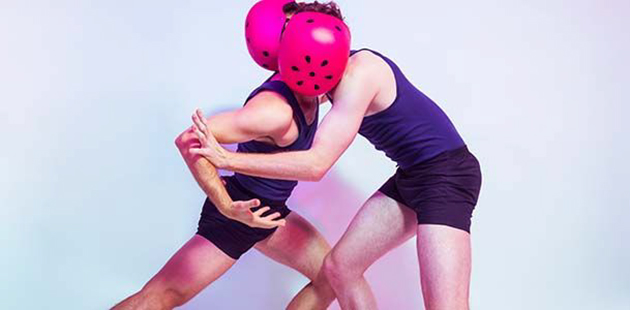 Power and identity come face-to-face with contemporary ballet and live music as Collusion Music and Dance Ensemble in partnership with the Brisbane Powerhouse, presents Turbine for a limited season as part of the 2018 MELT Festival.
A scintillating fusion of music and dance, Turbine is an intimate and emotional new chamber ballet for three dancers and three musicians that interrogates power structures and strips back identity, that questions what is good and what is right.
Driven by breathtaking original music composed by Thomas Green and directed and performed with Collusion's own Camille Barry and Benjamin Greaves, Resident Choreographer Gareth Belling will dance his own muscular choreography alongside Michael Smith and Jacob Watton. Lover's of dance will be loathe to miss this unique production that dares to bare all.
Thomas Green has composed an all-new score for two violins and electronics that subtly subverts the hierarchy of heritage."It's not often when I'm really lost about whether to categorise a work of mine as coming from Praxis Axis or actual me,"said Green. "This is one of those times: 19th century late romanticism curiously entwined with 21st century glitch and industrial."
With soaring violin melodies and industrial electronic soundscape, Thomas's two creative identities collide at fascinating angles. A highlight will be the nostalgia of a family heirloom, a century-old music box, sampled and reanimated through Thomas's groundbreaking compositional process.
Fiercy confronting and intimately personal, Belling has departed from the controlled formalism of his usual style to place the performer's squarely at the centre of this new chamber ballet. An exploration of identity, marginalisation and equality it will ask what what price we are willing to pay for the freedoms we enjoy.
"Queer bodies are individual, personal, incredibly varied. Classical ballet essentially creates a queer body," says Belling. "It's only through cultural expectation that ballet has become a conservative, heritage artform. I want to speak of more than fairy tales and star-crossed lovers – because ballet has the capacity for so much more."
Turbine will be performed by Gareth, alongside two of Brisbane's most exciting independent dancers, Michael Smith and Jacob Watton. Repurposed bike helmets act as the mask we wear in daily life, to hide and protect. This daily armour that the queer community wears to harden themselves. Armour that is shared by marginalised communities across the spectrum.
"We realised quickly that this isn't just about gay male identity, but speaks to everybody about their own identity, struggles with power, and sense of marginalisation," adds Belling
Choreography: Gareth Belling Composition: Thomas Green Music Direction: Camille Barry Musicians:Benjamin Greaves (Violin), Camille Barry (Violin), Thomas Green (Electronics) Dancers: Michael Smith, Jacob Watton, Gareth Belling
Turbine
Brisbane Powerhouse, 119 Lamington Street, New Farm
Season continues to 26 May 2018
Bookings: www.brisbanepowerhouse.org
For more information, visit: www.collusion.com.au for details.
Image: courtesy of Collusion