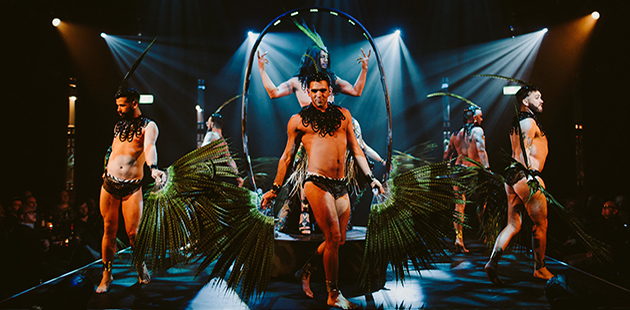 As the dust settles on another New Year's celebration, and with Summer in full-swing, the Sydney Festival returns to many favourite destinations across Sydney, Parramatta and beyond. In his second year as Festival Director, Wesley Enoch has programmed over 130 events and performances, spanning contemporary and classical music, theatre, dance, visual arts and much more. The Australian Pride Network takes a look at ten events worth checking out!
AquaSonic
Carriageworks: 6 – 9 January
An ethereal underwater concert performed by five musicians submerged in aquariums. Playing custom-made instruments and singing in an invented style reminiscent of Cocteau Twins' Elizabeth Fraser, the result is a musical performance that both looks and sounds haunting and otherworldly. Avant-garde ensemble Between Music spent years researching the possibilities of performing music underwater, conducting experiments with scientists, deep sea divers and craftspeople to develop entirely new instruments that can be played in water. The result is a concert experience of improbable feats of melody you won't see or hear anywhere else on dry land.
Backbone
Riverside Theatres, Parramatta: 16 – 21 January
A raw, high-octane exploration of the limits of human strength from the acclaimed acrobatic troupe. Circus company Gravity & Other Myths take a sinewy ride to the edges of physical, cerebral and collective brawn in this visceral performance of physical discipline and virtuosity, directed by Darcy Grant with set and lighting design by Geoff Cobham.
Briefs: Close Encounters
Magic Mirrors Spiegeltent – Hyde Park North: 6 – 28 January
Having glitter-bombed the globe, the world's hottest boylesque stars return in a sci-fi spectacle of flirty, filthy fabulousness. Enter Briefs' talented and bearded force field as they teleport through an eye-popping extravaganza of feather dancing, hoop-twirling, juggling, aerial acrobatics and bird-cage contortions. Expect ravishing costumes and plenty of skin as seven highly-skilled performers, led by lippy ship's captain Fez Fa'anana, deliver an outrageous hoopla of theatre, circus, comedy and drag.
Four Thousand Fish
Barangaroo Reserve: 5 – 28 January
In 1790 British colonists hauled in an excessive four thousand fish in one day, disrupting the delicate ecosystem that the accomplished Aboriginal fisherwomen of Warrane (Sydney Harbour) had preserved for millennia, and undermining the women's status as the main food providers for family and community. In this large scale art installation to celebrate fisherwoman Barangaroo, the influential and resilient Cammeraygal woman after whom the place is named. On 10 special days across the Festival, Four Thousand Fish invites you to visit Nawi Cove and create your own frozen fish using sea water and a cast mould.
Ghost Train
Village Sideshow – Hyde Park North: 5 – 28 January
Take a trip through the inner workings of your mind on a VR-enhanced ghost train that looks nothing like the fright rides of your childhood. Nostalgia meets modernity on a remodelled fairground ride by musician Jonnine Standish (HTRK) and filmmaker Jasmin Tarasin, with a multi-sensory journey that ultimately invites you to choose your own destiny. Will it be purgatory or bliss? From the moment you step into one of these creaking machines of old, your Samsung Gear VR Headset tells you this will be an experience like never before. Ghost Train sends you trundling on your way on familiar rickety tracks, but the world you enter is far from traditional.
Meow Meow's Pandemonium
Concert Hall – Sydney Opera House: 22 & 23 January
International siren and comedienne extraordinaire Meow Meow is accompanied by the full force of the Sydney Symphony Orchestra, conducted by Iain Grandage, for a glorious performance of subversive and sublime entertainment fresh from an acclaimed season with the London Philharmonic Orchestra. Join the spectacular queen of song for an unforgettable evening of exquisite music and much mayhem. Prepare for Piazzolla tangos, Weill, Brecht, Brel –  even Radiohead – alongside original chansons by Meow Meow, Iain Grandage and Thomas M Lauderdale from Pink Martini.
Model Citizens
Prince Alfred Square, Parramatta: continues to 28 January
The always innovative Circus Oz returns with the first production for the company by new artistic director Rob Tannion, exploring what it means to be a 'model citizen' in Australia today through awesome physicality, biting satire and highly skilled, unpredictable acrobatics. With a brand new ensemble of performers, a thumping live band and set design that challenges scale and perspective, the latest Circus Oz show brings a fresh sophistication to the troupe's larrikin personality, delivering exhilarating family-friendly feats with poise and charm.
Pussy Riot Theatre: Riot Days
Carriageworks: 27 & 28 January
Through confronting theatre, film and blood-pumping music, this masterclass in activism from Pussy Riot's Maria Alyokhina tells the story of the dissident punk group's solitary confinement in Russia for criticising Vladimir Putin. "Freedom doesn't exist unless you fight for it every day," Alyokhina says. "The choice is very simple – to act or to stay silent. What we are showing is just one small example."
RIOT
Magic Mirrors Spiegeltent – Hyde Park North: 5 – 28 January
This acclaimed Irish variety show melds high art and trash culture in a disorderly cocktail of partying and politics. With an all-star cast including famed drag queen Panti Bliss, RIOT is a dazzling blend of dance, drag, circus, comedy and powerful spoken word. Both a dissection and celebration of the current state of the world, RIOT mixes the magic of theatre with the energy of the dance floor to deliver a show that's thrilling, uplifting and utterly unique. It's your big night out – with a delicious twist!
Tree of Codes
ICC Sydney: 6 – 10 January
This dazzling contemporary ballet, performed by Company Wayne McGregor, brings together choreographer Wayne McGregor, installation artist Olafur Eliasson and electronic composer Jamie xx to reinterpret Jonathan Safran Foer's haunting experimental novella. Tree of Codes takes the cryptic text as its jumping-off point for an exhilarating mash-up of dance, visual art and electronic music, performed by soloists and 10 dancers from Company Wayne McGregor, with a spectacularly colourful visual concept by artist Olafur Eliasson and a pulsating and soulful soundtrack by composer Jamie xx.
The 2018 Sydney Festival runs 6 – 28 January. For more information, visit: www.sydneyfestival.org.au for details.
Image: Briefs – photo by Kate Pardey