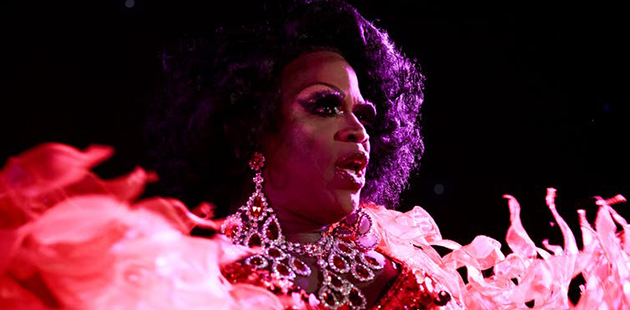 The Cocoa Butter Club, a special cabaret and performance event featuring unapologetic and oh-so-hot-right now Indigenous and/or performers of colour is set to make its Arts Centre Melbourne debut in the Fairfax Studio on Friday 19 January 2018.
The spirited soiree, curated by queers of colour, is designed to quench the thirsty performance scene with representation of the 'other' and to proudly provide a platform for lesser heard voices to challenge, inspire and entertain audiences.
The Cocoa Butter Club will feature stunning burlesque, live music, performance art, dance and drag performances including Zelia Rose (Miss Burlesque Australia 2014 winner), Mojo Juju (Futuristic Soul Funk), Krista Herrington (Diva Deaf Drag Queen), Raina Peterson & Govind (Classical Indian Burlesque), Illini Kabalan, Bu Lutiu, Olivia Leilani Crawford & Iki San (Pacific Islander dance), Wani (Sonic Spoken Word), Garret Lyon (Singer), Anadiction (Gender-play Boylesque), with emcees Nayuka Gorrie and Davey Thompson.
The cross-continental project was originally created by burlesque performer Sadie Sinner The Songbird in London, 2016, before the Australian group was launched in 2017 by theatre maker and live artist Krishna Istha and drag king and community artist Dani Weber.
"Every performance night has been packed with folks who are passionate about diversity, celebration and resistance in queer art. The energy is electric, and there is so much to learn about different cultures, artforms, and how to hold space for people who are often tokenized and ignored,'' says Weber. "It is such a fun and unique night and we're so excited for this huge Midsumma showcase!"
Krishna Istha is a live artist and theatre maker. Their performance work looks at transformations (physical and political), gender politics and queer culture using subversive text and comedy. Krishna was named as 'One to watch' on the Rainbow List 2015 (the annual celebration of the 100 most influential LGBT+ people in the UK), and is the current recipient of Arts House Culture Lab grant (Melbourne).
Currently, they are performing in Wild Bore alongside Zoe Coombs Marr, Ursula Martinez and Adrienne Truscott. They have performed internationally including at the National Theatre (London), Victoria and Albert Museum (London), Abron Arts Centre (NYC), La Mama (NYC), La Mama Courthouse (Melbourne), Malthouse Theatre (Melbourne) and at the International Festival of Feminism and Public Space (Germany).
Melbourne-based performer Dani Weber is well known as Dani Boi – a genderfluid dragtivist. Weber started lipsyncing and speaking out on LGBTQIA+ rights while living in San Francisco, and since returning to Melbourne has performed at a variety of queer club nights and community events, including Midsumma Horizon, Honcho Disko, Macquarie University's Sex & Consent Week, and hosted Dani Boi's Art of Drag in Warrnambool.
The Cocoa Butter Club: Midsumma Special
Fairfax Studio – Arts Centre Melbourne, 100 St. Kilda Road, Melbourne
Performance: Friday 19 January 2018 – 9:30pm
Information and Bookings: www.artscentrelbourne.com.au
Image:
Note: The gender-neutral pronoun 'they' is used in this editorial.