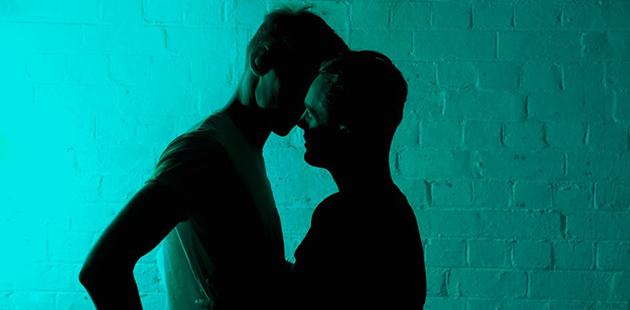 A funny and moving Australian classic from the award-winning playwright of Holding the Man, Tommy Murphy's Strangers in Between gets a timely new production for the 2018 Midsumma and Mardi Gras Festivals.
Shane has fled his family and is seeking refuge in Kings Cross. Confused and naive, he meets two strangers: the ultra-urban Will, who offers brotherhood, sex and something unexpected; and Peter, a fifty-year-old gay man whose mother is dying in a nursing home. With their help (or hindrance), Shane struggles to reconcile himself with events from his past. But how can he move on when he can't even use laundry powder?
Described as "the best new Australian play since Michael Gow's Away" (SX News), Tommy Murphy wrote Strangers in Between shortly before the astonishing success of Holding the Man. The play went on to win the 2006 NSW Premier's Literary Award, but has, until now, never been professionally presented in Melbourne.
"It's a comedy about fear, about sex and the beautiful mentorships that are particular to the gay community," says Murphy. "The characters struggle to decide whether their needs and duties to each other are framed by lust, something more tender, or something in between. It's a common struggle in a world where power is so easily abused and signals misconstrued."
Producer Cameron Lukey (Angels in America) and Director Daniel Lammin (Awakening), collaborators on the hugely successful Master Class in 2014/15, both agree now is the perfect time for a new production.
"Strangers has always been a beautiful, funny and deeply moving play about feeling lost and looking for connection, but with what has happened these past few years, it's also gained a sense of anger," says Lammin. "With the welfare of LGBTIQ+ youth reaching crisis point, and the validity of gay relationships, families and lifestyles continuously and viciously under attack, Tommy's play has even more to say."
AACTA winner Simon Burke (The Homosexuals and Foxtel's Devils Playground) plays Peter, a role he workshopped at the Griffin Theatre in 2004. Joining Burke is Guy Simon (a recent Helpmann Award winner for his role in Jasper Jones) in the dual role of Will and Ben, and Wil King (The Production Company's La Cage Aux Folles) as Shane.
Tommy Murphy is an award-winning playwright with recent productions in New York, San Francisco, Indiana, Auckland, Melbourne and Sydney. He is the only playwright to win the NSW Premier's Award, a prestigious national writing prize, in successive years.
In 2006, he was the youngest recipient of the award with Strangers in Between. This play toured nationally in 2008 and is published by Currency Press in a joint volume with Holding the Man, which had five Australian encore seasons after breaking box office records in Sydney.
Tommy is a graduate of the National Institute of Dramatic Art (Director's Course) and a former writer in residence at Griffin Theatre Company. In addition to Strangers in Between and Holding the Man, his plays include Troy's House, Precipice, Gwen in Purgatory and Mark Colvin's Kidney; and an adaptation of Marlowe's Massacre at Paris, Blood Wedding for the 2012 Cultural Olympiad; and Peter Pan for Belvoir.
"There's a certain delicate beauty in the simple honesty of Tommy Murphy's writing." – Australian Stage
Director: Daniel Lammin Featuring: Simon Burke, Wil King, Guy Simon Set and Costume Designer: Abbie-Lea Hough Lighting Designer: Rob Sowinski Sound Designer: Raya Slavin Stage Manager: Cassandra Fumi
---
Strangers in Between
fortyfivedownstairs, 45 Flinders Lane, Melbourne
Season: 25 January – 11 February 2018 (preview: 24 January)
Bookings: www.fortyfivedownstairs.com
Reginald Theatre – Seymour Centre, Corner City Road & Cleveland Street, Chippendale
Season: 14 February – 2 March 2018
Bookings: www.seymourcentre.com
Image: photo by Theresa Harrison