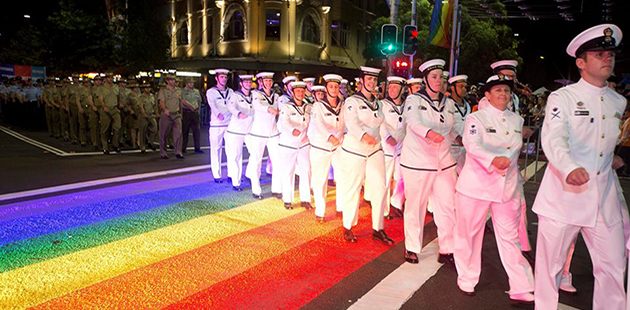 In November 1992, the Australian government overturned a longstanding ban on lesbians, gays and bisexuals serving in the Australian Defence Force. Transgender service would continue to be banned until September 2010. Yet, LGBTI people were serving in the military long before these milestones, with a range of experiences.
To commemorate 25 years since lifting the ban, this exhibition showcases the history of LGBTI military service in Australia since World War II. The exhibition brings together photographs, objects, documents and the life stories of current and former service personnel to explore how LGBTI Defence members navigated their lives in the Royal Australian Navy, Australian Army, and Royal Australian Air Force.
Serving in silence? includes tales of lesbian subcultures, witch-hunts targeting homosexuals for expulsion, kamp men in Papua New Guinea, participation in Sydney Gay and Lesbian Mardi Gras, and the changing Defence approaches to LGBTI service.
This exhibition derives from a larger research project on the history of LGBTI military service and is being co-sponsored by the Australian Lesbian and Gay Archives and City of Melbourne Library Service.
Serving in silence? Australian LGBTI military service since World War II
The Gallery at City Library, 253 Flinders Lane, Melbourne
Exhibition continues to 3 February 2018
Free entry
For more information, visit: www.melbourne.vic.gov.au or www.midsumma.org.au for details.
Image: Members of the Australian Defence Force (ADF) march in the Sydney Gay and Lesbian Mardi Gras Parade – photo courtesy of Department of Defence