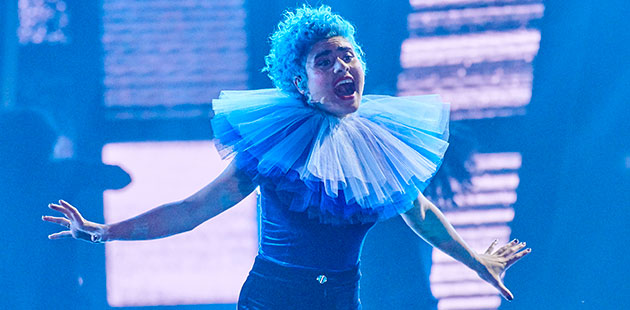 Montaigne has been crowned the winner of Eurovision – Australia Decides during the Live TV Final on SBS on Saturday 8 February.
The 24 year old Sydney-based artist took to the stage to perform her song Don't Break Me, alongside some of Australia's biggest names in music. The scores of the viewing public and jury were combined for the official results.
After winning over the Australian public with 53 points and a jury of industry experts with 54 points, an impressive 107 points overall, Montaigne has been selected to represent Australia at the Eurovision Song Contest to be held in Rotterdam, the Netherlands, and broadcast live and exclusive on SBS in May 2020.
In a nail-biting finish, Casey Donovan took out second place with 100 points overall, leading the public vote by seven points with her anthem of self-respect and acceptance Proud. While Vanessa Amorosi came in third place with her power ballad Lessons of Love with 82 points overall.
"This is wild! I started out just grateful to be a part of Eurovision but this is fricken insane!" said Montaigne. "Thank you to everyone who gave me their vote, I'm so excited to go to Rotterdam and give it a red hot go!"
"Australia has made their choice! And what an incredibly exciting and original choice it is," said SBS Commissioning Editor and Australian Head of Delegation Josh Martin. "This is a game changer for our Eurovision journey. Montaigne is an incredibly talented artist, full of strength and integrity who will bring a new audience to Eurovision."
"Montaigne is a total original. Her song had the best contemporary pop sound, and it was a shot performance – the first ever at Eurovision," said Creative Director of Eurovision – Australia Decides and Director of Blink TV Paul Clarke. "We are delighted that Casey Donovan won the public vote with a song from talented songwriter Justine Elkatchi in a very tight contest. Congrats to Montaigne!"
Montaigne will now compete at Eurovision in Rotterdam in May. For more information, visit: www.sbs.com.au for details.
Image: Montaigne performs during Eurovision – Australia Decides – courtesy of SBS  / Blink TV