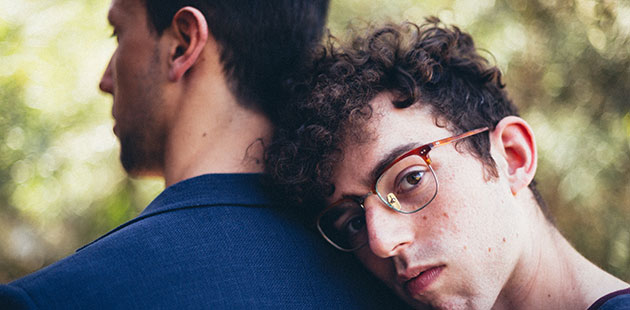 The Boy I Paid For is a surprisingly layered journey through love, acceptance, romance and sex. With a title like this work has, one could easily think that this would be a basic story brimming with cliche but it is far from it.
The writing is meticulously constructed to bounce from comedy to serious and back while still keeping the pace and deeply relatable tone. What sets this work apart is it's ability to cut to the core of the issues explored and hone in on the awkward, uncomfortable but very real motivations of the characters.
Jake Matricardi is impossible to turn away from. He embodies the character of Keith with every nervous flick of the fingers and stutter. From start to finish Jake's relationship with the script, story and physical embodiment of Keith is what makes this show work.
Jonny Kinnear is just as well cast in his role of Beau. He not only is physically suited to the part but has the depth and honesty to back it up. There is a genuine frankness to his delivery that makes the audience see this character as more than a punchline or story cypher. There are moments when he is speaking directly to the audience that nerves seem to creep in but this is fleeting and does little to dampen his overall performance.
The chemistry between and Jake is soft and sublime and generous – you really get the sense that these two performers have a lot of respect and affection for each other.
Wayne Stellini shines with the script but the work is marred by his jarring direction. Though the best is made of the limited space, there always seems something staged about the character's interactions, they don't always seem comfortable in the space and the delivery of some moments feel out of place. This isn't a heavy criticism but rather a hope that this is ironed out through further development and collaboration.
The Boy I Paid For is a very welcomed addition to the Midsumma calendar – it is deserving of its extended season and full houses and after a little dramaturgical insight, audiences would no doubt welcome a return season.
---
The Boy I Paid For
The Butterfly Club, 5 Carson Place, Melbourne
Performance: Thursday 23 January 2020 – 7.00pm
Season continues to 31 January 2020
Information and Bookings: www.thebutterflyclub.com
Image: The Boy I Paid For – photo by Benjamin Laut
Review: Gavin Roach