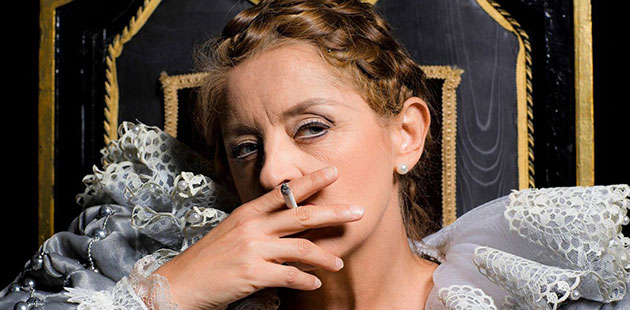 Queen Bette is a dark, driving glimpse at one of greatest movie actresses, Bette Davis. Directed in splendid, visceral fashion by Peter Mountford, Jeanette Cronin is a marvel as Davis in this compelling solo show.
There's a period of aural adjustment at the beginning of the play when Jeanette first bursts on stage in full Davis voice and our ears must adjust to her accent. She moves around a dressing room of sorts, apparently taking some respite from playing Queen Elizabeth I.
It was a role that she played more than once and while Jeanette traces her path around the space, the full regalia sits mounted back in one corner. In one of a multitude of deft creative touches, the costume is never referred to. Its totem-like presence is enough to reinforce certain qualities of Davis – resolute, stubborn, etc – that Jeanette conveys wonderfully during the piece.
There's no soundscape as such. Occasional, brief steps into cinematic vignettes are scored by traditional orchestral movie swells, otherwise there's silence. Often the sound levels in these moments would unfortunately drown Jeanette out, but they were nicely laid out. Other support in design came from Harrie Hogan with a judicious use of lighting that shifted from practical to stylised and back again in a lovely, organic way throughout.
A fascinating quality was despite the 75-minute running time, Jeanette's performance had such a fleeting feel. There was a palpable sense of transience as she told her story of an untraditional star that ultimately burned bright for decades before her eventual departure. While there was certainly armour there, there was also heart, and Jeanette reveals both in this engaging look at "The First Lady of Film."
---
Queen Bette
Studio Theatre – Gasworks Arts Park, 21 Graham Street, Albert Park
Performance: Tuesday 21 January 2020 – 7.00pm
Season continues to 1 February 2020
Bookings: www.gasworks.org.au

For more information, visit: www.midsumma.org.au or www.gbodtheatre.com for details.
Image: Jeanette Cronin stars in Queen Bette (supplied)
Review: David Collins