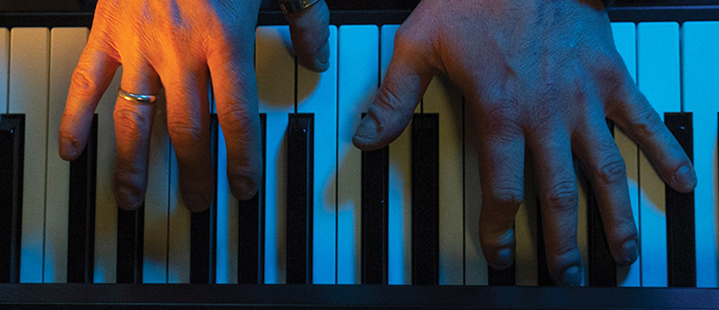 It's only a consequence of where I'm seated – at the end of a bench near shelves pushed to the sides of Hyenas and Hares to make room for a performance space – that lets me see the layers working back through the store:
There's gauze pinned tight across the front of the rostra, behind which is a beautiful fleur de lis pattern across the back wall, behind which are strings of soft blue and white lights, behind which finally is a glimpse of terra-cotta and plants. This view, a loose strata from modern to nature, reflects the overarching shape of the hour of music that follows – three pianos accompanying visuals that meander, spiral, and surge forward in time.
Composed by PJNoack, and performed by him, along with Gareth Wiecko and Willian Elm, Preludes and Nocturnes is a lovely collection of short pieces knitted together to form a suite that gently reveals itself to be greater than the sum of its parts.
While admittedly an early cross-fade from an ornate picture frame to the outline of an iPhone/iPad was a little clumsy, the projections mostly worked. Whether the charming nostalgia of an Amiga startup screen, exploded CAD views of cathedral spires, or abstract shapes and splotches appearing in time to the music, these visuals played over semi-obscured musicians helped lift the work into more beguiling territory.
---
Preludes and Nocturnes
Hare Hole (Hares & Hyenas), 63 Johnston Street, Fitzroy
Performance: Wednesday 6 February 2019 – 7.00pm
Season continues to 8 February 2019
Information and Bookings: www.midsumma.org.au
Image: Preludes and Nocturnes – photo by Fagan Wilcox
Review: David Collins