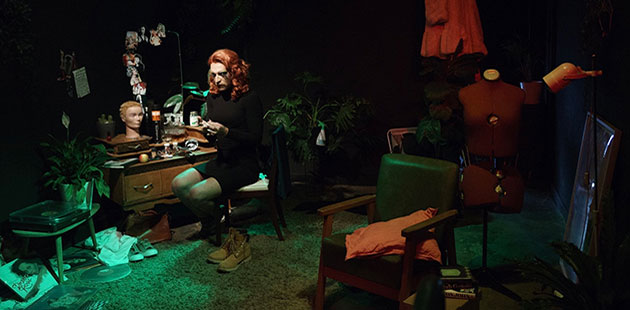 Party Snake is more than just drunken rambles on the world they live in, but an intelligent deconstruction of the armour we must wear to navigate the world around us.
Stomping onto a detailed set is the Party Snake herself – confident, self assured, exhausted and hungry. Hungry for the night to never end but all the while knowing that her time is up. As the skin is shed, words of wise prose spill out, musings on well worn paths and an experienced knowing of how the world works.
Each layer cast aside reveals struggles faced and battles fought – there is confidence in the melancholy. We aren't asked to feel sorry for the person underneath, but rather to understand.
Kotryna Gesait's script is flawless – weaving a tale brimming with romance, heartache and courage. The use of prose is perfection, never dipping into indulgence or ego, but rather striking at the audience with venomous barbs that kept us all engaged and alert. This is a writer that demands to be heard.
Lachlan Martin gives a god damn transcendent performance. From beginning to end he holds the audiences gaze and never once falters. He embodies every small nuance of the character and makes each moment feel fresh and thoughtless. It is a rare joy to watch an actor of this caliber stalk the stage with such generosity.
Party Snake is queer theatre at its finest – never trying to be anything more than what it simply is, a finely crafted piece of theatre that is already a MUST SEE of 2020!
---
Party Snake
The Burrow, 83 Brunswick Street, Fitzroy
Performance: Wednesday 8 January 2020
Season continues to 12 January 2020
Bookings: www.trybooking.com
Image: Party Snake – photo by Phoebe Taylor
Review: Gavin Roach