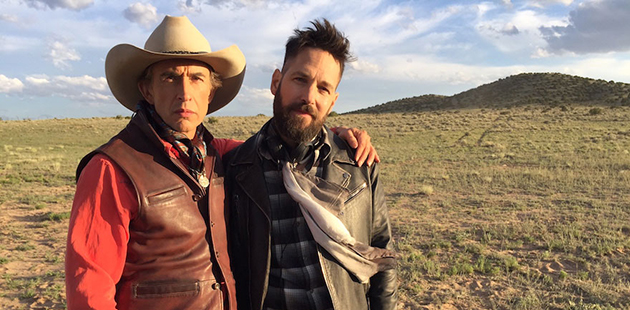 Celebrating 25 years of queer stories on film, Queer Screen's 25th Mardi Gras Film Festival is a glorious mix of retrospective treasures and the latest and greatest films celebrating love, life and the journey to equality across the LGBTIQ+ spectrum.
Running 15 February – 1 March 2018, and with more than 60 Australian premieres, two world premieres, abundant award-winning films and 12 different short film packages, the Festival will showcase 55 feature length films and 69 short films in 71 sessions.
"Screening the widest number of queer stories and giving a platform to as many different queer voices as we possibly can, particularly underrepresented voices, is our driving force this year and the reason why we are showing so many short films," said Festival Director Lisa Rose. "It's not a hard task to double the number of short packages this year as the quality of the films is exceptional. I'm also proud that three sessions include differently abled protagonists and two screenings have Open Captions."
"In addition to showcasing our newest filmmakers, we are honouring our past through timeless classics such as Desert Hearts and Young Soul Rebels, as well as an unmissable My Queer Career Retrospective Gala celebrating some of the most compelling short films created here in Australia since we established My Queer Career in 1994."
The Festival opens with Ideal Home – a hilarious dramedy about an extravagant bickering couple played by Steve Coogan and Paul Rudd who must look after a grandson they never knew they had. Closing Night is the quirky award-winning, coming-of-age film, Freak Show – featuring the camp and courageous Billy Bloom who is determined to live life as his fabulous self – with cameos from Bette Midler and Laverne Cox, it's a great celebration of being here and being queer!
Holding its world premiere at the Festival is Black Divaz – the Australian documentary following the inaugural Miss First Nation pageant, providing an intimate portrait of what it means to be an Indigenous Drag Queen today. In addition, Australia is one of the first countries in the world to showcase a special preview screening of Love, Simon – the hotly anticipated coming of age story about the thrilling ride of falling in love for the first time.
Ensuring there is something for everyone whether you like your films dramatic, uplifting, thought-provoking, artistic or just plain sexy, other highlights of the 2018 program include The Untold Tales of Armistead Maupin – revealing the real-life story behind one of the most enduring queer tales of our time; and from Trinidad, to Australia, to Germany, and back again, The Last Goldfish spans almost a century as it tells the story of a daughter's search for the truth about her family.
Writer-director Eliza Hittman explores the fine line between machismo and homoeroticism in Beach Rats; meet the male ballerinas of the world famous Les Ballets Trockadero de Monte Carlo in Bobbi Jo Hart's playful documentary, Rebels on Pointe; and Signature Movebrace yourself for mother-daughter relationships and lucha libre women's wrestling in the multicultural lesbian love story, Signature Move.
Spanning four decades of queer life, music, art, and politics, Jochen Hick's documentary, My Wonderful West Berlin shines a light on gay culture in West Berlin in the years before the Wall came down; and a gritty portrayal of sexuality, gender and love, Pulse is a speculative fiction tale of a gay teenager with a disability who undergoes a body transplant to become a beautiful woman
This year's Festival will also host a countdown of the Top 25 LGBTIQ Films of All Time as voted by Queer Screen fans, and discussed by local film experts Kate Jinx, Matt Ravier and Lisa Rose; and doubling the number of shorts sessions this year, the stories cover a wide range of queer voices including: gay, lesbian, transgender, intersex, queer people of colour, senior and differently-abled characters, as well as retrospective shorts, and the Asia Pacific Queer Film Festival Alliance shorts.
The 25th Mardi Gras Film Festival runs 15 February – 1 March 2018. For more information and complete program, visit: www.queerscreen.org.au for details.
Image: Ideal Home (supplied)