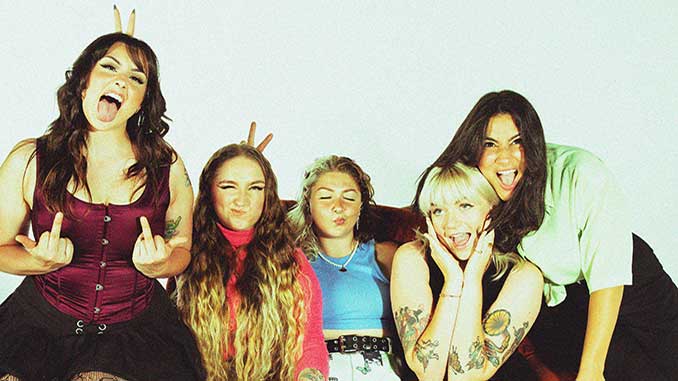 Adelaide – get ready to sparkle and groove at the highly anticipated Queer Club event, a night of music, art, and love that's set to shine brighter than ever!
Taking place at JIVE on Friday 3 November, this inclusive and vibrant celebration is open to all members of the LGBTQIA+ community and allies, promising a safe and welcoming space for everyone to express themselves and connect.
This year, Queer Club is back with an even bigger and more fabulous line-up, featuring 5 sensational Australian music acts, 1 dazzling drag queen, and a ton of glitter to light up the night.
The event is a platform to honour the rich history of the queer community while also highlighting the unique stories and experiences of each individual. It's a moment to bridge generations and create a nurturing environment for the emerging talents of tomorrow.
Stepping into the spotlight again as the charismatic host for the evening is the one and only OPHELIA BUTT, whose captivating presence and charm will set the tone for an electrifying night.
Queer Club's headlining Queen, aleksiah, has already taken the music scene by storm with her debut single Fern. Her melodic storytelling draws from personal experiences, resulting in a captivating blend of whimsy and reality. Triple J has showered her with accolades, and she's graced stages with artists like Lime Cordiale and Kita Alexander.
Up next is Adelaide-born and Sydney-bred, Caroline and Claude. This dynamic sibling duo combines acerbic wit and timeless hooks to create a unique blend of pop classicism. Their debut single 'Stir The Pot' showcases their knack for ruthlessly catchy song writing and iconoclastic sound.
Next, Sour Sob delivers a blend of alternative indie-rock with ethereal melodies and crushing guitars. Influenced by icons like Pavement and Big Thief, their energetic performances are bound to captivate hearts and fill the room with a magnetic energy.
Ready to rock the patriarchy, Queer Club then has Pest Control who are a 5-piece fem-punk band that's here to shake things up. Drawing inspiration from the likes of Bikini Kill, Amyl & The Sniffers, and Destroy Boys, their powerful sound and unapologetic attitude promise to leave the audience electrified.
Last but not least, Jess Johns. This artist's solo performance promises an intimate and soulful connection with the audience. A true showcase of vulnerability and strength, Jess Johns will captivate with their heartfelt melodies and emotional depth.
Queer Club is not just an event, it's a movement that has resonated far and wide. After a sold-out success in 2022, this year's festivities are set to raise the bar even higher, offering a night of unity, self-expression, and the sheer joy of being yourself.
"I couldn't be happier to see the return of Queer Club for 2023! This event holds a special place in my heart, as it's not just about the music and the glitter – it's a space where we come together to celebrate our unique identities and create lasting connections," said Queer Club creator, Tayla Carlaw.
"The energy, the unity, and the pure joy of Queer Club are something that can't be replicated. I cannot wait to do it all again!" 
Join Queer Club in celebrating the vibrant tapestry of the LGBTQIA+ community, where music, art, and love unite to create an unforgettable night. Embrace the rainbow and be part of the magic at Queer Club!
---
Queer Club
JIVE, 181 Hindley Street, Adelaide
Event: Friday 3 November 2023 (doors: 7.00pm)
Bookings: www.moshtix.com.au
For more information, visit: www.prettygoodthanks.com.au for details.
Image: Pest Control – courtesy of Queer Club