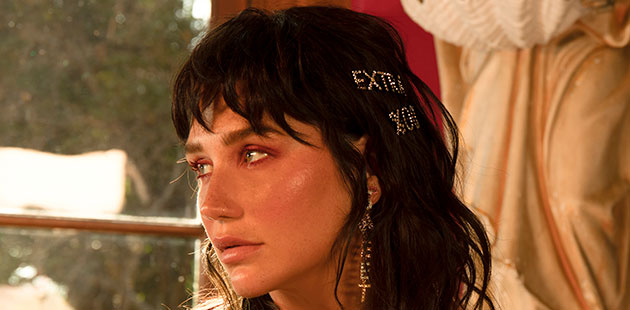 The party don't start till she walks in! Glitter goddess and self-proclaimed dance commander Kesha has officially been announced as a performer at the Mardi Gras Party on Saturday 29 February 2020.
Kesha has established herself as a defining voice of the decade, having topped the charts with her iconic debut Tik Tok and the anthemic We R Who We R, as well crafting a smorgasbord of 2010's top-ten hits which include Blah Blah Blah, Your Love Is my Drug, Take It Off, Blow, Die Young and her ground-breaking 2017 comeback Praying.
Since her debut in 2009 Kesha has gone on to become one of the most successful recording artists of the 21st century and has sold over 134 million records worldwide. She has amassed a stellar assortment of accolades including: the 5th best-selling single in digital history with Tik Tok; 24 award wins comprising the Billboard Women in Music Trailblazer Award and the Gretchen Wyler Genesis Award; and 89 award nominations including seven Billboard Music Awards, two Grammy Awards and three American Music Awards.
Kesha last week dropped both the song and video for My Own Dance – the irreverently witty new single from her hotly anticipated upcoming album High Road (out 10 January on Kemosabe/RCA Records). The release continues the wave of addictively fun and perfectly crafted pop started by the acclaimed gospel-inspired rave banger Raising Hell (featuring Big Freedia).
One of the music industry's most prominent LGBTQI rights activists, Kesha received the 2016 Human Rights Campaign's Visibility Award for her outstanding efforts in promoting equality, and was nominated for outstanding musical artist at the 2018 GLAAD Awards. In 2010 Kesha lent her voice to Dan Savage's It Gets Better campaign and wrote her chart topping smash We R Who We R as a direct response to news that bullying had led to multiple suicides of gay youth.
Joining the previously announced pop sensation headliner Dua Lipa, is Kesha who along with stacked line-up of eccentric and extraordinary performers and DJs from home and abroad who will fill the atmosphere with pulsing techno, tantalizing house and euphoric gay anthems till the early hours.
The Mardi Gras Party is one of Australia's most treasured LGBTQI Parties! 2020 will see Mardi Gras transform The Hordern Pavilion and surrounding areas into a brand-new adult play land, bursting with music, light and performance across new fantasy worlds for you to immerse yourself. Continue riding the joyous vibes post-Parade as our communities come together in this multi-sensory feast.
The 2020 Mardi Gras Party takes place on Saturday 29 February from 10.00pm. For more information, visit: www.mardigras.org.au for details.
Image: Kesha (supplied)