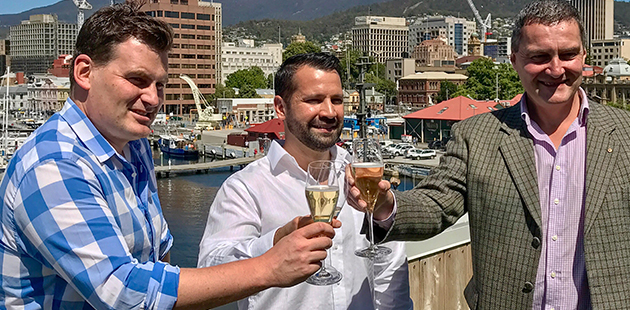 Ahead of same-sex marriages beginning in earnest on Tuesday, the Tourist Industry Council of Tasmania (TICT) has launched a new video encouraging same-sex couples to marry and honeymoon in the Island State.
The video was an initiative of Tasmanians United for Marriage Equality (TUME) which worked with the Tourist Industry Council of Tasmania to tell the story of how Tasmania has transformed from the worst state on LGBTI human rights to one of the best, and features LGBTI human rights advocate Rodney Croome, and his partner, Rafael Manzanilla, talking about Tasmania's transformation and inviting couples to Tasmania to marry.
"The aim of the new video is to send the message that Tasmania is an inclusive and friendly wedding destination for LGBTI Tasmanian expats who want to return home to marry, and for other LGBTI people looking for a destination wedding," said Mr Croome.
"The Tourism Industry Council of Tasmania has made an important contribution to promoting inclusion with its rainbow accreditation system which was the first of its kind in Australia, and now with this video which is also a first for any state. The video sends the message that Tasmania is ready and waiting to celebrate the love, commitment and joy of those same-sex couples who want to marry here."
"Tasmania is an obvious wedding destination for same-sex couples because of our beautiful natural environment, historic buildings, and sophisticated hospitality industry. But we have something just as appealing, a story about how we have transformed ourselves from being the last state to decriminalise homosexuality tos being one of the most inclusive and friendly places for LGBTI people in Australia."
"I thank all those Tasmanians who have helped make Tasmania a better place and I thank the Tourism Industry Council for telling our story to a wide audience."
Also speaking at the launch, Chief Executive Officer of the Tourism Industry Council of Tasmania, Luke Martin, said, "Just before Christmas, Tasmanian human rights advocate, Rodney Croome AM, approached us asking what was the tourism industry doing to promote and showcase Tasmania as a destination for weddings and honeymoons in the lead up to marriage equality laws coming into effect this month."
"We talked it over and agreed it was important we celebrate Tasmania generally, and our remarkable progress over the past two decades since the decriminalisation of homosexuality when we had a bad reputation as a destination among the LGBTIQ communities, to now being an open, inviting and inclusive destination for everyone."
"From the tourism industry's perspective, this is perhaps best represented by our Rainbow Tourism Accreditation program, which is the first industry standard in Australia recognising our tourism and hospitality operators understand their legal responsibilities under the Anti-Discrimination Act to treat all our visitors equally."
"It is also important for him to tell other Tasmanians who might have left the State in the past because of the way they were treated due to their sexuality, that we would love to see them return home and get married here. We know a number of operators and venues across the State and already taking bookings for weddings and honeymoon, and we hope to see lots of Tasmanians, their family and friends celebrating their nuptials across the State."
Tasmania was the last state to decriminalise homosexuality in 1997, but it was the first to allow same-sex civil unions and move on same-sex marriage legislation. In November it returned a result above the national average in the national marriage equality postal survey.
Image: (L – R) Mr Martin, Mr Manzanilla and Mr Croome celebrating the video's launch at Macq01 Hotel in Hobart (supplied)