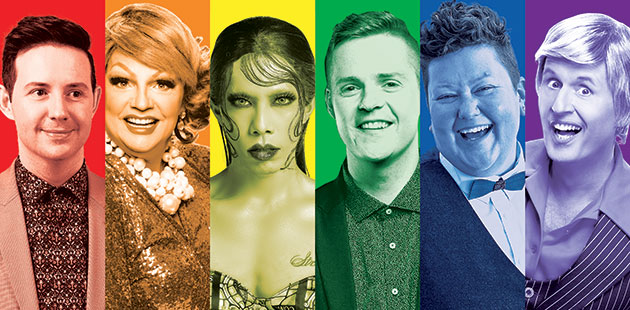 An all-star variety show of epic proportions, the Midsumma Extravaganza returns for the third year to Hamer Hall – Arts Centre Melbourne with a kaleidoscope of glittering LGBTIQ+ artists on Saturday 1 February 2020.
Hosted by dazzling TV star Bob Downe and feel-good comedian Kirsty Webeck, the Midsumma Extravaganza celebrates some of Australia's finest talent, this is a smorgasbord with something for everyone – laughs, music, cabaret, and of course, drag!
The duo will be joined by the likes of Pangina Heals – The RuPaul of Thailand, national stand-up superstar Tom Ballard, Sarah Ward's divine and deluded alter ego Yana Alana, Melbourne cabaret icon Dolly Diamond, and winner of the 2018 Adelaide Fringe Weekly Best Comedy Award, Nath Valvo.
Also featured will be co-host of The Great Australian Bake Off Mel Buttle, The Voice's Jack Vidgen, cabaret singer and Oprahfication actress Rachel Dunham and multi-award-winning, transgender comedian Cassie Workman.
A DJ will kick-off the evening from 7.00pm, with the Extravaganza's stellar line-up taking to the red carpet at 7.30pm. The show commences at 8.00pm, with the stalls foyer transforming into a club post show. DJ Jake Judd will be on the decks until midnight.
---
Midsumma Extravaganza
Hamer Hall – Arts Centre Melbourne, 100 St Kilda Road, Melbourne
Performance: Saturday 1 February 2020 – from 7.00pm (show commences at 8.00pm)
Information and Bookings: www.artscentremelbourne.com.au
Image: Nath Valvo, Dolly Diamond, Pangina Heals, Tom Ballard, Kirsty Webeck and Bob Downe star in the 2020 Midsumma Extravaganza (supplied)