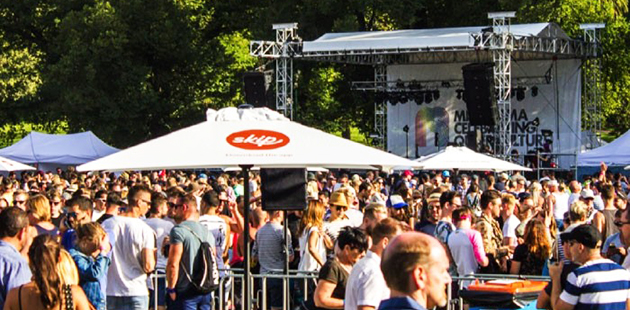 With fine weather forecasted this weekend, organisers of Melbourne's Midsumma Festival are expecting a large turnout tomorrow (Sunday 14 January) at Alexandra Gardens for Carnival – the opening event of the 2018 Midsumma Festival.
Kicking off from 11.00am, all your Carnival favourites are back including the Team Melbourne Sporting Precinct; the annual Midsumma Dog Show; and two stages full of entertainment – enjoy a taste of many of the acts that will be appearing across the festival season – see timings below!
Get to know your community at one of the 160 stalls in the Carnival Village including: Australian Lesbian and Gay Archives, Berry Street, ChillOut Festival, Defence Force Recruitment, GLOBE Melbourne, JOY 94.9, Melbourne Rainbow Band, Rainbow Store, Sydney Gay and Lesbian Mardi Gras; the Victorian AIDS Council and the Victorian Pride Centre – just to name a few…
There'll be an under 18s area hosted by Australia's largest youth organisation Minus18; a rest zone; and Midsumma Carnival's first-ever tactile installation by Slow Art Collective in collaboration with Description Victoria – for those that want to feel the community vibe across all of their senses. Bring the kids, the sunscreen and a picnic lunch if you like – but please don't bring any glass containers or bottles with you!
As the day starts to fade, the Carnival Main Stage is taken over by an amazing team of DJs to generate the ultimate summer soundtrack at T Dance. Grab a drink from the bar and watch the sun set over our beautiful city skyline – the ultimate way to kick start your 3 weeks of Midsumma fun.
The 2018 Midsumma Festival runs from 14 January to 4 February. For more information and complete program, visit: www.midsumma.org.au for details.
Image: Midsumma Carnival – photo by Rohan Shearn
---
Carnival Main Stage: 11.00am – 5.30pm
11:10am – The Belle Miners
11:45am – Ms CeCe Rockerfeller
12:05pm – PO PO MO CO
12:20pm – Melbourne Wuthers: Kate Bush Tribute
12:35pm – Phillip Lee Curtis
12:50pm – Spectrum
1:05pm – Raina Peterson and Gorvind: Bent Bollywood
1:15pm – Mr Gay Pride Australia
1:35pm – Kaliopi
2:00pm – Melbourne Rainbow Band
2:15pm – Welcome to Country and Official Proceedings
2:40pm – Melbourne Rainbow Band and Melbourne Gay and Lesbian Chorus with Dolly Diamond
3:10pm – Dean Arcuri & Miz Ima Starr: The Duetaholics!
3:25pm – Miss Gay and Miss Transsexual Australia: Mini Pageant
3:50pm – Leather Lungs – star of Leather Lungs: Son of a Preacher
4:05pm – Dykes on Bikes raffle drawn
4:10pm – Mr Gay Pride Australia Finalists Announced
4:20pm – Belinda Davids star of The Greatest Love of All: The Whitney Houston Show
4:40pm – Spice Up Your Life: The Ultimate 1990s Experience
5:05pm – Marion Cranes
---
Picnic Precinct Stage: from 11.00am
11:00am – Bend Over Homo Yoga
1:00pm – Self Made: Fashion Design Competition:
3:00pm – Midsumma Carnival Dog Show – hosted by Karen from Finance
5:00pm – Lip Sync Limelight – hosted by Dean Arcuri
---
T Dance Main Stage: 6.00pm – 10.00pm Hosted by YUMMY
6:00pm – DJ YO! MAFIA
7:05pm – DJ Versey Verse
8:00pm – Ana Diction
8:10pm – Miss Blanks
8:50pm – DJ Luke Agius
---
T Dance Picnic Precinct: from 6:30pm Hosted by #Dylicious
6:30pm – Will Hannagan
6:55pm – Zoe Diaq
7:05pm – Dani Boi & Joanna Laheaux
7:20pm – KillJoy
7:35pm – Glitterfist
7:45pm – Miicha
Note: timings and artists subject to change!