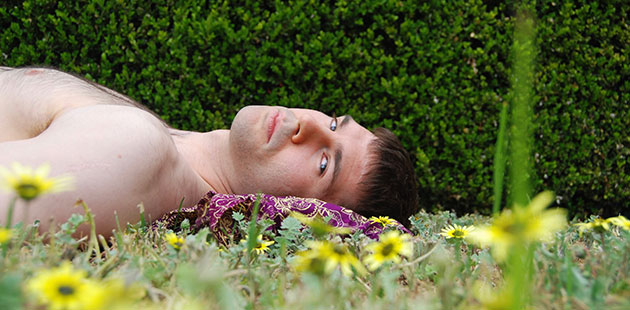 Turning their thirst for provocation and liberation on the modern Australian man, Kissing Booth and Theatre Works presents the world premiere of Leopard Print Loincloth as part of the 2020 Midsumma Festival this February.
Leopard Print Loincloth is a dirty, hilarious, brutally honest jog through the prickly field of contemporary Australian masculinity. Taking inspiration from country music, #ToxicMasculinity and Nick Riewoldt's nudes, Leopard Print Loincloth examines the requirements, expectations, and idiosyncrasies that come with manhood.
Directed by Weintraub, an all-male, ruggedly talented cast of six inhabit this beer-scented new play from Melbourne playwright Jake Stewart (Fraternal, Boys Have Skin and The Helendale Nude Footy Calendar).
The work was developed in collaboration with a community of over 60 Melbourne men and inspired by a symphony of diverse testimonies, Leopard Print Loincloth is a fragmented invitation to spend some time with what's underneath the flannel and the business shirts.
"We were boys that were told to man up, and then, to everyone's horror, we became men," said writer Jake Stewart. "To the most official extent yet, men are terrible. And this puts men in an awkward spot. Not to mention the people that are stuck falling in love with them."
"When men have something to contribute to analyses of their gender's villainy, their offerings are often disregarded as tone-deaf, unwelcome excuses. With Leopard Print Loincloth, we've got something else to offer. Something more like an explanation."
Kissing Booth is an award-winning theatre company known for interrogating polarising and taboo subject matter. The Company is fixated on the darker regions of the human experience, without ever losing their taste for glittery gayness.
Director: Dominic Weintraub Featuring: Joel Beasley, Eamon Dunphy, Ben Goss, Max Greenham, Luey Kemp-Mykyta, Rhys Wilson
---
Leopard Print Loincloth
Theatre Works, 14 Acland Street, St Kilda
Season: 4 – 8 February 2020
Bookings: www.theatreworks.org.au
For more information, visit: www.kissingboothproductions.com for details.
Image: Leopard Print Loincloth – photo by Billy Hennessy