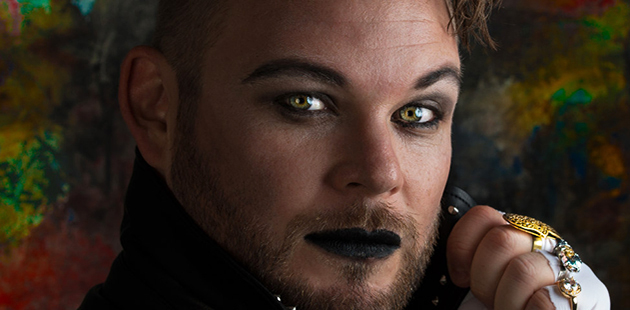 Audiences will be drawn into a world of pleasure, amusement and challenge, stunned, mesmerised, buckled with laughter and turning to their neighbour in shock, as Leather Lungs: Son of a Preacher is presented at Hares & Hyenas as part of the 2018 Midsumma Festival from 18 January.
Leather Lungs crosses with religion, fistfights with sexuality and discos with dildos. Within the burgeoning genre of alternative cabaret, be roused into a delightfully naughty show fusing good old-fashioned vaudeville with messages of sexuality and gender fluidity.
Leather Lungs is a master of falsetto and stiletto with his exceptional vocal range and fiercely flawless delivery. This daring deviant marries savage wit, outrageous innuendo and the fringe and frills of cabaret to stand out as a cabaret artist like no other.
Jason Chasland (performer) hits Australia with the world premiere of his new character and daring one-man cabaret. Having sung as a vocalist with Adele in 2017, performed at the Globe Theatre, and stunned audiences worldwide (including Hollywood) with five seasons of his self-written work Impostar, in 2018 Jason makes his mark on Melbourne as Leather Lungs, followed by a season at Auckland Pride and Adelaide Fringe.
"Jason Chasland is a phenomenon and his one man show, is quite simply brilliant" – GayNZ, 2017
Leather Lungs: Son of a Preacher
Hares & Hyenas, 63 Johnston Street, Fitzroy
Season: 18 – 21 January 2018
Bookings: www.midsumma.org.au
Following its Melbourne Season, Leather Lungs: Son of a Preacher will also be presented at Auckland Pride: 8 – 10 February; and Adelaide Fringe: 6 – 10 March. For more information, visit: www.jasonchasland.com for details.
Image: Jason Chasland stars in Leather Lungs Son of a Preacher (supplied)