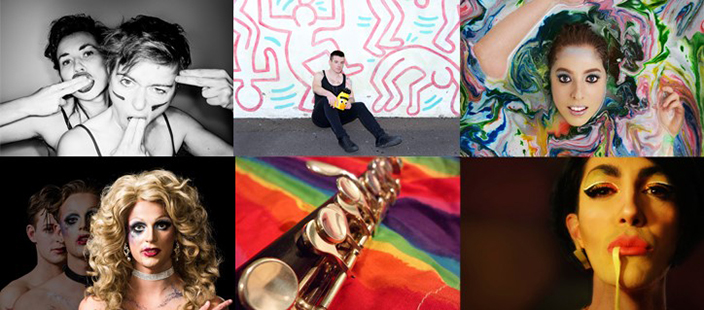 Melbourne's La Mama Theatre kicks off its 2018 season as one of five Midsumma Festival Hubs featuring six productions by some of Australia's formidable local and interstate theatre makers.
#romeoandjuliet
La Mama Theatre: 16 – 21 January
Two households, both alike in stupidity… A hot new mangling of Romeo and Juliet by two of Melbourne's sharpest mischief makers, Kimberley Twiner and Lily Fish. Dive into the pants of two star-crossed clowns; with a questionable knowledge of Shakespeare, limited resources, and a multitude of distractions as they attempt to stage the most profound love story ever told. Hilarious. Absurd. Camp.
Lockpick Pornography
La Mama Courthouse: 17 – 21 January
A genderqueer adventure story adapted from Joey Comeau's novella of the same name, a darkly humorous exploration of queer political vigilantism and the way that anger can galvanise and destroy us. The unnamed narrator and his friends take radical action against right wing politicians out for queer blood, kidnapping a 'family values' politician's young son and departing through the suburban jungle on foot, looking for mayhem.
Can't Be Tamed
La Mama Theatre: 24 – 28 January
A 3am, greened-out D'nM on the nature of who-the-f*ck-am-I? with Miley Cyrus as your queer spirit guide. Who does Miley Cyrus think she is? Let's get one thing straight(ish): this is not a cabaret or a f*cking sing-a-long. This queer, psychotrash, anti-biography of the artist formerly known as Hannah Montana is a surreal unbecoming of age that begins with molly and ends somewhere deep in the Miley mind-verse. Premiering to sold out audiences in Melbourne Fringe 2016 and critical acclaim in Adelaide Fringe 2017, Can't Be Tamed returns home for one last high!
Dragged
La Mama Courthouse: 25 January – 4 February
Stella, a beautiful drag queen, stumbles against a cold wall down a dark alley outside her club. She reeks of booze and tastes like cocaine. As her manager leaves her alone in the night, she travels back to the roots of her riot lifestyle through drug induced hallucinations and memory flashbacks. She shows us her past self and his grueling battle through the confusing beginnings of adult-hood, and his transformation from a boy to man and man to queen.
Homophonic!
La Mama Courthouse: 29 – 30 January 
Back for it's 7th fabulous year! Homophonic! features music written by local and international queer composers such as Andrew Aronowicz, Lou Harrison, Moya Henderson, Naima Fine, Michael Tilson Thomas, and more. We're bringing the disco ball to the concert hall! Celebrating Sapphic symphonists, homosexual harmonies, and the proud tradition of composers being as gay as the day is long. Come along and experience the sound world of todays queer composers. Performed by 3 Shades Black, and compared by artistic director Miranda Hill, Homophonic! brings together Melbourne's most in demand professional musicians, to perform some outlandishly amazing music.
La Nonna
La Mama Theatre: 31 January – 4 February
Hot like a bowl of Sicilian pasta, La Nonna is a cabaret-cum-Italian restaurant extravaganza – messy, warming and full of gluten. Let Nonna impart her wisdom, whether you want it or not. Join her as she grapples with tradition in a fast changing world and reflects on a life divided between being neither Italian nor Australian, she's just… Nonna! La Nonna is a rediscovery of the past, a herstory largely forgotten, and homage to a woman who never asked for one. Join Nonna as she navigates continents and identities and dance with her to the bangers of Italy's greatest divas: Arena, Imbruglia, Grande.
La Mama Midsumma Festival Hub
La Mama Theatre: 19 January – 3 February
La Mama are ready to party every Friday and Saturday night after the shows. Join them for a boogie in the courtyard for the La Mama Midsumma Festival Hub. With a fabulous array of queer DJs and musicians including DJ Nature Girl, Sprockett, HEARTATTRACTS X Matt Dwellers, Jet Phoenix, DJ Bouquet, and Sezzo Snot  –  plus special cocktails and mocktails set amongst a colourful installation in the breezy outdoor setting what more could you ask for this Midsumma?
The 2018 La Mama Midsumma Festival season runs 16 January – 4 February. For more information, visit: www.lamama.com.au for details.
Image: courtesy of La Mama