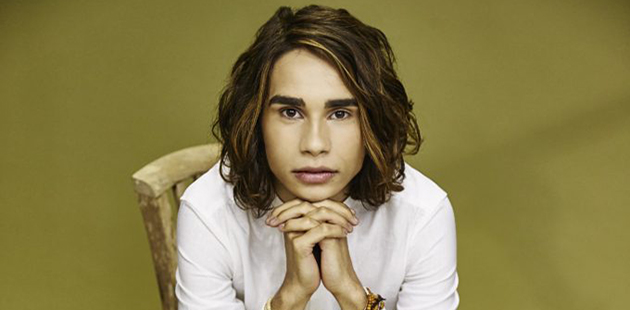 SBS has announced Isaiah Firebrace and his new song, Don't Come Easy as Australia's entry at the 2017 Eurovision Song Contest, to be held in Kyiv, Ukraine in May.
Hailing from the small country town of Moama, 17 year old Isaiah first stepped into the spotlight last year when he was crowned winner of The X Factor Australia 2016. Isaiah's story is one of determination and passion for music, honing his craft with six hour round trips from regional Victoria to singing lessons every week, aspiring to become a professional artist.
Isaiah is already experiencing global success, with his first hit It's Gotta Be You going Platinum in Sweden, and charting in over 15 countries including Australia, Denmark, Norway, Sweden, Canada, and the US.
Isaiah's Eurovision song, Don't Come Easy, which has been released globally today, is an emotive ballad showcasing his vocal range and unique ability to connect with powerful lyrics, which, in this track, speak to fighting for your dreams even when it isn't easy.
It was written for Isaiah by DNA Songs duo David Musumeci and Anthony Egizii, the same team who wrote Dami Im's Eurovision hit Sound of Silence which won the prestigious Marcel Bezençon Composers Award for the best original composition at last year's Eurovision Song Contest.
"I'm so proud to be representing Australia as our entrant for the Eurovision Song Contest 2017," said Isaiah. "Even though it has been a dream of mine, never did I think for one minute it would be a possibility. To be able to share this news with my family and friends is unbelievable."
"I can't wait to go to the Ukraine to perform Don't Come Easy. I will make Australia proud. Thank you to SBS and my label Sony for believing in me and giving me the opportunity of a lifetime."
First broadcast on SBS in 1983, SBS has a long standing heritage with The Eurovision Song Contest, the world's largest song competition that celebrates and brings together diverse cultures through music. Isaiah is the third Australian artist to be invited to compete, following Dami Im who was runner-up in 2016 and Guy Sebastian who finished fifth in 2015, with Jessica Mauboy a guest performer in 2014.
Australia can get behind Isaiah from his first performance in Semi Final 1, which will be broadcast on Wednesday 10 May LIVE at 5am on SBS, and in primetime Friday 12 May 7.30pm on SBS. Isaiah will have to be voted through Semi Final 1 to then have the chance to compete for the Eurovision title in the Grand Final.
"The theme of Eurovision this year is 'Celebrate Diversity' and we are once again thrilled to be participating in a global event which could not be more aligned with SBS's own purpose," said SBS Managing Director Michael Ebeid. "Isaiah is a young artist who beautifully embodies the Australian spirit with his passion, hard work and humility, not to mention immense talent at just 17 years old. We are proud to have him represent our country, and can't wait to see him shine in Kyiv."
The Eurovision Song Contest will be broadcast exclusively on SBS – Friday 12, Saturday 13 and Grand Final Sunday 14 May at 7.30pm on SBS with LIVE early morning broadcasts beginning Wednesday 10 May at 5.00am on SBS. For more information, visit: www.sbs.com.au/eurovision for details.
Image: Isaiah Firebrace © Sony Music Entertainment