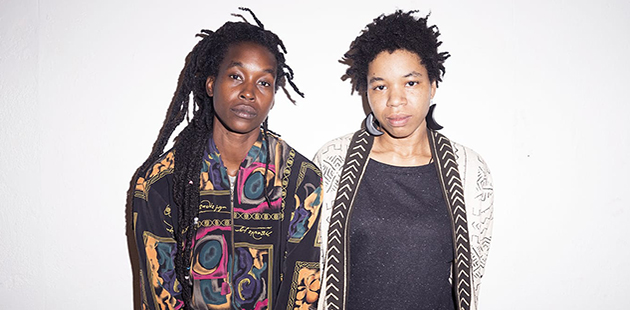 The radical Philadelphia-based collaboration Black Quantum Futurism, consisting of musician and poet, Camae Ayewa (aka Moor Mother); and writer and activist Rasheedah Phillips, perform their politically charged combination of Afrofuturist noise, punk and poetry for the first time in Australia – at The SUBSTATION for one show only on Thursday 25 January, following shows at MOFO.
Camae Ayewa aka Moor Mother describes her sound as 'project-housing bop, slaveship punk, witch rap'. The sound is deliberately abrasive; a noisy torrent of free jazz, hip-hop, poetry and punk collaged into experimental noise poems that speak to violence, trauma and the radical political struggles of black history.
Moor Mother's album Fetish Bones, released in 2016, is already considered a contemporary masterpiece. Pitchfork described it as 'a reminder of the hardships of love under the regime of historical trauma' – an album 'you will never be able to unhear'. The Wire was moved to describe Moor Mother as 'the most radical Afrofuturist artist to emerge for years.'
Rasheedah Phillips is a community housing activist, a mother, writer, the creator of The AfroFuturist Affair; the co-creator of Black Quantum Futurism; and a founding member of Metropolarity Queer Sci-Fi collective. In 2014, she published her first speculative fiction collection, Recurrence Plot (and Other Time Travel Tales), followed by an anthology of experimental essays from Black visionary writers, Black Quantum, Futurism: Theory & Practice Vol 1.
Together Ayewa and Phillips as Black Quantum Futurism, bring together workshops, radical pedagogy, community activism, writing and experimental music that speak to the violence, trauma and radical political struggles of black history, mobilising the revolutionary potential of Afrofuturist thought to manipulate and reorient perceptions of the past and present in ways that make alternative futures imaginable.
Black Quantum Futurism's vision derives its facets, tenets, and urgency from science-fiction, futurist traditions, and Black/African cultures of consciousness, time, and space.
The support program includes Lakyn Tarai and Ripley Kavara as Kandere performing hip-hop deeply rooted in queerness and their shared Melanesian ancestry, Fjorn Butler's solo noise project Papahilla, Yorta yorta song carrier Neil Morris, DJ Sezzo Snot, with readings from emerging voice in intersectional feminism Pauline Vetuna, and writer, poet, performer and cultural facilitator, Bigoa Chuol, as well as Rasheedah Phillips.
Black Quantum Futurism
The SUBSTATION, 1 Market Street Newport
Performance: Thursday 25 January 2018 – 7.00pm
Information and Bookings: www.thesubstation.org.au
Image: Black Quantum Futurism – photo by Bob Sweeney