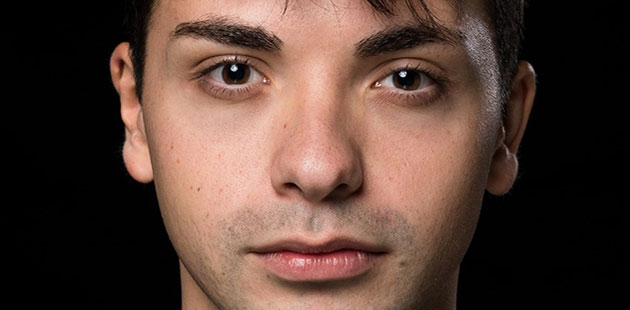 The remarkable true story of a young trans man having to make a life-changing decision, Gavin Roach presents the Australian premiere of ADAM by Frances Poet at Gasworks Arts Park as part of the 2020 Midsumma Festival from 4 February.
If you are born in a country where being yourself can get you killed, exile is your only choice. Adam is the remarkable true story of a young trans man having to make that choice and begin his journey. It charts Adam's progress from Egypt to Scotland, across borders and genders, in his search for a place to call home.
ADAM is represented as two distinct but complementary characters, 'two sides of a single coin'. Together they narrate the story of Adam's realisation of his true identity while growing up in Egypt, his decision to leave his native country, his journey from there to a cramped room in Glasgow, and his ongoing struggle to assume his new identity as a man.
Directed by Jacob Thomas (Transgression), ADAM features Oliver Ayres (Who's Afraid of the Working Class, Kaleidoscope) and Juan Gomez (Vivid White, PAW Patrol Live!). They are joined by a stellar creative team including Jac Arncliff, Daniella Esposito and August Shearman.
"ADAM is a powerful piece of theatre, cutting across themes of gender, asylum, trans rights and the power of the state," said Thomas. "It couldn't be more timely to have this show premiere in Australia, particularly during Midsumma, and I'm proud to have been given the opportunity (and trust) to direct this show."
ADAM was first performed by the National Theatre of Scotland at the Traverse Theatre, during the Edinburgh Festival Fringe 2017 – where it won a Fringe First Award.
Frances Poet is a Glasgow-based writer. Her stage work includes Fibres (Stellar Quines & Glasgow Citizens Theatre, 2019); Gut (Traverse Theatre, Edinburgh, 2018); Adam (National Theatre of Scotland at the Traverse Theatre, 2017); Faith Fall (Òran Mór and Bristol's Tobacco Factory, 2012) and What Put the Blood (Abbey Theatre, 2017).
Frances has also written a number of free adaptations including Strindberg's Dance of Death (Citizens Theatre, 2016) and Molière's The Misanthrope (Òran Mór, 2014). Her TV and radio work includes River City and The Disappointed, aired on BBC Radio Scotland in 2015. Her short film, Spores, screened at the Edinburgh Film Festival and Bogoshorts Festival, Bogotá (2016).
Director: Jacob Thomas Featuring: Oliver Ayres, Juan Gomez Production Design: Jac Arncliff Lighting Design: August Shearman Sound Design: Daniella Esposito Producer: Gavin Roach
---
ADAM
Studio Theatre – Gasworks Arts Park, 21 Graham Street, Albert Park
Season: 4 – 8 February 2020
Bookings: www.gasworks.org.au
For more information, visit: www.gavinroach.com for details.
Image: Juan Gomez features in Adam – photo by by Ali Choundhry