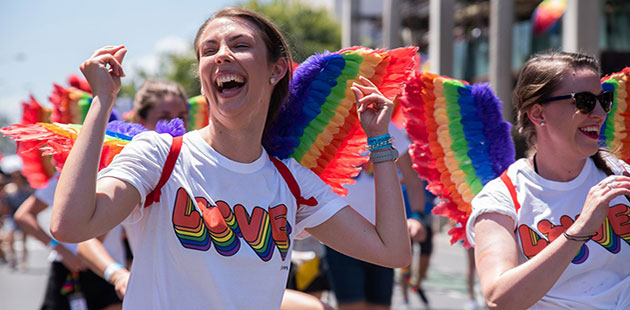 A record 10,500 participants will form a rainbow wave along the full length of Fitzroy Street in St Kilda this Sunday 2 February to celebrate 25 years since the first ever Victorian Pride March too place.
Rounding out a HUGE weekend of events, with Midsumma Extravaganza at Hamer Hall on Saturday 1 February, and the Festival program in full swing for another 7+ days, Midsumma Pride March 2020 brings together people of all ages, races, cultures and diverse gender and sexuality to celebrate with colour and expression.
"As custodians of this vital community and cultural event, Midsumma is proud to present Pride March in its 25th year," said Karen Bryant, CEO Midsumma Festival. "At a time when human rights for our communities continue to be threatened, and prejudice is still a real issue for many, coming together for Pride is a very special and important day for all of us."
The first Pride March in Melbourne took place in 1996, transforming the strip into a show of community pride, protest and triumph. A huge success at the time, over 11,000 people gathered to watch and cheer in solidarity. This year, 45,000 spectators are expected to gather along Fitzroy Street.
Rohan Shearn, a board member from the first ever Pride March committee reflects on the growth of the March since its inception: "It's hard to believe that 25 years ago, Melbourne's LGBTIQ Community gathered on Fitzroy Street to march in the very first Pride March. It was exciting times!" he said.
"Now, 25 years later, it is terrific to see that Pride March continues to grow in both participating groups and the thousands of spectators that continue to line the street each year."
Kicking off at 11.00am, as is world tradition, Dykes on Bikes Melbourne will precede the marching contingent, led by president Jo Bangles. "We are honoured to pay our respects to the women who have paved the way for Dykes on Bikes to lead Pride Marches all around the world," said Jo.
"It is key to our LGBTQI culture to continue to uphold this tradition that reminds all of us of the role lesbians played throughout our community's fight for recognition and equality. My role as president of Dykes on Bikes Melbourne is to make sure it continues to be a source of pride," Jo added.
Congregating first on Ian Johnson Oval at Grey Street end of Fitzroy Street, the march itself will be led by Boon Wurrung Elders and a Rainbow Aboriginal Float, along with the Premier of Victoria, Daniel Andrews; Minister for Equality and the Creative Industries, Martin Foley and Commissioner for Gender and Sexuality, Ro Allen.
Post-Pride celebrations will kick-on with entertainment all afternoon beside the St Kilda foreshore at the Summa Pride Stage in Catani Gardens with headliner Laura Imbruglia. The Midsumma Pride March awards will return once more for 2020 to celebrate bright and meaningful presence amongst participants.
The new edition to the awards this year will be honouring Peter Dewildt, Pride March Victoria's first president, who passed away late last year. The Peter Dewildt Award will be awarded to the marching group with the most timely and well-conveyed message. The award will be presented by Peter's loving husband and children.
"Port Phillip has been home to the Midsumma Pride March since the first small, but mighty Pride March Victoria contingent strode down Fitzroy Street, St Kilda in 1996," said City of Port Phillip Mayor, Bernadene Voss. "In the 25 years since, we have seen the Midsumma Pride March become a state-wide celebration of community pride."
"Port Phillip Council is proud of its history in championing and celebrating our LGBTIQ community and as we look to the future, we're proud to be the home of Victorian Pride Centre and of our $13 million contribution. I'm looking forward to joining with a record number of Marchers on Sunday as we celebrate the 25th year of Midsumma Pride March! Happy Pride!"
The 2020 Midsumma Pride March takes place this Sunday 2 February commencing at 11.00am. View the March Order here! For more information, visit: www.midsumma.org.au for details.
Image: Midsumma Pride March – photo by Suzanne Balding