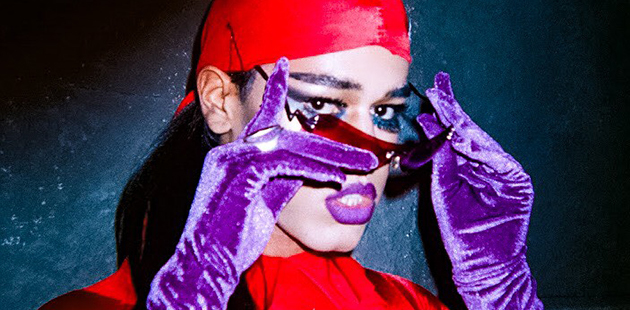 Curated by Sydney-based interdisciplinary artist Bhenji Ra, Sydney's biggest vogue ball, Sissy Ball has revealed the vogue categories and first instalment of international and homegrown talent, judges and musical acts to appear at Carriageworks on Saturday 24 February 2018.
Alongside witnessing burgeoning Asia-Pacific houses – Slé, Fafswag, Coven & House of Envy – compete, clubgoers will experience live sets from globally renowned ballroom DJ, New Jersey's MikeQ, Australian electronic story-telling duo Electric Fields, devoted New York-based rapper Quay Dash, and South African artist Angel-Ho.
One of the leading figures of the East Coast's long-running ballroom/vogue-house scene, MikeQ will bring hyper-kinetic energy to the night as he redefines classic ballroom beats, glazing each track with his adrenaline-fueled, signature twist. MikeQ's modern take on ball music will lead the dynamic line-up on the night, providing the competing houses with the stamina and precision needed, in the ultimate voguing throwdown.
Award-winning two-piece, Electric Fields will be bringing moments of astounding beauty and power to the stage, as the duo strike a haunting musical balance of traditional culture with electronic music. Starring the exquisite voice of Zaachariaha Fielding, who often sings in his traditional languages of the Anangu people, Electric Fields traverses soulful pop, soaring electronic works and intimate storytelling.
Also playing Sissy Ball is South African artist and DJ, Angel-Ho. Angelo Valerio's musical output is closely informed by their co-founding of seminal cross-continental label and network, NON WORLDWIDE, and close collaboration with artists such as Arca and Chino Amobi.
New York-based rapper, Quay Dash will open the evening's musical agenda, having travelled from the Bronx for Sissy Ball. Touted by Dazed for her heroically empowering rap, Quay Dash's latest EP features production from SOPHIE, Lord Quan and more.
Judging the exhilarating vogue battle of the houses is internationally acclaimed New York-based vogue choreographer, Leiomy. Responsible for choreographing the likes of FKA Twigs and Willow Smith's Whip My Hair, Leiomy is one of the New York ballroom scenes pinnacle figures, highly regarded for her contributions to the community. Sissy Ball entrants will vie for Leiomy's attention and the accolade of winning house.
Joining Leiomy is Sissy Ball commentator Dashaun – one of New York's most respected MCs in the vogue scene, having been involved since high school. As a backup dancer for Rihanna on her recent ANTI world tour, Dashaun adds Sissy Ball to his list of accolades, that also includes a stint on MTV's America's Best Dance Crew as a behind-the-scenes host and guide to competitors.
Organisers have also unveiled Sissy Ball's five vogue categories – Hand Performance: a story told through hand articulation; Runway: storming the runway in your national / cultural costume; Face: bring your best glam face, and evening wear to complement; Sex Siren: celebrating body confidence and selling sexy – the dancer decides what's sexy to them; and Vogue Fem: fusing the most heated dance elements of battle. Voguers can participate in whichever category they wish, showcasing their individuality, agility and style in attempts for first place.
Set to shine a supporting light on Asia-Pacific's LGBQTI+ community, Bhenji Ra, Sydney Gay and Lesbian Mardi Gras and Red Bull Music collaborate for an evening of celebration between some of Australia and New Zealand's brightest artist and individuals. Soundtracked by artists and DJs making their non-conventional mark in the music space, Sissy Ball will see houses, voguers, dancers and clubbers alike come together for a night of style, performance and dance.
Presented as part of the 2018 Sydney Gay and Lesbian Mardi Gras, Sissy Ball takes place at Carriageworks on Saturday 24 February 2018. For more information, visit: www.mardigras.org.au or www.carriageworks.com.au for details.
Image: Angel Ho (supplied)