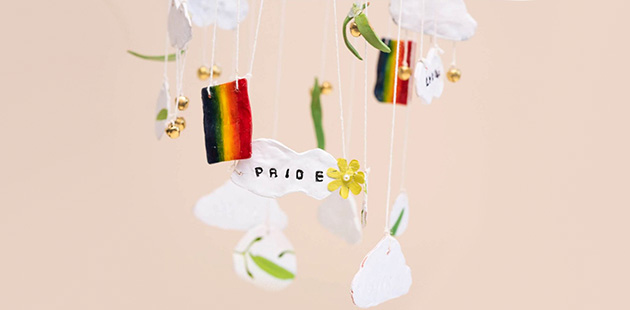 headspace National Youth Mental Health Foundation has launched a community-wide initiative founded on alarming new research that reveals three quarters of young Australians (74%) believe there is stigma around mental illness.
The project, Visible – designed by young people from all over Australia with personal experiences of mental ill-health, aims to shatter the stigma that still exists and worryingly, often prevents people from seeking help.
The Australian Youth Advocates for Mental Health (AYAMH) were hand-picked for the project due to their commitment to shifting the way we view mental health. The group were then partnered with an artist to workshop and translate their mental health experience into creative visual representations of what often goes both unseen, overlooked and misunderstood within society.
Josh Di Nucci, 22, Perth, one of the Youth Advocates hopes this collection of artistic expressions can start a conversation around mental health, help other young people feel safe and seen and ultimately, ensure those who need it know they're not alone and can get support for whatever they might be going through.
"Through Visible, we want to share our stories to help other young people feel safe, supported and accepted for their mental health," said Di Nucci. "We want to reduce the stigma surrounding mental health, encourage others to open up about their own experiences, and inspire a culture of acceptance and understanding in our communities."
"Unlike physical health, mental health can sometimes be challenging for people to see, but with this work we want to remind people that the challenges surrounding mental health can be just as hard, that others maybe going through something similar and most importantly, that there is help available."
Speaking at the launch of Visible, headspace CEO, Jason Trethowan said initiatives like this are so important to change the way we look at mental health. He also commended the Federal Government for backing such critical work that has the power to move so many Australians, and ultimately change help-seeking behaviour.
"While as a country we may talk more about mental health, stigma surrounding mental health remains a major issue," said Mr Trethowan. "There are many reasons why young people don't discuss their own mental health challenges and seek help, but we know stigma plays a big role."
"Spending time getting to know people impacted by mental health issues, hearing their stories and understanding their experiences helps to change negative attitudes, reduce fear and reduce social distance. This is what Visible aims to do and that's why headspace is proud to be involved.
"Visible has given young people both a voice and a platform to share and talk about mental health. This initiative will connect and move Australians and no doubt, leave people thinking about mental health in a very different way. We are incredibly proud to have guided this insightful group of young people through the process but the credit goes to them for the work itself."
"I commend each and every one of them for their bravery and dedication to the project and for taking a generous step in turning the tide on the way we view mental health in Australia," said Mr Trethowan.
The initiative is funded by the Federal Government and supported by a cross-sector collaboration of Batyr, Beyond Blue, Black Dog Institute, Butterfly Foundation, Consumers Health Forum of Australia, Mind, Orygen, ReachOut and SANE Australia. The project showcases an array of creative expressions that put a visual to the real experiences of mental health challenges faced by young people.
---
To learn more about the artists and the artworks in the Visible project, visit: www.visible.org.au for details.
Image: Hannah Godfrey and Rebecca Bannister, Freedom in individuality, 2020 (detail)
Note: If you or someone you know is going through a tough time, the headspace website has many resources for young people and can also connect them with help through a headspace centre or through thier online and phone counselling service. Talking to a trusted relative or friend, a counsellor, GP, or online services such as Lifeline can also help.