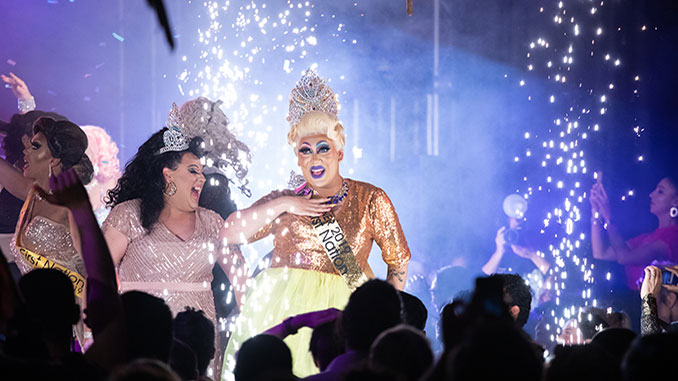 Showcasing the diversity and creativity of First Nations arts and culture, the City of Melbourne has unveiled more than 150 events that will take place this May as part of the 2021 YIRRAMBOI Festival.
Meaning Tomorrow in the shared local languages of the Boonwurrung and Woiwurrung peoples, YIRRAMBOI is a celebration of the diversity and continuous evolution of the longest living cultures in the World.
It features a unique and exciting program of free and low-cost events spanning genres and art forms including music, dance, theatre, film, exhibitions, markets, fashion parades, family-friendly events, talks and symposiums.
Creative Director of YIRRAMBOI and Boonwurrung and Wemba Wemba woman Caroline Martin said this year's festival is all about what's next. "When you immerse yourself in the many free and paid events you will be a part of the first live audience that many of our creatives have had in more than 12 months, and we can't wait to celebrate with you," said Caroline.
Running from 6 May, the 11 day festival will include political cabaret, A Fight for Survival by the Northlands Collective Mob. It focuses on the fight to save Victoria's treasured Northland College from a government plan to shut it down.
In 1992, students Muthama Sinnapan and Bruce Foley made a bold move, claiming to the Equal Opportunity Board that the State's decision to close it was an act of systemic racial discrimination.
Featuring a huge cast of many nations, including people who were involved with the school and the case itself, awarded artists and emerging talent, the performance is a proudly unifying point in time for our country and a look at how the whole community comes together for healing, hope and future.
Highlights of the 2021 YIRRAMBOI Festival include:
• Arterial by Harley Mann (Wakka Wakka), a stunning acrobatic performance with the Na Djinang Circus exploring the ancient connections tying First Nations people together;
• NGARNGK: Giver of Life by Nazaree Dickerson (Noongar/Burmese), a powerful matriarchal story about Blak motherhood and returning to traditional practices;
• Soul of Possum by emerging playwright Brodie Murray (Wamba Wamba), a reading of a debut play drawing on stories handed down from his grandfather and father to tell this historical thriller exploring the contrasting relationships settlers and Blak peoples have with Country, ecology, leadership and spirituality;
• Coconut Woman by Maryanne Sam (Meriam Mer), a funny and touching, fish out of water story exploring what it means to belong, created by an entirely Torres Strait Islander production crew and cast including Melbourne Fringe's Best Emerging Indigenous Artist Laila Thacker (Meriam-Badulaig);
• Miss First Nation 2021: Australia's only national competition for First Nations drag entertainers. They've all got the talent, the sparkle and the sass, but who will take the prize in the most glamorous grand final in Australia?
• Deadly Funny Showcase features the freshest and funniest Blak comedy talent including Ben Moodie (Gamillaroi), Constantina Bush (Gurindji), Dane Simpson (Gamilaraay), Kimmie Lovegrove (Ngarrindjeri) in collaboration with Melbourne International Comedy Festival;
• BARRING YANABUL means 'we all walk the path' in Boonwurrung and Woiwurring language, and an all-day, free, city-wide Blak Out and celebration of Blak culture across art, music, dance, theatre and fashion in more than 40 pop up locations across the CBD;
• Stone Motherless Cold (Arrernte) in The Fae – a performance capturing the similarities between the origins of fairies, queer Blak people and early colonial writings on Blak people. Part of the Motherless Collective, Stone Motherless Cold frolics amongst us as a 2019 VIC NAIDOC LGBTQIA+ winner and a master of performance art, dance, spoken word and visual art;
• Commissions through the Street to Stage program include the fluid dance experiment Secrets of the Roots by Kathleen Gonzalez (Columbia); Crazy in Love by pop performer and musical theatre favourite Garret Lyon (Darumbal/Wulli-Wulli); Manta Milmilpa (Sacred Ground) by Robert Champion (Gubrun/Kokatha/Mirning) and the driving dance beats, skillful rap lyrics and sweet soul of Deejai (Gunditjmara) & Breanna (Wemba Wemba);
• Rapper Ziggy Ramo takes to the Melbourne Recital Centre stage playing his debut album Black Thoughts;

• The world premiere of James Henry's (Yuwaalaraay/Gamilaraay, Yorta Yorta/Yuin) Madhanbaa Mayrraa – a blend of traditional style songs in language, infused with the techno rhythms and the rich sonic textures of the Melbourne Town Hall's Grand Organ;
• BRED – a new show from the famed Briefs Factory International, and Considerable Sexual Licence by Joel Bray (Wiradjuri) – a pre-colonial flirty, filthy and passionate look at the true history of sensuality down under;
• A three-night takeover of The Capitol with YIRRAMBOI Blak Fillums featuring First Nations-created feature and short films; the return of Declan Furber Gillick's (Arrernte) acclaimed Bighouse Dreaming at Arts Centre Melbourne and SEASONS in Blak Box at the Royal Botanic Gardens; and
• An energetic and unforgettable outback adventure with Nana Magic, Tilly & Friends as well as the Australian premiere of Crumbs – a magical story of a cubby, a sneaky neighbour and a fight for survival created by Nazaree Dickinson (Noongar/Burmese) and award-winning writer Nathan Maynard (Trawlwoolway/Pakana/Palawa).
"This will be the biggest YIRRAMBOI Festival yet and will feature a variety of Australian premiere performances celebrating First Nations culture," said Lead of Creative Melbourne portfolio, Councillor Jamal Hakim.
"The festival provides an important form of expression for First Nation Creatives and engagement with all Melbournians – creating spaces for the exploration and engagement with traditional culture."
---
The 2021 YIRRAMBOI Festival runs from 6 – 16 May in venues across Melbourne. For more information and full program, visit: www.yirramboi.com.au for details.
Image: Miss First Nations Grand Final 2019 – photo by Jalaru Photography