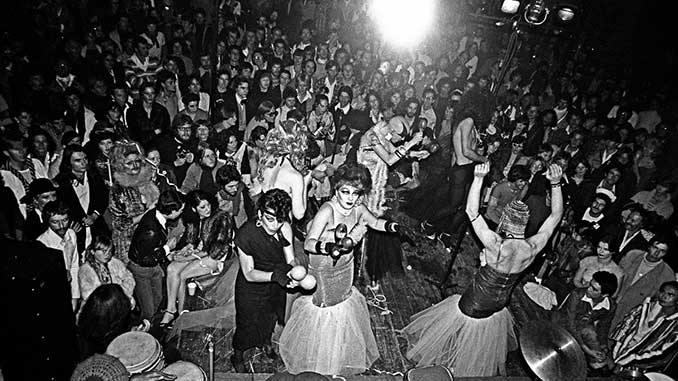 The 1969 Stonewall riot and the publication of Dennis Altman's Homosexual: Oppression and Liberation in 1971 were harbingers of a golden age of gay that was to last until the HIV/AIDS crisis in the 1980s.
It gave rise to a gay aesthetic that challenged the heterosexual norm, celebrating the gay outsider status and difference. This exhibition celebrates many of the Sydney gay artists who contributed to this aesthetic, including:
Radical drag troupe Sylvia and the Synthetics, whose new form of drag was outrageous, confronting and different.
Mardi Gras artists David McDiarmid, Peter Tully and Doris Fish, whose fabulous costumes and satirical floats made the event an internationally known cultural phenomenon.
Underground queer queen of soul Wendy Saddington, arguably the greatest blues singer that Australia has produced.
Style Meister Simon Reptile, whose bizarre and beautiful style often anticipated coming fashion trends.
Style icon Carmel Strelein, who although not herself gay pushed the punk outsider aesthetic to its uttermost limits.
Master of the Grand Guignol Michael Matou, who brought his unique style of punk burlesque to his Sideshow Theatre Company.
It is said that remembering and honouring the past strengthens the future. This project seeks to remember and celebrate these and the many other great artists whose pioneering work paved the way for the queer culture, and for the freedoms and acceptance that we all enjoy today.
---
Yesterday's Heroes: The Golden Age of Gay
Room 205 – 205 Oxford Street, Darlinghurst
Exhibition continues to 5 March 2022
Free entry
For more information, visit: www.mardigras.org.au for details.
Image: Synthetic Diamonds – photo by William Yang