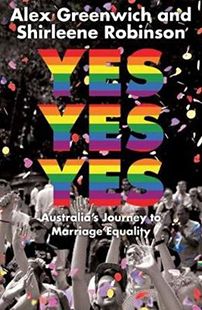 Yes Yes Yes: Australia's Journey to Marriage Equality, published ahead of the anniversary of the historic YES vote, reveals the untold story of how a grassroots movement won hearts and minds and transformed a country.
From its tentative origins in 2004, through to a groundswell of public support, everyday people contributed so much to see marriage equality become law. The book captures the passion that propelled the movement forward, weaving together stories of heartbreak, hope and triumph.
It is based on personal memories and more than forty interviews with key figures and everyday advocates from across Australia. It covers the movement's origins in 2004, when the Marriage Act of 1961 was amended to exclude same-sex couples, through to the unsuccessful High Court challenge, the public vote in 2017 and the Parliamentary aftermath.
"A wonderful record of a huge and heartwarming moment in Australia's history" – Magda Szubanski
Alex Greenwich  led Australia's marriage equality movement for over a decade. He served as both co-chair of Australian Marriage Equality and the successful YES campaign that finally delivered marriage equality. In addition to being the Independent Member for Sydney in the New South Wales Parliament, he is internationally respected as a leader in LGBTIQ rights, having addressed legislatures and global conferences in Europe, Asia and North America.
Shirleene Robinson has volunteered with Australian Marriage Equality since 2012. During this time, she served as New South Wales co-convenor, national spokesperson and board director. She is an associate professor at Macquarie University with a PhD in history. Her previous books include Serving in Silence? Australian LGBT servicemen and women (as co-author) and Gay and Lesbian, Then and Now: Stories from a Social Revolution (as co-author).
---
Yes Yes Yes: Australia's Journey to Marriage Equality is published by New South Books and available from all leading book retailers including Booktopia.
Image: Yes Yes Yes: Australia's Journey to Marriage Equality (supplied)