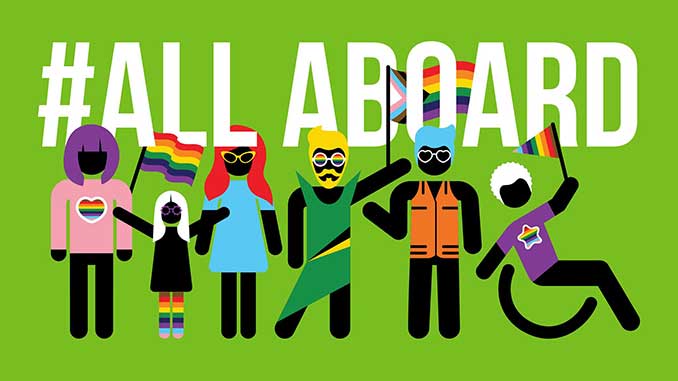 For the fourth consecutive year, Yarra Trams, in partnership with JOY 94.9, Midsumma and the Victorian Pride Centre, are incredibly excited to be wrapping one of their trams to celebrate Melbourne's diverse communities and welcome those from all walks of life aboard our trams and their network.
As the proud operators of the world's largest tram network, Yarra Trams (operated by Keolis Downer) values the representation of people from diverse LGBTQIA+ backgrounds, both in their People, and the Melbourne community they service.
"The #AllAboard tram is an important symbol of the diversity, acceptance, and inclusion we strive for in our workplaces, on our trams and across our city," said Carla Purcell, Yarra Trams CEO.
"We're incredibly proud to be partnering with JOY Media, Midsumma, and the Victorian Pride Centre on this special design project, and we absolutely cannot wait to see the designs Melburnians come up with for 2024 about what #AllAboard means to them." Carla Purcell, Yarra Trams CEO.
The #AllAboard Design Entries will be selected based on the following criteria:
Expression of the #AllAboard message

Originality of response to the creative brief

Strength of the creative vision

How the artwork responds to its context (ie: riding the network each day)

The wording #AllAboard must be incorporated legibly and visibly in the design
The winning artist will receive $5,000 and have their tram design applied to the #AllAboard tram, featured in the 2024 Midsumma Pride March. The runner up will receive $3,000 and their design applied to a tram stop shelter on the Midsumma Pride March parade route.
---
Entries for the #AllAboard Design Competition are now open and close 11 August 2023. For more information, visit: www.yarratrams.com.au for details.
Image: #AllAboard – courtesy of Yarra Trams