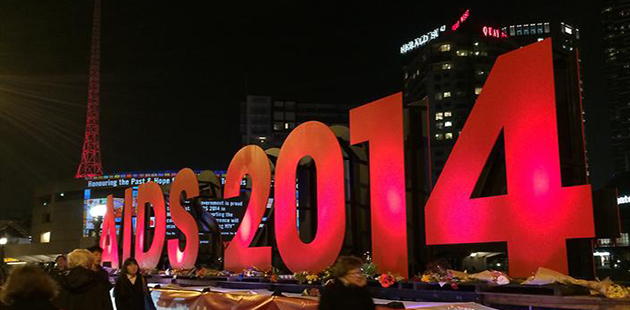 Today is World AIDS Day. When I was still HIV negative, I barely gave World AIDS Day a thought. AIDS and HIV was a distant issue, politically if not personally, and the AIDS movement felt like the territory of a previous generation. I didn't engage with the issue of HIV beyond my regular HIV/STI screenings. I was part of the new generation, in which HIV wasn't an invading enemy or war to be fought. Instead, we were born and raised in the POW camp. Not that I felt unwelcomed by my elders, far from it. There just weren't enough of them around anymore.
I had "the fear" every gay man my age grew up with and I knew my history. It still didn't stop me from contracting HIV two years ago, and it won't prevent the new infections we are so concerned about.
Perhaps my casual apathy to World AIDS Day was because I came of age in era of HIV invisibility. By the year 2000, when I started having sex with men, science had turned the death sentence of AIDS into a chronic manageable illness. "AIDS victims" quite rightly became "People Living With HIV" and the incredible advancements in medication meant that "living" could finally be done gracefully, and privately. It was more than a "win" for science and the community: it saved millions of lives, and was the culmination of over a decade of superhuman effort from both sides. The history of HIV has seen science and people affected by the virus working symbiotically, more so than any pandemic in human history and it continues today.
2014 delivered a huge step forward in community's acceptance of science of HIV prevention. In Australia, trials for PrEP (Pre-Exposure Prophylaxis) have begun. PrEP is an HIV prevention drug administered to HIV negative people to prevent them acquiring the disease (think of it like the pill for women, except it prevents HIV infections not pregnancies). PrEP works just as well (maybe even better) than condoms, and just like the early days of condom reinforcement, there are controversies. Previously it was Catholics opposing condoms, this time some gay men are speaking from the anti-PrEP pulpit.
You would think gay men would welcome such an incredible scientific advancement; but it's not always the case, if the example of the USA is anything to go by. Aids Healthcare Foundation plutocrat Michael Weinstein has waged an ongoing and baffling anti-science, anti-PrEP campaign.
Based on our own response to HIV, I don't expect Australians to blindly adopt the flame wars that have coloured the US debate. The interest in the Victorian PrEP study exceeded expectations, which speaks to Australia's proud history of pro-active response to HIV.
That response was celebrated with renewed vigour this year when Melbourne hosted the International AIDS Conference (AIDS 2014.) The conference allowed the HIV community to celebrate our achievements and refine our purpose, recalling Australia's early response to AIDS, particularly our empowerment of sex workers and push for needle exchange programs.
To celebrate this, bold statements were made to put HIV back on the agenda: Melbourne skyscrapers were lit red, AIDS ribbons were put on front of trams, and in Sydney an enormous pink condom sheathed the Hyde Park obelisk. Thousands took to Federation Square for a protest march and a candlelight vigil. For this HIV positive man, the long era of silence around the virus seemed to be ending.
AIDS 2014 gave voice to those whose experience of being HIV positive is almost unimaginable to us here in Australia, as well as the heroes of the scientific community. During the conference, I was fortunate to meet and share the stage with Professor Francoise Barre-Sinoussi, who was responsible for discovering HIV and to this day continues her tireless commitment to ending HIV: not just within the laboratory but at a government and community level.
Professor Barre-Sinoussi inspires because she recognises that scientific advancement is just one element in our fight to end HIV, noting that stigma and criminalisation are significant barriers as well.
I also met Tanzanian activists Abdillah Ally Diwani & Rashid Jumbe Mkway who told the stories of young HIV + gay men in their country who are handed over to authorities by their own families and then raped by the police.
In Australia, we have our own sanctioned discrimination in place and in 2014 we made real time progress in this fight. The Victorian Liberal government agreed to amendSection 19A, the law that criminalises HIV. Other parties went one better and agreed to repeal the law altogether (if elected). It's hard to imagine that the Victorian government would have acted on this, were it not for the very public attention driven by the international conference.
Sadly, 2014 saw both victories and setbacks. The "Mississippi Baby", an infant cured of HIV post-birth using anti-retro viral treatment, became HIV positive again. For HIV positive people, it brought home the fact that what we hoped may be a cure would look more like being in remission, that even being "cleared" of HIV was no promise it wouldn't return. This has to do with latent reservoirs of HIV infected cells than lie deep and dormant in our bodies, cells that are hard to get to. The research continues.
Looking ahead to 2015, we are just five years away from various state health departments' national target to "end HIV" by 2020, and UNAIDS global target of 90/90/90: "90% of people living with HIV knowing their HIV status; 90% of people who know their HIV-positive status on treatment; and 90% of people on treatment with suppressed viral loads."
At a high level, ending HIV requires governments to commit to both scientific research and international aid (two things grossly undervalued by our current federal government). At a community level, it demands that every person affected by HIV (which is everyone, gay straight, positive or negative) has the courage to do more and expect more. Whether we can screw our courage to the sticking place remains to be seen.
All these bold public statements and marketing stunts are no more than PR exercises if the science of HIV prevention treatment doesn't keep advancing, and HIV positive people don't step up and keep the issue on the agenda and in the spotlight. I get it, it's hot underneath that spotlight, and eventually people want to look at something else. But when we stop looking, we stop caring.
World Aids Day 2014 – 26 years on, there's been much accomplished and more to do
By Nic Holas – Australian writer and HIV activist
This article was originally published on www.sbs.com.au