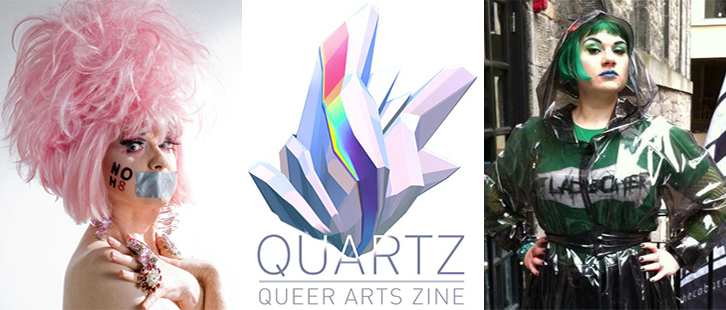 Celebrating 24 years as a bookshop, community hub and arts presenter in December 2015, Hares & Hyenas have also been producing and presenting arts and cultural events for Melbourne's Midsumma Festival for 24 years.
Presenting 18 productions over 21 days as part of its 2016 Word is Out season, established and emerging writers, performers, comedians, visual artists and speakers come together in a one-stop diorama of cabaret, comedy, spoken word, discussion, launches, visual arts, author readings, performance, multimedia and hybrid arts.
Taking place between 18 January and 7 February, the 2016 Word is Out season is a one-stop venue to experience some of the best contemporary queer performance, writing, visual arts and spoken word, and includes:
QUARTZ (Queer Arts Zine) launch and exhibition – Monday 18 January @ 6.30pm. FREE
'What is Identity?' Includes artists Kim Leutwyler, Andrew Ewing, Dean Rankine, Kenton Penley, Andrew Li, Marco Ryan. Plus visual arts exhibition.
Quinn Eades —all the beginnings – Tuesday 19 January @ 7pm. FREE
Launch, readings, performance. Launched by Francesca Rendle-Short, followed by performances and readings by Margaret Mayhem (MC), Quinn Eades and Essie Thomas, Thomas O'Quinn James and Lily Sawenko.
Lisa-Skye's SUPERQUEER – Wednesday 20 January @ 7.30pm $15/$10
Hot on the heels of several sold-out Midsumma spoken word events and a solo career as stand-up and social commentator, Lisa-Skye is back with a spoken word event exploring disguises, power and the dynamic queer landscape.
Kaye Sera — Sex, Drags and Rock 'n' Roll – Thursday 21 to Saturday 23 January @ 7pm $15/$10
Green Room Award-winning cabaret artist and impresario Kaye Sera returns to her old stomping ground with Sex, drags and rock n roll – a fantasy biopic cabaret based on real-life experience in the Melbourne drag scene. A Midsumma cabaret with (mirror) balls! With Simon Bruckard on piano.
Daniel-Ryan Spaulding (Canada) – Thursday 21 to Saturday 23 January @ 9pm $25/$20
Daniel-Ryan Spaulding is an internationally-touring stand-up comedian who has performed in 40 countries worldwide. Based in Amsterdam, his show Red Lights & Rainbows is a wild ride through the world of politics, sexuality, culture, identity, and the life of a young gay comedian. Brutal. Honest. Sexy. Hilarious!
Australian LGBTIQ Multicultural Council – Chilli and Spice, Curry or Rice? Part 2 – Sun 24 Jan @ 6pm. $5
Sexual appetites, ethnic stereotypes, and racism in our women's LGBTIQA communities. With Elizabeth Syber, Lian Low, Lotus Ye, Dr Tinashe Dune, Christina Kenny. Hosted by Judy Tang (AGMC Vice-President).
Melbourne LGBT Comic Group Midsumma – Monday 25 January @ 6.30pm
The Melbourne LGBT Comic Group has become one of the most popular regular meet-up groups at Hares & Hyenas. This month for Midsumma, the group discusses Lubmberjanes. by Noelle Stevenson, Grace Ellis, Shannon Watters with Brooke Allen (Illustrator). Gold coin donation.
Po-Po-Mo-Co – Wednesday 27 January @ 7.30pm. $15/$10
Post Post Modern art-house comedy produced by Kimberley Twiner. Featuring Anna Lehmann Thomson, Amaya Miranda Gabriella Vecellio, Ezel Ismet, David Maney, Lily Beaux-Lyons and more to come!
Tim McKew — Come Down With Us (retrospective) – Thursday 28 & Friday 29 January @ 7pm. $30/$20
A reprise of Tim McKew's 1979 underground cult classic performance art event. McKew is one of Australia's cabaret legends, a gay cultural icon who has been bringing his performance work to audiences here and internationally for many years, most recently with his sell-out Noel Coward shows in New York. For Word is Out 2016, he brings his 1979 Performance Art/Dada cabaret retrospective – an evening of barbed satire, pathos and Dada hats!
The Chronicles of Puberty: The Hymen, The Itch & (coming out of) The Wardrobe
– Thursday 28 to Friday 29 January at 9.00pm. $20/$15
Mike White presents his hilarious one-man show which explores the highs and lows of puberty through comedy, song, monologue, burlesque and puppetry.  *Contains nudity, offensive language & questionable morals.  Not suitable for prudes or those easily offended!
Quippings Midsumma Queer Extravaganza – Saturday 30 January @ 7.30pm. $15/$10
Now in its fifth year, Quippings is a cutting-edge spoken word and performance troupe of artists with bodies and minds of intriguing variation. Join them for an evening of subverted expectations and smashed stereotypes in a bold new Midsumma line-up. Produced by Jax Jacki Brown and Jarrod Marrinon. Plus party to follow.
Christian Baines & Nicki Reed – Monday 1 February @ 7.30pm. FREE
Two Australian writers share their unique works about worlds queer, bi and awkwardly straight. Christian Baines launches and reads from his latest novel, Puppet Boy; and Nicki Reed reads from her recently released acclaimed new novel, Unmarry Me.
Kath Duncan — Hi Heartbreak! – Tuesday 2 February @ 7.30pm. $15/$10
The first full-length solo performance by disability leader, artist, broadcaster, director and writer Kath Duncan. The production melds multimedia and live performance about a story of grief, psychoactives, love, loss and redemption, all set on a big rumpled bed. (Special movement guest to be announced)
From MM to MMM: Rewiring Gay Sex – Wednesday 3 February @ 7.30pm. $15/$10
International bestselling author C.S. Pacat (Captive Prince series) joins writers and online legends Clementine Ford and Jules Wilkinson in a discussion about man-on-man romance and erotica written by women and the world of slash fanfiction. The event includes readings from Pacat's final novel in the trilogy, Kings Rising and an hilariously rude introduction to the world of slash fic by Jules Wilkinson.
Rapid Fire: 12 Writers, 6 Minutes each – Thursday 4 February @ 8pm. $15/$10
Our most popular spoken word event is back. 12 writers; 6 mins each. Line-up announced soon.
Queer Greens Victoria Knees-Up – Friday 5 February @ 8pm. Gold coin donation.
A short panel discussion and party with your local queer Greens.
Queenie Bon Bon – Power Up – Saturday 6 February @ 9pm. $20/$15
A powerful, moving, intelligent and funny monologue and powerpoint presentation about the pleasures and pitfalls of sex work. A reprise of Queenie Bon Bon's Melbourne Fringe hit for one night only!
We've Come a Long Way Baby – Sunday 7 February @ 8pm. FREE
Rainbow families have been around forever, but recent decades have seen significant legal and social changes. Rainbow Families Council and VGLRL present We've Come a Long Way Baby, a short panel discussion, Q&A and social catch-up with friends and allies in an informal kid-free space.
The 2016 Word is Out season takes place at The Hare Hole (Hares & Hyenas), 63 Johnston Street, Fitzroy. For more information, visit: www.wordisout.com.au for details.
Image: Kaye Sera, Quartz Queer Arts Zine and Lisa Skye's Superqueer will all be apart of Word is Out 2016