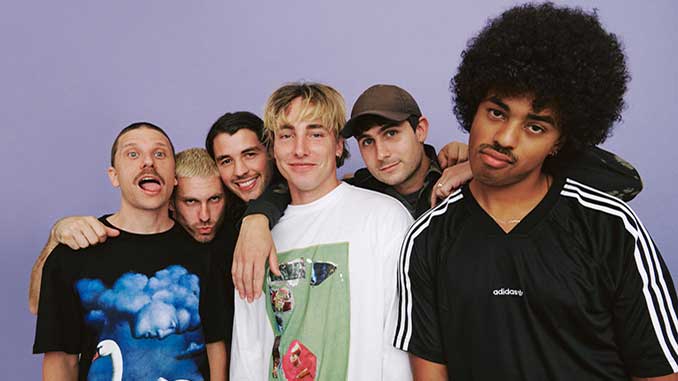 There's no chance of hibernation this winter with the return of Open Season, Brisbane's premier program of contemporary live music and performance from May to August.
Presented by two iconic live music venues – The Tivoli and The Princess Theatre – Open Season's third outing takes the chill off Brisbane's winter with more than 30 sizzling performances across a variety of music and performing arts genres.
From grungy, grassroots gigs and community celebrations to big-name Aussie bands and cult-following international acts, the program offers a vibrant and diverse line-up with Northeast Party House getting the party started on 27 May at The Princess Theatre.
Throwing open the doors – and borders – to international acts for the first time, Open Season welcomes UK punk icons The Damned, cult Belarus post-punk synth-pop trio, Molchat Doma, renowned songstresses Kimbra (NZ) and Weyes Blood (USA), and British punk-hop duo Sleaford Mods.
Joining this stellar international lineup is The Pharcyde with Masta Ace & Marco Polo (USA) in a rare 'class of '93' hip hop collaboration taking over The Tivoli in June, and prolific producers Thundercat (USA), Tourist (UK), and Oneohtrix Point Never (USA).
PNG-born, Australian-raised singer Ngaiire partners with Queensland Symphony Orchestra for an unforgettable evening of symphonic soul at The Princess Theatre, fresh from wildly successful seasons at Sydney Opera House and Melbourne Recital Centre.
Open Season's Aussie line-up also includes funk favourites Winston Surfshirt and emerging legends King Stingray, as well as Lastlings, Middle Kids, Full Flower Moon Band, First Beige, Gordi and Coterie.
Rounding out the Open Season program are three flagship projects that bring together stacked line-ups of local and national artists. Presented in partnership with Blak Social, Blak Day Out takes over The Tivoli with some of Brisbane's best and brightest First Nations artists including Birdz, Alf the Great, The Last Kinection and CLOE TERARE.
The Tivoli also collaborates with Harry K Productions (Fluffy) on The Glam Awards, Brisbane's newest dedicated queer performing arts awards and club night featuring a line-up of Australia's finest drag and queer performers.
Set Roulette is a music festival with a random twist. The Princess Theatre partners with local promoters Grain and Sunroom Management on a brand-new event where the playing schedule is decided on the day by the spin of a roulette wheel.
Wrapping the program is Open Season's closing night party-with-a-purpose: A Night For The Queen – an energetic collaboration between Polytoxic, Hot Brown Honey and some of Brisbane's finest female cabaret, circus and music performers. This event is a "Royal F*uck You to Cancer" – a special night of healing and celebration dedicated to prolific Brisbane-based performer, Kim 'Busty Beatz' Bowers.
The Tivoli and The Princess Theatre are award-winning, heritage Brisbane venues that have cemented themselves as the city's favourite grassroots music festival venues. Open Season provides an opportunity for Brisbane to partner on incredible international content with creative juggernauts Dark Mofo (Hobart), RISING (Melbourne), Vivid Sydney and Illuminate Adelaide.
The Tivoli and The Princess Theatre co-owner Dave Sleswick said Open Season was created to counter COVID cancellations, staging 80 performances, employing 570 artists and paying almost half a million in artist fees between 2020 and 2022.
"Brisbane tends to hibernate over winter and we wanted to create a contemporary, curated music-led program that gives audiences something awesome and new over what is traditionally a quiet time of year," said Sleswick.
"Even as Open Season grows and takes its place alongside Australia's big winter festivals and cultural events in the southern states, it will always retain that grungy, grassroots and artist-led philosophy upon which it was founded"
"Brisbane is very much at the heart of Open Season, both for audiences and artists, and we demonstrate our commitment to this philosophy by programming great local talent and bringing huge international artists to the city so Brisbane has everything it needs right on its doorstep," said Sleswick.
---
Open Season kicks off tonight (Saturday 27 May) with the Northeast Party House at The Princess Theatre. The program continues to August 2023. For more information and full program, visit: www.openseason.live for details.
Image: Northeast Party House (supplied)