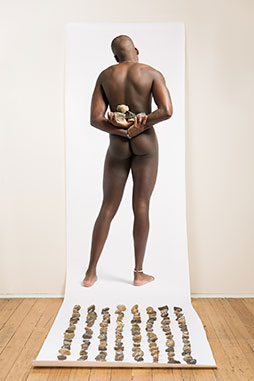 Australia Post and Midsumma have announced Ayman Kaake as the winner of the 2022 Midsumma and Australia Post Art Award.
The prize, awarded for Kaake's mixed media work Ar, was presented last night at the official opening of the Midsumma and Australia Post Art Award exhibition by Australia Post EGM Customer & Commercial and PostPride Executive Sponsor Gary Starr and Midsumma CEO Karen Bryant.
Born in Tripoli, Lebanon, Ayman Kaake travelled to Australia in 2011 in pursuit of studying visual arts, leaving behind his parents and eleven siblings as he set off on his artistic journey.
He uses his imagination to create a dreamlike world, documenting feelings and emotions, inspired by his move to Australia, stories he's been told, people he has lost and the confronting themes of refugee-inspired stories.
Mr Starr congratulated Kaake and said Australia Post was proud to sponsor the award through its PostPride network. "This award is the highlight of our year when it comes to celebrating diversity and inclusion, for our LGBTQI+ team members at Australia Post and in the broader community," said Mr Starr.
"We've been connecting Australians to each other and the world for 211 years, and we take great pride in connecting queer artists from all over the country with new audiences through Midsumma Festival."
Midsumma CEO Karen Bryant also congratulated Kaake for his deserving win, while noting that the 15 finalists this year were outstanding. "All our shortlisted works demonstrate innovative, original, and heartfelt reflections on the LGBTQIA+ experience, following a year like no other," said Ms Bryant.
"Voting for the People's Choice Award remains open and we'd love to see people coming through the exhibition or heading to our website to view the works and cast their vote for their favourite piece."
The Major Award winner receives a $6000 cash prize and the People's Choice will receive $1000. Voting for the People's Choice remains open until Thursday 10 February.
Also announced at the exhibition opening was the Bundoora Art Prize Award, which comes with a paid residency or exhibition opportunity, awarded to Malaysian Chinese artist Jack Lee and their work titled It's Just a Preference.
---
The Midsumma and Australia Post Art Award finalists are on show at No Vacancy Gallery 34 – 40 Jane Bell Lane, Melbourne until Sunday 13 February 2022. For more information on the shortlisted artworks, artists and to vote for the People's Choice Award, visit: www.midsumma.org.au for details.
Image: Ayman Kaake, Ar, 2021, mixed media – courtesy of the Artist | Midsumma and Australia Post