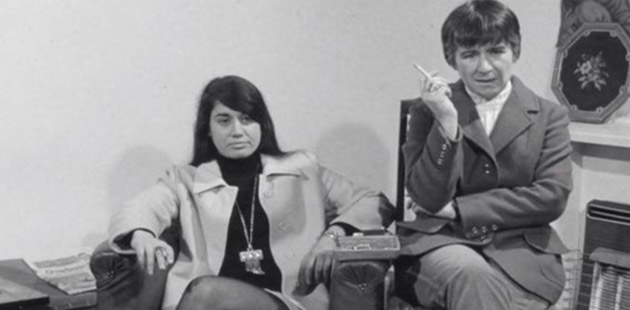 Showcasing a fifty year long relationship that sparked the gay liberation movement in Australia, Why Did She Have To Tell The World? is a new documentary in development from filmmaker, Abbie Pobjoy.
Francesca Curtis and Phyllis Papps are many things. Researchers. Writers. Ultra-Feminists. Partners. They are also the first lesbian couple to come out of national television almost fifty years ago. Putting everything on the line, in October 1970, Phyllis and Francesca appeared on This Day Tonight in an interview about lesbianism.
Since that appearance, the couple unpredictably became the face of change, creating Australia's first gay political rights group, the Daughters of Bilitis, now known as the Australasian Lesbian Movement.
With Phyllis and Francesca's work spanning over decades, the couple not only open up about their contribution to one of the biggest societal shifts in Australian history, but about love, loss and political change solidified inside a fifty year relationship.
Now in the last years of their lives and a new generation emerging, Phyllis and Francesca shine light on their activism, their relationship and the barriers that still affect the queer community today in a new documentary by writer, director and filmmaker, Abbie Pobjoy.
"The documentary aims to tell the truth," says Pobjoy. "By sharing the personal stories from two women lost in history, it exposes what really pushed the beginning of Australian gay liberation and the reality of what still needs to be addressed to secure the quality of life for LGBTQI people."
"This documentary shows that gay activism is far from over and not only represents our trailblazing past, but a more vulnerable lens to the repercussions of 'coming out,' and the ongoing journey to find equality."
With a February 2021 screening on ABC TV planned, Pobjoy is in the midst of raising additional funds to finish the film in a strong way. The project is registered through the Documentary Australia Foundation, allowing people to make a fully tax deductible donation to support this very important part of Australia's LGBTQI history.
For more information or to make a donation, visit: www.documentaryaustralia.com.au for details. Click here to watch a teaser.
Image: Phyllis Papps and Francesca Curtis on This Day Tonight in 1970 (supplied)