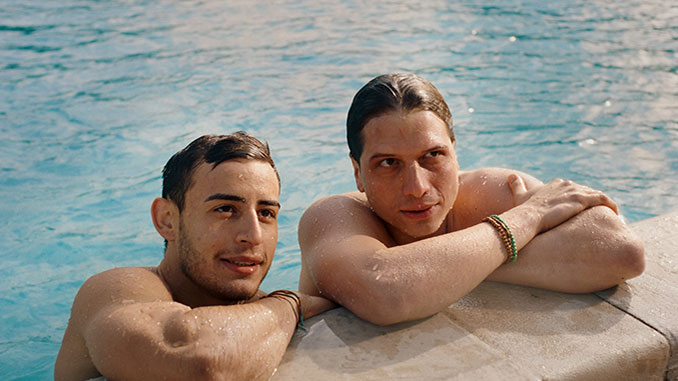 For eleven days, the 2021 Queer Screen Film Fest will bring much needed new, comforting and inspiring content to the small screens from Thursday 16 September.
The 9th Festival showcases 40 films from 17 countries, in 18 different spoken languages, and hosts no less than 22 Australian Premieres. The Australian Pride Network takes a look at ten films worth checking out:
A Sexplanation
A candid, refreshing and funny exploration of some decidedly personal questions! Gay filmmaker and educator Alex Liu, done with feeling repressed, wants to sort out some big quandaries once and for all. Why is there so much shame around desire? Should we feel guilty over our fantasies? Why doesn't anyone talk about masturbation? He'll chat to a slew of experts – from religious figures to scientists – to get to the bottom of things. He'll also put himself and his family under the microscope to see just why he grew up feeling awkward about his burgeoning sexuality (cue some uncomfortable on-camera conversations). With the spunky Liu as host, this doco is both funny and reassuring! Australian Premiere!
AIDS Diva: The Legend of Connie Norman
The self-proclaimed AIDS diva, Connie Norman lived and died fighting for the right to be seen and heard. This compelling documentary, featuring archival footage and interviews with Connie herself packs an important, emotional punch. By showcasing an HIV+ transgender person who fought not only for support and recognition for the epidemic at the time, but also brought a great deal of awareness to the trans and gender non-binary experience, this beautifully shows the vast intersectionality of LGBTIQ+ culture and history. Australian Premiere!
Beautiful Dreamer
Forty-something Margaret (The L Word's Erin Daniels) has a bad case of writer's block and an even worse case of commitment-phobia. The only thing she is able to commit to is living in San Francisco. Her best friend Billy and his anxious wife Sara have moved to the 'burbs and hired a surrogate to carry their second child. Alarmingly, they want Margaret and her girlfriend Jen to agree to guardianship of the kids. As the pressure mounts, Margaret is forced to analyse what she wants in life: marriage and the responsibility of potential parenthood or the more carefree existence that youthful surrogate Crystal represents. Queer film fans will see shades of Armistead Maupin in Amy Glazer's warm-hearted comedy-drama about love, friendship, and building your 'logical' family. Australian Premiere!
Beyto
A critically acclaimed and thought-provoking exploration of the complexities of being a gay immigrant from a conservative culture. In Gitta Gsell's romantic drama, accomplished athlete Beyto is the only son of a family of Turkish immigrants to Switzerland.  As he spends more time with his swimming coach Mike, Beyto comes to realise he can no longer hide his attraction to men, and gossip soon begins to spread within his parents' social circle. To combat this, Beyto's parents decide that he must marry a woman of their choosing, leaving him at the centre of a turbulent love triangle. Beyto is a compelling and sensitively handled romantic drama which carefully navigates the complexities of family and cultural ties with great authenticity. Australian Premiere!
Dear Tenant
Dear Tenant is a slow-burn tale of humanity, heartbreak and family, weaving within it the experience of being a gay man in contemporary Taiwan. When his boyfriend dies, Lin steps up to take care of his boyfriend's son Yo-yu. The two of them develop a charming and beautiful relationship as new father and adopted son. They live together with the boy's grandmother, however tensions mount when her other son launches a campaign against Lin, going after his reputation and happiness in a bid to remove Yo-yu from his care. This is a moving film, unflinchingly willing to address the inequality suffered by the gay community in Taiwan. The leads are exceptional, nuanced actors and the cinematography stunning, stretching from the Kaohsiung mountains to the docks of Taiwan with a spectacular eye for finding the stunning in the mundane. Australian Premiere!
Fanny: The Right to Rock
The groundbreaking rock band Fanny – co founded by Filipina American and queer bandmates – formed in the late 1960s, but despite being the first all-woman band to release an LP on a major label, they have been all but written out of rock music history. This documentary allows the members to finally tell their incredible story of ambitious young women chasing their dreams, facing barriers of sexuality, race and gender along the way. Featuring interviews with icons like Kate Pierson (The B52s), David Bowie's guitarist Earl Slick, Cherrie Currie (The Runaways), Kathy Valentine (The Go-Go's) and many more. Discover how Fanny paved the way for young girls to rock, and watch them reunite 50 years later to reclaim their hallowed place in the halls of rock 'n' roll fame.
Kiss Me Before It Blows Up
Culture, family, and accidental proposals collide in the humorous romantic debut feature Kiss Me Before It Blows Up. When German botanist Maria (Luise Wolfram), moves to Tel Aviv to live with Shira (out actress Moran Rosenblatt), her girlfriend of three months, a small misunderstanding leads to a potential engagement. They soon find themselves thrust into culture clashes with disapproving grandmothers, reappearing exes, and hidden family secrets! Filled with warmth, laughter, and romantic spontaneity, director Shirel Peleg skilfully weaves topical issues and tender romance into a heartwarming comedy about whether love can really conquer all. Sydney Premiere!
Lola
Lola is a beautiful Belgian-French film about a young trans woman and her estranged father who embark on a journey to the Belgian coast to fulfill her late mother's last wishes. Young trans actress Mya Bollaers debuts in this striking film playing the role of 18-year-old Lola, an unapologetic and feisty teenager on the cusp of adulthood. The most poignant scenes in the film are the fleeting moments of pure (trans) joy and warmth that Lola exudes when she lets her guard down when seen and embraced as the woman she's always been. This tender and sensitive film about a father and daughter's journey through grief tugs at your heartstrings, raising questions around unconditional love, acceptance and kindness. Australian Premiere!
Summer of 85
Dripping in 80s nostalgia, Summer of 85 is an intoxicating and sexy French film about a tumultuous journey of first love and sexual discovery. At 16, Alexis (Félix Lefebvre) capsizes his friend's boat and is rescued by the intriguing and electric David, played by Benjamin Voisin (Proud QSFF20). What follows is a thrilling dive heart-first into a tale of young romance and tragedy. With a soundtrack full of 1970s and 1980s bangers, and cinematography soaked in a retro haze, French auteur François Ozon returns to the style and lustful queer energy of his early films. Call Me by Your Name meets Stand by Me in this Cannes-selected rollercoaster of summer love.
Wild Nights with Emily
A smash hit from Mardi Gras Film Festival 2019 is back for more! American poet Emily Dickinson shakes off the shackles of her historically maligned reputation in Wild Nights With Emily, a whip-smart comedy that injects the blood back into Dickinson's spinster image by resurrecting her sapphic love life. This absurdist comedy from Madeleine Olnek (Codependent Lesbian Space Alien Seeks Same, MGFF12, The Foxy Merkins, QSFF15) tweaks the entrenched image of Dickinson as a barren recluse, transforming her into a vivacious intellectual who was creatively driven by her lifelong relationship with a woman. With deadpan farce performed by a compelling cast of women, including Molly Shannon (Other People QSFF16), this subtly provocative film exposes the sabotage that has seen so many historical figures silenced by queer erasure. Told through a sharp, feminist lens, Wild Nights With Emily imagines a much gayer 19th century, awash with romance and hilarity. Encore Screening!
The program includes three new gay, lesbian and trans and gender diverse shorts programs and because we all need a laugh, one encore program called Best of Comedy Shorts.
In addition to the on-demand program, Queer Screen has a number of live free events scheduled including filmmaker Q&As and panels; the Halfway Hangout where people can meet virtually to chat about the films and short film competition, Queer Screen Pitch Off.
---
The 2021 Queer Screen Film Fest runs 16 – 26 September. Single tickets and pack passes are now available. Become a Queer Screen member for discounted tickets. For more information and full program, visit: www.queerscreen.org.au for details. Checkout the trailer here!
Image: Beyto (supplied)