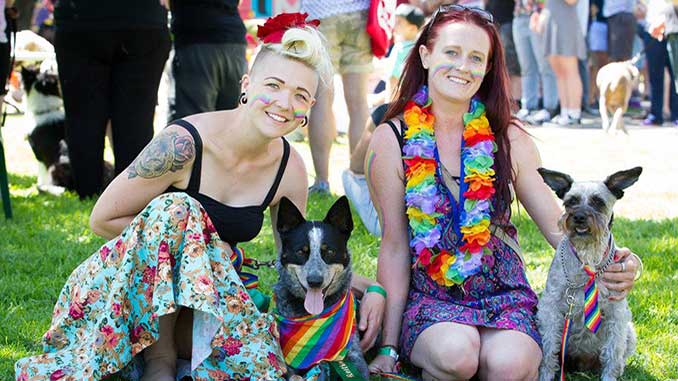 The rainbow flag is blowing across South Australia, which means it's time to get out and about to celebrate the Feast Festival, Adelaide's premier LGBTIQ+ Queer Arts and Cultural Festival, this November.
The Feast Festival 2021 program is bursting with 90+ events to roll out over the course of Pridevember – a month long celebration of inclusivity and diversity. The Australian Pride Network takes a look at twelve events worth checking out:
Silver Jubilee Promenade
Hercules statue – Pennington Gardens, North Adelaide: Sunday 7 & Sunday 14 November
Don a touch of silver – celebrate with Dr Gertrude Glossip, Undisputed Queen of the Walk, as we wend our way down King William along "The Dirty Mile!" From Hercules to Town Hall, Gertrude regales with favourite gay tales: sylvan encounters, rainbow sports, camp parties at Government House, The Law, floristry, pubs and 6 o'clock closing! Always fun, factual and informative!
Silhouettes: Fashion in the shadow of HIV & AIDS
The David Roche Foundation House Museum: Thursday 11 November
2021 marks 40 years since the emergence of HIV/AIDS. In that time we have lost 39 million lives, including some of fashion's brightest stars: Halston, Giorgio di Sant'Angelo, Moschino to name a few. Join collector, fashion historian and SAMESH Team Manager Skye Bartlett as he shares stories of some of the brilliant designers who succumbed to HIV/AIDS related illness.
Libby O'Donovan: 20 Years, 20 Songs
Space Theatre – Adelaide Festival Centre: Friday 12 & Saturday 13 November
Join powerhouse vocalist Libby O'Donovan on a retrospective journey, celebrating the high notes, big hair and fashion moments of her 20 year career. 20 Years, 20 Songs shines a light on Libby's extraordinary voice performing Jazz, Cabaret, Musical Theatre and original music whilst highlighting all her best moments, stories and more, and perhaps some of those she wishes you'd forget!
A Man Walks into a Bar… … finally
Diverse-City: Saturday 13 November
Jess McKenzie teams up with funny Taylor Goodwin and other hilarious comics. Come have some belly laughs! Jess was a state winner of Raw Comedy, has performed in London, New York, Montreal and has been mentored by Netflix star Maria Bamford also known as Lady Dynamite. Taylor Goodwin is the Guinness World Record Holder for Most Jokes told in an hour! Taylor is very punny.
Embodied Queer Sound Healing
The Odeon, Norwood: Sunday 14 November
Embodied Queer Sound Healing is a physical movement and auditory experience which offers a sacred and safe space for LGBTQIA+ people to connect and awaken to a deeper sense of identity and community. The workshop is facilitated by Mathew Bergan, from Dancing Warrior Yoga, and with a recorded sound score by Australian music legends, Paul Mac & Jonny Seymour.
Christian Hull – What A Mess
Arkaba Hotel: Friday 19 November
Christian's a disaster, but he's built a huge audience from documenting his mess of a life all over socials. His hilarious characters and TikTok escapades have earned him 3m+ followers. He was Feast ambassador in 2019, don't miss Christian's solo show in 2021!
Feast Comedy Debate
Wheatsheaf Hotel: Friday 19 November
This year's topic: THE GAY AGENDA IS REAL! Join Lori Bell and some of the funniest comedy minds in the festival as they go head to head in this battle of giggles and wits to decide once and for all if there is a gay agenda and if so, what is it? You decide who wins in this festival favourite event.
Gertrude's Silver Jubilee Evening
Diverse-City: Friday 19 November
You're invited to a special one night only event to celebrate Dr Gertrude Glossip's 25 seasons of Feast History Walks. Reminisce and commemorate the anniversary with us as a special guest interviewer entices Gertrude to divulge all she's learned in her years as Queen of the Walk. Ticket includes refreshments – food and drink – and of course a signed copy of Gertrude's debut book.
Cannes You Not?
My Lover Cindi: Thursday 25 November
There are plenty of finessed queer films out there. These are not some of them. My Lover Cindi partners with the Screen Studies department of UniSa to bring you a collection of shorts that never made it to Cannes. Bring a pal, a blanket, and some low expectations. We'll provide the popcorn, choc tops and a lot of laughs.
Ian Purcell Oration
The Strathmore Hotel: Thursday 25 November
The Oration provides a platform for members of South Australia's LGBTIQA+ community to talk about issues close to their heart and of importance to the LGBTIQA+ community. This year's presenter is non-binary activist and slam poet Audrey Mason-Hyde. Dive into the concept of queerness, to explore how queer people display the expansive potential of connection in a vastly changing world.
Close To The Knives
The Odeon, Norwood: Friday 26 & Saturday 27 November
In light of the 40th anniversary of the first reported cases of AIDS, SA-based composer Dan Thorpe is collaborating with Raccoon City and theatre-makers to develop a song cycle based on the writings of David Wojnarowicz – a prominent American artist and AIDS activist. Supported by the Department of the Premier and Cabinet, SAMESH and Feast Festival, these artists will spend two weeks developing the work before presenting a work in progress showing and a Q&A.
Picnic In The Park
Tarntanya Wama | Pinky Flat: Sunday 28 November
Bring your friends, family, and don't forget your dog! Kick back and relax at Feast's annual community picnic. Explore community information and artisan market stalls, enjoy a variety of cuisines from local food vendors. All your beverage needs will be supplied by the fabulous Sparkke Change Beverage Company. Think beers, brews, spirits and spritz's for an afternoon of delicious drinks and frivolity! Attractions include a Queer Youth Zone, Come and Try volleyball and shuttlecock, DIY Queer Craft plus the famous Dog Show, ECH Chill Out Zone and live music to picnic by. SAFM DJ's will be spinning the hits, plus Feast DJ's will take Picnic out with your favourite pride party anthems.
---
The 2021 Feast Festival continues to Sunday 28 November. For more information and full program, visit: www.feast.org.au for details.
Image: Feast's Picnic in the Park – photo by Photo Jo