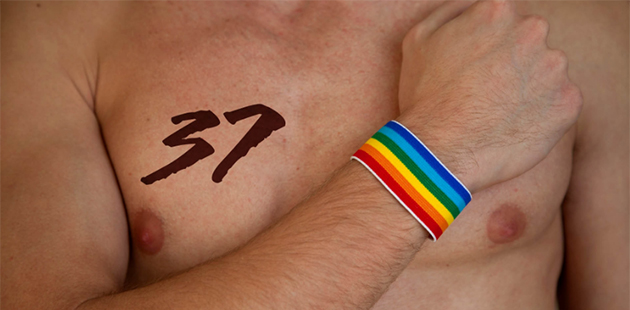 As the 2019 Sydney Gay and Lesbian Mardi Gras Festival heads into its second week with a 'fearless' arts program that features an exciting mix of local and international queer performance, theatre, music, dance, burlesque, and cabaret, the Australian Pride Network takes a look at some of the offerings worth checking out:
37 Ways To Say I'm Gay
Limelight on Oxford: continues to 9 March
From award-winning playwright, Wayne Tunks, these are stories of coming out – 37 different ways. From prehistoric to futuristic, from America to Australia, from city to county and from comedy to drama, these are stories with heart. A young gay man's suicide is covered up, an 'are they or aren't they' boy band, a wedding ceremony that will end badly and a boy ready to confess his sexuality to his whole school… These are just a few of the coming out tales in this heartwarming collection.
The Butch Monologues
Seymour Centre: 23 February – 1 March
Based on the true stories of butch-identified women living in the UK, Europe, USA, Caribbean and now Australia, this work offers fresh language and intonation on butch beginnings, butch desire and desirability, butch bravado and vulnerability, butch-on-femme sex, butch-on-butch sex, switches, stones, butch as a trap, the butch body, violence, heroes and clothing.
Club Briefs
Seymour Centre: continues to 1 March
Australia's favourite trash glamour disco circus is coming back to town for Mardi Gras Cult cabaret hooligans and mischief-makers. Briefs present a wild romp of disco dancing, circus, variety, and burlesque featuring a hand-picked selection of guests from across the world of queer cabaret. Expect a pumping soundtrack with your favourite dance floor smashes and ridiculous performances from the Briefs boys plus a cavalcade of hand-selected guest cabaret and circus artists. Stomp it out on the catwalk, dance until late, laugh until you ache and experience the club night that spawned the international touring sensation Briefs.
Comedy Kiki: Queer Comedy Festival
Eternity Playhouse: 27 February – 1 March
In this special three-day event, Darlinghurst Theatre Company invited some of Australia's most positive voices in the LGBTQI+ community for a giggle and a kiki including Jordan Raskopoulos (27 February), Fat Musicals with Maeve Marsden & Libby Wood (28 February) and Rhys Nicholson (1 March). Before laughing your chops off in the upstairs theatre for Comedy Kiki – join us at 6.00pm for a hilarious game of bingo, hosted by Australia's favourite nanas (and Melbourne International Comedy Festival 2017 Golden Gibbo award winners), Edith Vale & Maureen McGillicuddy. Served with a delectable high tea (a.k.a supper), come solo, or with friends for a night of bingo you won't ever forget.
Confessions of a Mormon Boy
Giant Dwarf: continues to 1 March
This transformational true story of extremes – from perfect Mormon Boy in Utah to perfect Rent Boy in Manhattan – is told with humour, song, and unflinching honesty as outcast Oxy-Mormon and Outer Critics Circle Award Nominee, Steven Fales, ultimately finds a middle ground and learns what it means to finally come home. Based on original off-Broadway direction by Tony Award-winner Jack Hofsiss (The Elephant Man), this critically acclaimed solo play has educated and entertained audiences across the US and around the world. After conversion therapy, excommunication, divorce, prostitution and drugs, an exiled sixth-generation Latter Gay Saint reclaims his kids and Donny Osmond smile.
Jen Der Unpacks
The Factory Theatre: Friday 1 March
In a desperate need to shake off the mundane and sashay the hell outta Melbourne, Jen Der reaches out to the higher realm and manifests her ultimate plan for escape. As Jen Der packs up her life, she needs to unpack her emotional baggage first, such as the patriarchy, and that niggling little voice in her head that keeps telling her "she can't". With her raw heart on a gorgeous sequined sleeve, an anthem worthy soundtrack attached, Jen Der lip-syncs, body rolls and delivers comedic gold. Solo performance from Kat Mroz about the inner conflict she is having with what could be the greatest thing that has ever happened in her life. Jen Der is a powerhouse drag performer you'll need to see to believe.
The Moors
Seymour Centre: continues to 1 March
A hyper-theatrical and kinky homage to the Bronte?s; this play is about female power and what it is to write your own story. Two sisters and a dog live on the bleak English moors, and dream of love, power and notoriety. The arrival of a governess, the pointed schemes of a scullery maid, and the musings of a moorhen set this odd assembly on a strange and dangerous path. A cleverly crafted black comedy about love, desperation, and visibility, The Moors is a brilliant new work by Jen Silverman – a fresh new voice who takes chances. From the company who made The Trouble with Harry – this is a play of subversive edginess toppling the male-oppressed milieus of the Bronte?s and taking strong, passionate female characters to new heights.
My Night with Reg
New Theatre: continues to 9 March
At Guy's London flat, old friends and new gather to party through the night. This is the summer of 1983, and for Guy and his circle the world is about to change forever. The story follows these men over several years, through the ups-and-downs of their lives and relationships, and the chain of deception set off by the promiscuous and dangerously attractive Reg. Kevin Elyot's bittersweet award-winning modern classic captures the fragility of happiness and of life itself. Its compassionate and honest portrayal of friendship, longing and betrayal is full of truth, deeply moving, and brimming with laughs.
Queer Art After Hours
Art Gallery of New South Wales: Wednesday 27 February
Now in its third year, Queer Art After Hours returns in 2019 with a sparkling line-up of art, music, performance and much more. Experience the Art Gallery of New South Wales after the sun goes down with some of Australia's best queer creatives bringing the art to life both on and off the walls. Featuring pop-up bars, tongue-in-cheek art tours, hands on workshops, live music, queer art history stories and your last chance to see the major exhibition Masters of modern art from the Hermitage, this is one fabulous night not to be missed.
The Things I could Never Tell Steven
Limelight on Oxford: continues to 2 March
With music and lyrics by Australian Composer/Lyricist, Jye Bryant – The Things I Could Never Tell Steven is a one-act musical for four people. Although we never meet Steven, we learn all about him from disclosures of four people in his life: his Wife, Mother, Father and Ex-Boyfriend. The characters share intimate details about their life with Steven and the things they struggle to tell him. Each having to come to terms with hidden feelings of betrayal, anguish, frustration and fear, we learn about Steven and the secret that will tear the family apart.
Trevor Ashley's Mardi Gala
Concert Hall – Sydney Opera House: Sunday 24 February
Bigger, better and dare we say, Gayer than ever, Trevor Ashley's Mardi Gala returns to the Concert Hall for one fabulous night only.  Live onstage with a 12 piece orchestra, this variety gala is jam-packed with surprises, laughs and power ballads, that will have everyone on their feet. Joining Trevor Ashley is the smooth vocal stylings of Hugh Sheridan, the deliciously camp Rhonda Burchmore, the electrifying Tim Campbell, the acerbic wit of Tom Ballard, Oxford St legends Shauna Jensen and Minnie Cooper, and more surprises! Right after the show, the Northern Foyers play host to the best party in Sydney with breathtaking views in a sunset soiree like no other, sparkling with the sounds of DJ Victoria Anthony.
2019 Sydney Gay and Lesbian Mardi Gras Parade
Oxford and Flinders Streets: Saturday 2 March
Building on four decades of powerful protest and LGBTQI celebration, the annual Sydney Gay and Lesbian Mardi Gras Parade is a bustling extravaganza that brings Sydney to a standstill and shines a global spotlight on LGBTQI lives, culture, communities and creativity. With spectacular floats, thousands of participants, a veritable smorgasbord of glittering colour and dynamic shape, the parade showcases the glitz and glamour of our community. Drag Queens, Dykes on Bikes, Sydney Lifesavers, community heroes and much much more, come together to produce what has become the parade that stops the nation. Expect colour, expect life, expect huge crowds of excited parade viewers lining the streets – arrive early to secure a good spot!
The 2019 Sydney Gay and Lesbian Mardi Gras Festival continues to 3 March. For more information and full program, visit: www.mardigras.org.au for details.
Image: 37 Ways To Say I'm Gay (supplied)