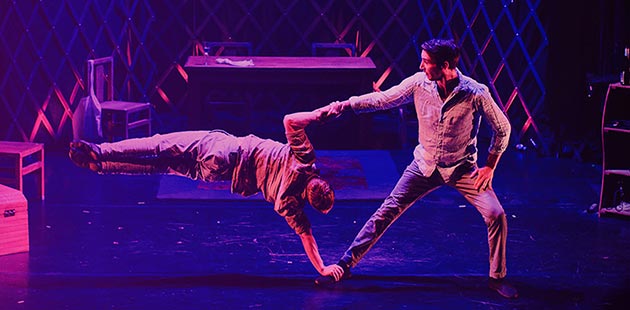 Hosting over 500 performances of 84 shows, involving more 1000 artists from around the world, Brisbane Festival has shone its spotlight on a packed program that will set the city alight throughout September.
"This year's Brisbane Festival is, without doubt, the most adventurous we've ever undertaken," said Artistic Director, David Berthold. "The Festival has matured enormously in recent years, and we thought the time had come to shift the goalposts."
"Within the overarching themes of Revels, Revelations and Romances are huge productions revealing microscopic insights into the world, and small shows posing some of life's biggest questions," he added.
With so much on offer, the Australian Pride Network takes a look at ten shows worth checking out at this year's Brisbane Festival:
1000 Doors
Treasury Brisbane Arcadia: continues to 28 September
From the masterminds behind last year's Festival hit House of Mirrors comes a new invitation to lose yourself and find something else in the process. A door is a beginning and an end, a promise and a warning. What waits on the other side is limited only by the imagination and decided only by an action. Step across the threshold.
A seemingly endless series of doors, screens, portals and gateways give way to the many in-between spaces humanity has invented to fill the void – passageways and parlours and vestibules and holding pens – each haunted by the lingering traces of past inhabitants.
Will you feel like a time-traveller waltzing across eras as you pass through each door? Or one of the very ghosts these doors seem to summon? Every entrance into this house of possibility will begin at the same door, but no two visitors will leave the same as they entered.
Swing On This
The Courier-Mail Spiegeltent: continues to 11 September
Get ready to swoon as four of Australia's leading stage and screen stars unite in true 'Rat Pack' style for a new kind of Bris-Vegas. Audiences will get a kick out of timeless hits such as Feeling Good, Mack the Knife, New York, New York and My Way, recapturing a bygone era, with liberal dashes of contemporary charm and cheeky irreverence. Featuring a live swing band, this is a scorching-hot show that's set to get your toes tapping.
Michael Falzon (We Will Rock You, Evita), Brisbane's own Luke Kennedy (runner-up The Voice Australia 2013, The Ten Tenors), Matt Lee (So You Think You Can Dance, Mary Poppins) and Ben Mingay (Wonderland, Hacksaw Ridge) will deliver a modern and audacious take on all-time swing classics from Sinatra and Bublé, to rock and pop hits from Farnham, INXS and The Proclaimers.
Briefs: Close Encounters
Playhouse – QPAC: 11 – 15 September
From their warehouse party origins in Brisbane's West End, all the way to slaying the glittering stages of London's West End, the Briefs boys are back in town with a sci-fi spectacle of flirty, filthy fabulousness.
Close Encounters features Briefs' heart-stopping blend of cabaret burlesque, comic caper, dazzling drag, and jaw-dropping circus. Expect interstellar aerial feats and warp-speed strippers from outer space as they push the boundaries of artistry, masculinity and decency.
This glory of intergalactic glamour is the third instalment from Briefs, and lands at Brisbane Festival having well and truly glitter-bombed the globe. Prepare yourselves for a close encounter with the Briefs boys.
Fire Gardens
City Botanic Gardens: 11 – 14 September
For more than 20 years, French artists Compagnie Carabosse (FRA) have been putting landmarks around the world to the torch from Stonehenge to the Kremlin. Now, over four nights, these luminary alchemists will transform the City Botanic Gardens into a dreamscape of mystery and revelation.
Huge spheres of leaping flames, sculptures that flicker and dance, fiery urns that cause shadows to play, and a soundtrack every bit as brilliant as the garden itself – making your way through this wondrous and maze-like garden will inspire awe and reverence in equal measure. Fire Gardens is an otherworldly experience to spark your imagination, touch your heart and fill up your senses.
Communal Table
The Joinery: 18 – 21 September
Arrive as strangers and leave as friends. Join eight extraordinary performers and 88 guests over a three-course meal in an evening for the adventurous and the curious. This world premiere from Dancenorth, Australia's powerhouse dance company that gave us the multi-award-winning Attractor (2017) and last year's exquisite Dust, sets out to illuminate the most basic of human desires through the sharing of four fundamental ingredients – food, wine, conversation and dancing.
This multi-sensorial work has been created by Dancenorth's Artistic Director Kyle Page and Associate Artistic Director Amber Haines, and features choreography by eight of Australia's leading dancemakers, in collaboration with John Armstrong, Global Philosopher-in-Chief of The School of Life.
I'm a Phoenix, Bitch
Playhouse – QPAC: 18 – 21 September
One of the UK's most significant performance-makers, Bryony Kimmings, returns to Brisbane following her sold-out season of Fake it 'til you Make it (2015). I'm a Phoenix, Bitch is Bryony's masterpiece about motherhood, heartbreak and finding inner strength. She combines personal stories with epic film and original pop songs, in a powerful, dark and joyous tour de force.
In 2016, Bryony nearly drowned. Postnatal breakdowns, an imploding relationship and an extremely sick child left her sitting beneath the waves hoping she could slowly turn to shell. Three years later and she is able to deal with life again. Who do we become after trauma? How do we turn pain into power? How do we fly instead of drown? Tonight, a new legend will be created – an invincible and fearless woman.
Cassie Workman: Giantess
Theatre Republic – La Boite Studio: 24 – 28 September
After being abducted by a troll, a girl must realise her destiny – and escape. What lies beyond his kingdom is a mystery, so she will need the strength of a giantess. Created by the multi-award-winning comedian Cassie Workman, Giantess is a story of self-acceptance. Interweaving music, comedy, storytelling and illustration, Cassie's one-person show explores the anguish of coming to terms with a gender identity that doesn't match your body.
Invisible Cities
24 – 28 September
Staged in a huge warehouse in Yeerongpilly, Invisible Cities is perhaps the most ambitious project ever presented by Brisbane Festival. Zenobia, a city of joy. Beersheba, a celestial city of gold. Isadora, a city of promise, seduction and desire. City by unseen city, the young explorer conjures from thin air a vast and spectacular empire – all for the benefit of its emperor, who may never get to see it for himself…
Invisible Cities brings together a global collective of daring artists directed by Leo Warner and encompassing world-leading digital and projection storytellers 59 Productions, writer Lolita Chakrabarti, American musicians A Winged Victory for the Sullen, famed Belgian choreographer Sidi Larbi Cherkaoui, and the full company of Rambert, one of the world's great dance companies.
You & I
Theatre Republic – The Block: 24 – 28 September
Brisbane's award-winning Casus Circus are back with their most daring and intimate work yet, You & I. This empowering explosion of skill and identity uses high-level acrobatics, trapeze, magic and dance to shine a light on how two men in love can relate without preconceived ideas of what they should be.
Casus's co-founders and real-life couple Jesse Scott and Lachlan McAulay's unashamedly authentic journey reveals a fresh narrative where gay stories are filled with conviction and acceptance.
Yang Liping's Rite of Spring
Playhouse – QPAC: 25 – 28 September
From China's superstar choreographer and dancer Yang Liping comes Rite of Spring, a new interpretation of Stravinsky's revolutionary ballet of sacrifice and renewal, and arguably the most influential piece of music of the 20th century.
Taking inspiration from Chinese and Tibetan symbols of nature, Yang Liping creates a preface and a coda framing Stravinsky's totemic work as the second of three sections – Incantation, Sacrifice and Renewal. Parts I and III feature a new musical score from Chinese composer He Xuntian, influenced by traditional Tibetan music.
In this radical Rite, the Chosen One willingly gives herself for the good of the community, journeying from terror and doubt to knowledge, empowerment and reincarnation.
The 2019 Brisbane Festival continues to 28 September. For more information, and full program, visit: www.brisbanefestival.com.au for details.
Image: You & I – courtesy of Casus Circus