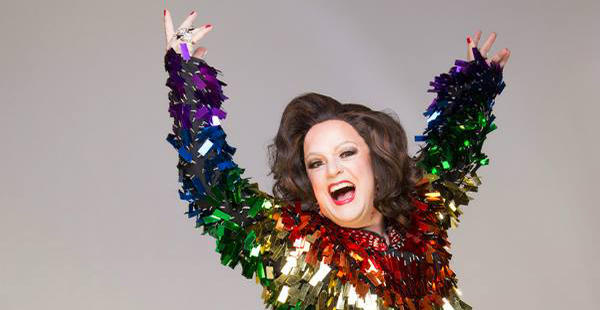 Australia's Queen of Cabaret, Dolly Diamond has taken the reins of this year's Melbourne Cabaret Festival bringing together ten Australian premiere shows along with some of the best new talent. Running from Tuesday 20 June until Sunday 2 July 2017, the eighth annual Melbourne Cabaret Festival returns to Chapel Off Chapel with two weeks of atmospheric, seductive and soul-stirring entertainment.
Hosted by Ms Diamond herself, the Opening Gala on Tuesday 20 June presents a dazzling night with highlights from shows from across the festival in one spectacular extravaganza. The 2017 Melbourne Cabaret Festival includes:
Australia's Boys of Motown
Wednesday 21 June –  Sunday 25 June
Australia's Boys of Motown is a modern twist on that distinct soul-pop sound that is Motown. Featuring Vincent Hooper, Richard Swanson & Barnaby Reiter, these boys blend the world's best known originals, covers and remakes of Motown, with current chart hits in one Motown inspired spectacle. Sing along to the music of Jackson 5, The Temptations, Frankie Valli & the Four Seasons to Bruno Mars.
Queen of Broadway – The Ethel Merman Story
Wednesday 21 June – Sunday 25 June
Jon Jackson, acclaimed Australian operatic counter-tenor recreates the life and times of Ethel Merman. Revisit the era and amazing songs of Cole Porter, the Gershwin's, Irving Berlin and even Amy Winehouse, as Miss Merman comes back to earth for one last show. However, first she has to find a body to inhabit. She sends out her wish list and ends up with Mr. Jon Jackson – he's got the presence and the voice, so his gender is something she's prepared to overlook.
Ginger and Tonic: For Love or Money
Wednesday 21 June – Sunday 25 June
After a lot of touring and a Green Room Award for Best Musical direction for Desperate and Dateless, the Ginger and Tonic girls are still struggling in love, but that's not going to stop them from being the awesome women that they are. They have big ideas – huge ideas – to make big bucks! Or do they…? Using their powerful voices and tight harmonies, this time the girls are pitching in more ways than one, hoping to find success in this dog-eat-dog world. Join Laura Burzacott, Rebecca Moore, Jane Patterson and Danielle O'Malley as they take you on a journey through their ambitions, from humble food dreams to embryo-freezing empires.
Woman
Saturday 24 June – Sunday 25 June
Opening a Pandora's Box of musical styles, provocative themes, and witty storytelling, Woman takes the audience on a thought provoking journey of self discovery and rebirth. Featuring Amanda Colliver, Ella Burns, Tess Branchflower, Jessica Sherman, and Ashlee Clement, the show opens on a random, sunny day where the four famous stereotypical princesses find themselves alone without their Princes, and therefore without the stories that define them.
Dolls by Babushka Cabaret
Saturday 24 June – Sunday 25 June
What did Ken and Barbie do when you weren't looking? Cabaret trio Babushka invites you to a very grown-up playdate! This crazed and cutesy cabaret is all about your first childhood BFF, but leave the kids at home. The angelic voices and demonic wit of Babushka runs wild as they nurse dolls, break dolls and become dolls in off-the-wall arrangements of everything from Garbage and Aqua to Guns 'n' Roses. Babushka is the Andrews Sisters vs Kate Bush with the chaos of Absolutely Fabulous. Prepare to be seduced, tickled and burped through a cheeky cabaret in the Babushka Dreamhouse. Batteries sold separately.
Put the Blame on Mame
Saturday 24 June – Sunday 25 June
Transcend time to an era of innuendo and titillation. Cabaret songstress Willow Sizer invites you to taste once again the exotic delights of a bygone era, where quips, witticisms and nuance thrilled audiences everywhere. The naughtiest songs dances and scenes of the 40s and 50s are remembered, dissected and recreated by diva Willow Sizer and her hot jazz trio. A homage to artists Marilyn Monroe, Eartha Kitt, Jane Russell, Rita Hayworth and Carmen Miranda.
You're My World – The Story of Cilla Black
Tuesday 27 June – Saturday 1 July
Fresh from a sold-out season with rave reviews at Perth Fringe, You're My World – The Cilla Black Story is a biographical cabaret full of the powerhouse vocals and self-deprecating humour that made Cilla Black one of the UK's most beloved performers. We meet the British Pop Icon and Television Personality at the peak of her popularity and reminiscing about her childhood in Liverpool, her meteoric rise to fame and sharing a few cheeky showbiz anecdotes about John, Paul, George, Ringo and her old mate Queen Elizabeth II. With beautiful arrangements of Cilla's greatest hits, songs include: Goin' Out of My Head, Alfie, Step Inside Love, Sing A Rainbow, Anyone Who Had A Heart and You're My World. Written and Performed by Danielle O'Malley. Musical Direction by Mark Jones with a line-up of piano, bass, and percussion.
Blue: The Songs of Joni Mitchell
Tuesday 27 June – Saturday 1 July
Renowned for her artful storytelling and raw, emotive vocals, cabaret chanteuse Queenie van de Zandt, returns to the cabaret stage with a brand-new show exploring the songs, stories and art of the musical legend that is Joni Mitchell. In Blue: The Songs of Joni Mitchell, Queenie, along with musical director Vicky Jacobs and a live band, explore her love of all things Joni – affectionately reinterpreting Joni Mitchell's melancholy music, and intimately revealing the stories behind some of her most haunting songs such as A Case of You, Both Sides Now and Little Green.
Cyrens – The Swingin' Songbook of Cy Coleman
Tuesday 27 June – Saturday 1 July
A musical revue celebrating the legendary Broadway composer and jazzman Cy Coleman, known for shows such as Sweet Charity, Barnum, On the Twentieth Century, The Life and City of Angels, but his musical roots were in the jazz world. Cy Coleman's songs are known for their sophistication and wit. Amanda Harrison (Wicked), Chelsea Renton-Gibb (Chicago) and Melissa Langton (The Fabulous Singlettes) are also known for their sophistication and wit – but more for singing loud and high and knowing how to sell the hell out of a song! Cyrens is performed with a four-piece band, some dangerously close three-part harmony, arrangements by Mark Jones and a few jokes and a dash of Bob Fosse.
Dolly Diamond: The Lady is a Tramp
Tuesday 27 June – Saturday 1 July
An autobiographical tell-all and celebration of the life of a hard-working and fearless woman, The Lady is a Tramp features tales of Dolly Diamond's life, loves and (alleged) lascivious behaviour this show features sensational new material and the incomparable Shanon Whitelock on piano. Like so many pioneering women before her Dolly refuses to be branded a 'scarlet woman' for simply embracing her sexuality or 'opinionated' for speaking her mind. This cabaret diva is making a loud and proud contribution in her lifetime and refuses to apologise for that.
It's Not Me It's Lou
Saturday 1 July – Sunday 2 July
Lou is a millennial. A perennial millennial if you will. Born in the nineties, raised in the norties she is part of generation described as "entitled, lazy and too connected to the internet." But who said that? Obvs not a millennial #amirite? Forget timeless. Be viral. Forget Friends. Get Followers. Forget love. Get likes. Inspired by Facebook, mentored by Instagram and guided by Snapchat this show sees Lou writing 8 songs derived from 8 real-life Facebook statuses. Come along for a wild time of living for a like and celebrating the gen that just can't seem to "adult".
Pisca
Saturday 1 July – Sunday 2 July
Pisca was born to be a duck. He's just not good at it. Through a combination of clowning, physical theatre, audience interaction, illusion and 'impeckable' timing, this show will duck dive deep into the exploration of Pisca's life, and his desperate search to find what he's good for. Waddle he do? Performed by Cameron Taylor.
Dolly Diamond's Closing Night Cabaret 
Sunday 2 July
A great way to see the festival out on Sunday 2 July with special guest appearances from Kane Alexander, Dean Arcuri, Anton Berezin, Teresa Borg, Michelle Brasier, Justin Clausen, Luke Gallagher, Chelsea Gibb, Josh Piterman, Cameron Thomas, Shanon Whitelock and Tash York.
The 2017 Melbourne Cabaret Festival runs Tuesday 20 June until Sunday 2 July. For more information, visit: www.melbournecabaret.com for details.
Image: Dolly Diamond (supplied)