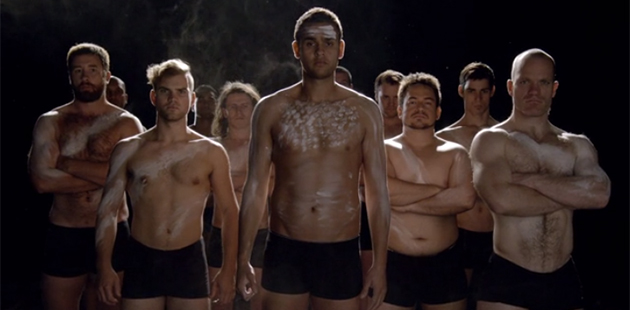 Adelaide's annual Feast Festival kicks off its 21st year this weekend with over 70 shows across a vast array of performing and visual arts events, walks and talks, film screenings, community events, queer forums and more. The Australian Pride Network takes a look at a few events worth checking out:
Bearskin III
Producers Hotel: Saturday 18 November
By popular demand, Bear Men of Adelaide (BMofA) present the third instalment of their sexy underwear party: Bearskin! Saturday night in Adelaide's East End, the adventurous will disrobe and party to the throbbing beats of interstate DJs Kam Shafaati & Mark Alsop. Featuring warehouse dance area and private beer garden; ticket includes secure cloakroom. Strict dress code applies!
Burlesque By Force
Nexus Arts: 15 – 18 November
Pre-lights, pre-music, pre-tease, a performer invites you to a raw pre-show catharsis of personal and political as he prepares to perform. Twisting genre and metaphor with themes of consent and sexuality, consider yourself trigger warned.
Body Map
Nexus Arts: Saturday 18 November
A fleshy trip down the Body Map strip as Australia's most celebrated queer performance artist Glitta Supernova guides you on an intimate fleshy foray through the parallel universes of 90s club culture & performative theatre. Red light surrealism bridging intimacy & objectification, in a sixty-minute physical freeway that won't be tarred for convenience. Experience the explosive iconoclastic visionary of tits & art.
The Duetaholics
Nexus Arts: 23 – 25 November
Looking to reignite your relationship? You need a one-on-one with entertainment's least-likely newlyweds Dean Arcuri and Miz Ima Starr! Trapped in a sexless marriage and loving every minute of it, these improbable belters reinvent the wedding reception as the ultimate gay celebration of song. Fresh from their all-singing all-dancing honeymoon in Vegas, The Duetaholics unveil their entirely unpatented recipe for everlasting marital bliss.
From the Sublime to the Ridiculous
Raj House: Wednesday 15 November
Gay male identities are explored in this collection of superb short films from what it means to be a gay Muslim to the escapades of a young man working in a sauna.
GALS
Migration Museum: continues to 1 December
In 1997 Jenny Scott recognised the value of Feast to Adelaide's LGBTIQ community. She desperately wanted to be part of the first Feast and presented an exhibition she titled GALS (Great Adelaide Lesbians). Her exhibition was held in Beans Bar. In this exhibition Jenny revisits the photos and honours the women who gave themselves to her camera.
The Ian Purcell Oration
Hetzel Theatre – State Library South Australia: Wednesday 15 November
Ian Purcell was a prominent advocate for the LGBTIQ community in SA who was known as the "Godfather of the Gay Community". He dedicated his life to fight discrimination against the LGBTIQ community. South Australian Rainbow Advocacy Alliance (SARAA) is proud to present the inaugural Ian Purcell Oration; Brighten up the corner where you are – named for one of Ian's favourite songs, the oration will be delivered by his long-time friend and co-activist Kenton Penley-Miller.
The New Masc
Oz Nightclub: 21 – 24 November
How does one identify as a man? What is the definition of masculine? How does it apply to our society? We meet four humans who challenge the mind and spirit and test their own versions of what defines them as men, as dancers, as artists. The New Masc is a genre defining dance work, challenging the typical stereotypes of masculinity.
Poetry Feast
Halifax Café: Saturday 25 November
A rare opportunity to enjoy four widely published South Australian lesbian poets reading their work: Miriel Lenore – whose sharp eye and wry humour explores the relationship between people and place, the environment and women; Ray Tyndale – performance poet whose books include Sappho at Sixty. Her current passion is writing illustrated haiku or haiga; Mij Tanith – reading from her epic poem about an inner-city community garden; and Rachel Manning – whose work is political, domestic, sometimes humorous, precisely crafted with a twist in the tail.
Sound Bath
Raj House: 19 – 20 November
Join Sound Sacred Resonance for a deep sound bath experience fusing live crystal & Tibetan bowls, cosmic synths & harmonic vocals. Sound baths are unique healing performances that create a space for you to let go, lay down and be washed over with waves of ancient sounds and harmonic tones; a peaceful mind-body-spirit experience taking you into relaxation & meditation.
When I was 21
Raj House: continues to 25 November
No 21st birthday is complete without a slideshow! Pick your own birthday soundtrack (using Spotify) and slideshow theme (using Instagram hashtags) before entering the birthday room. Bring some friends or take a selfie with a projected/virtual new acquaintance. This interactive multimedia installation allows you to explore collective memories, while creating new ones for the Feast archive.
Picnic in the Park
Pinky Flat: Sunday 26 November: 11.00am – 7.00pm
The sun's beaming down, the bird's are chirping – that means one thing… grab your friends, family and don't forget your dog. Kick back and relax at Feast's annual community picnic. There's something for everyone – stalls, tasty food and bars flowing with refreshments. The famous Dog Show is back along with the Tug of Peace presented by the Metropolitan Fire Service, live music to picnic by, novelty races, Kids Zone and some new surprises. HIT 107 DJs will be spinning the hits, plus DJ Lush plays Picnic out with your favourite 21st Birthday Party anthems.
The 2017 Feast Festival runs 11 – 23 November. For more information and full program, visit: www.feast.org.au for details.
Image: James Saunders (centre) stars in Clan (film still) – courtesy of Lavarch Productions