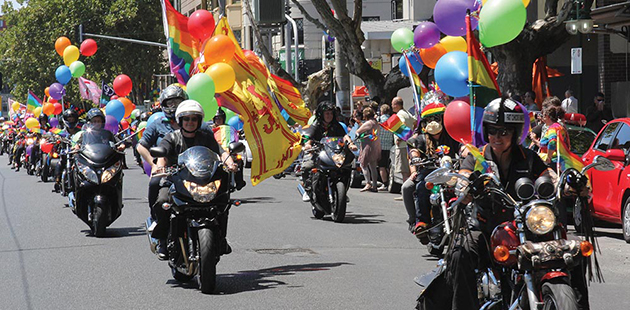 Now in it's 29th year, the Midsumma Festival is Melbourne's largest celebration of queer culture. With over 140 events held over a 3 week period – 2016 is ramping up to be one of the biggest yet! Australian Pride Network takes a look at some events worth checking out:
Beyond Priscilla: The Play
Gasworks Arts Park: 20 – 30 January 2016
In 2010, Daniel Witthaus spent 266 days driving around Australia on a journey to challenge and confront homophobia 'one cuppa at a time'. He met members, allies and opposers of the LGBT community, each with a story to tell. The tour was largely self-funded, at times lonely, and always emotional. So why would one man take on such an experience? It's time to answer this question. Beyond Priscilla: The Play sees Daniel's much acclaimed book take to the stage, bringing to life the stories of rural and regional Australians within and around the LGBTI community.
Butch Masters: Man of Destiny
The Alex Theatre, St. Kilda: 28 January – 6 February 2016
A new musical comedy that promises to deliver the happy ending Midsumma audiences deserve! Cast from a pool of out-and-proud professional and emerging musical theatre performers (and their female allies!), Butch Masters: Man of Destiny tells the story of Butch, a young straight man born into a gay world with a destiny to 'challenge the establishment' and start a sexual revolution! Set to an epic original soundtrack (unashamedly influenced by 80's power ballads and Disney musicals), Butch becomes the leader of the Female Appreciation Guild, taking his faghags on tour and confronting the ruler of the free-fertalisation movement, the maniacal villain(ess) Bea St. Lea.
Carlotta: Queen of the Cross
fortyfivedownstairs: 20 – 23 January 2016
Show girl royalty and Australian icon Carlotta takes us on a whirlwind journey through her amazing life on the stage. This legend of the feather fan will dazzle you with her talent and astonish you with her wit. Accompanied by Michael Griffiths on piano and a host of decadent gowns, celebrate 2016 Midsumma Champion – Carlotta.
Carnival and T Dance
Alexandra Gardens: Sunday 17 January 2016
Kicking off 3 weeks of Midsumma fun, more than 100,000 people are expected at this favourite opening event. Featuring 5 hours of free entertainment on the Main Stage with a great mix of festival favourites and emerging LGBTI talent; checkout the Team Melbourne Sporting Precinct; visit more than 130 community stalls and businesses in the Carnival Village; or watch the Dog Show. Then as the sun sets, dance the night away at T Dance – featuring a great line-up of DJ's.
Cartooning with Pride
DT's Hotel: 30 January 2016
Now in its 2nd year, come for some geeky fun at DTs Pub as the Cartooning with Pride Crew talk about how to promote and find new LGBTIQ comic and cartoon art, with plenty of giveaways and prizes! Speakers include Allain de Leon, Rat Simpson, Marc Huntington, Marco Ryan, Tom Saras and Jimmy Twin!
Elegy
Gasworks Arts Park: 19 January – 6 February 2016
Based on interviews with gay refugees and inspired by the work of award-winning photojournalist Bradley Secker, this Australian premiere journeys through a no-man's land of empty train stations, treacherous border crossings and bomb-blasted towns. Directed by John Kachoyan and featuring a powerhouse performance by Nick Simpson-Deeks, Elegy fuses intimate storytelling and visual poetry to lure you into a playful, theatrical and devastating world.
Frock Hudson's FURRLESQUE
The Melba Spiegeltent: 4 – 6 February 2016
Dean Arcuri introduces his queerer alter ego, Frock Hudson, as the rocking ringmaster of the hairiest high top in town. Strap on your heels, stick on some sequins and join Frock at the Melba Speigletent for FURRLESQUE – A bearlesque not to miss! Bigger is better and they don't come much bigger than the fearlessly flamboyant and fabulously furry Frock Hudson, debuting this Midsumma. With special guests including singing supernova Miz Ima Starr, you won't want to miss this saucy showstopper filled with colourful characters.
Liza's Back! (is broken)
Arts Centre Melbourne: 20 – 31 January 2016
There is no doubt about it. Liza Minnelli is a true Broadway legend. However, her appearances on the musical stage have been few and far between, and she's only ever sung in a couple of true movie musicals… So what would happen if Liza decided to perform all the great Broadway roles she never got to play, in one special night? Much-loved diva, and three-time Helpmann nominee Trevor Ashley, Liza's Back! (is broken) explores the parts that Minnelli should have done over the last forty years – those great leading lady roles from Mame to Grizabella to Norma Desmond and all others in between. Ever wanted to see Liza tackle Wicked? Then this is the show for you!
Meridian – The Midsumma Visual Art Exhibition 
fortyfivedownstairs: 19 – 30 January 2016
A curated element of the Midsumma programme, Meridian seeks to exhibit a valid cross-sectional voice of the queer and allied community through the open submission process and a diverse panel of curators involved in the selection process. Featured artists include: Kim Leutwyler, John Brooks, Matthew Burgess, Hans Van Hans, Casey Jenkins and Tricia Page.
Michael Griffiths: Cole
fortyfivedownstairs: 20 – 24 January 2016
Award winning cabaret performer Michael Griffiths explores the colourful life and timeless songs of Cole Porter including: You're The Top,It's De-Lovely, Let's Do It and Night And Day. Hedonism, grave misfortune, enduring love and a legacy that sparkles with wit and wisdom. Written by Anna Goldsworthy, Cole premiered at the 2015 Adelaide Cabaret Festival by invitation of Sir Barry Humphries.
Pride March
Fitzroy Street, St. Kilda: Sunday 31 January 2016
Celebrating its 21st Anniversary, Melbourne's iconic annual Pride March recognises and celebrates Victoria's gay, lesbian, bisexual, intersex and transgender community – while remembering the road we have already travelled on this journey to equality. Come and join over 100 groups and individuals as we march down Fitzroy Street with all the colour and excitement you have come to expect plus the added flavour of this special anniversary celebration.
The Girlie Show
La Mama: 20 – 30 January 2016
It's 1993 and Madonna is visiting Australia for the first time. For fans Jason, Mary, Sam, Natalie and Derek this is what they've been waiting for. While in line for tickets the five become inseparable, sharing friendship, love and an obsession for the Queen of pop. Loaded with the fashions and music of the 90s, Wayne Tunks latest offering, The Girlie Show is about coming out, rebelling and finding acceptance – a true pop culture playground!
The Measure of a Man
Gasworks Arts Park: 1 – 6 February 2016
The critically acclaimed queer artist, Gavin Roach, returns to Midsumma with the second instalment of his Anxiety Trilogy – The Measure of a Man. Following on from Gavin's hugely successful, I Can't Say The F Word, The Measure of a Man will lift the lid on Gavin's own fears and insecurities as he explores what it takes to be a gay man in this millennial age. Told in Gavin's humorous, raw and deeply candid style, The Measure of a Man will plunge deep into the heart of one man's sexual anxieties and dare to ask the question, "If you're a gay man who can't have sex, what worth do you have?"
Thrill Me: The Leopold & Loeb Story
Chapel Off Chapel: 20 – 31 January 2016
A chamber musical based on the exploits of the notorious 'thrill killer' duo of 1920s Chicago. The crimes of these wealthy young law students and lovers were also the basis for Hitchcock's Rope and Todd Haynes' Swoon. With book, music and lyrics by Stephen Dolginoff, and directed by Terence O'Connell, Thrill Me: The Leopold & Loeb Story features Vincent Hooper and Stephen Madsen.
Uncovered
Gasworks Arts Park: 27 – 30 January 2016
Follow the journey of one man over three nights as his greatest dreams, fears and desires are brought to reality by the denizens of this unique establishment. These characters will leave a mark on this man and will set his journey on a path he never thought he'd have the courage to walk. Uncovered is an exploration and celebration of coming out and sexuality in its many forms that doesn't take itself too seriously and definitely isn't afraid to get a little steamy. Set to a soundtrack of unusual cover versions of your favourite songs, this exhilarating new circus show uncovers memories of first time encounters and sensual moments, while thrilling with first class contemporary circus.
Word is Out 2016
Hares & Hyenas: 18 January – 7 February 2016
Writers, performers, comedians and speakers come together for in a one-stop diorama of twisted cabaret, off-beat comedy, spicy spoken word, dynamic discussion, launches, exhibition, bent books and potent performance. Tim McKew, Kaye Sera, Lisa-Skye, Daniel-Ryan Spaulding, Sabina Knox, Queenie Bon Bon, Jules Wilkinson, Jax Jacki Brown, Quinn Eades, Kath Duncan, C.S. Pacat and Clementine Ford are just some of the out-of-the-box creatives we have in store for you. Rapid Fire and Quippings return, along with discussion and social events by the Australian LGBTIQ Multicultural Council, Rainbow Families Council, Queer Greens Victoria, and the launch of Quartz Queer Arts Zine.
The 2016 Midsumma Festival runs: 17 January – 7 February. For more information, visit: www.midsumma.org.au for details.
Image: Dykes on Bikes at Pride March