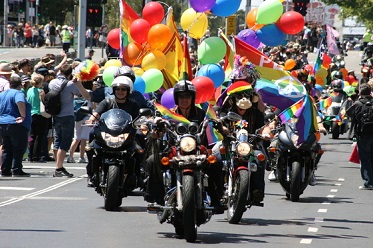 Footballer Jason Ball, contestants from Miss Gay & Miss Transsexual Australia 2014, the Australian Same Sex Dancesport Championships and even Melbourne's beloved trams are all getting frocked up for the 2014 Midsumma Festival.
The 26th Midsumma Festival will run between Sunday 12 January and Sunday 2 February 2014, with the 2014 program featuring 131 events across 87 venues spanning exhibitions, performing arts, live music, film, literature and community events. We take a look at some of the 'must see' events of the festival.
Midsumma Carnival
Alexandra Gardens, Melbourne: Sunday 12 January 2014
Carnival officially opens the festival with a free day of entertainment, glitz and colour at Alexandra Gardens. To be opened by Victorian Premier Denis Napthine, carnival will include more than 100 stall holders, seven hours of entertainment and the new Beyond Blue Sporting precinct. Carnival ends with T-dance, which is also free this year.
Thank You For Being A Friend
Theatre Works, St Kilda: 9 – 18 January 2014
The ultimate Golden Girls experience with Dorothy, Sophia, Rose and Blanche delivering all the classic dialogue, razor sharp gags and taboo-breaking stories you'd expect.
Inquisitarium
Gallery, 1 Spring St, Melbourne: 14 – 31 January 2014
Enter the world of the Inquisitarium where thoughts wander and minds are lost. We all seek to belong in life and strive to be treated as equal. But it is only through our minds, as unique and fragile as they are, that we can truly be ourselves. Artists include: Garrett Hughes, Illma Gore, Jimmy Twin, Kim Leutwyler, Lincoln Glover, Polina Outkina, Steven Granger and Yasmin Yusuf Les.
Oprahfication
Chapel off Chapel, Prahran: 15 -19 January 2014
Is Oprah a talk-show queen or a cabaret goddess? This multi-award winning cabaret is brought to you by Rachel Dunham in her portrayal of the American talk-show queen, coupled with an original score by Shanon Whitelock, guarantees to have you screaming for more.
The Vaudevillians starring Jinkx Monsoon
The GH Hotel, St Kilda: 15 – 19 January 2014
The hottest act ever frozen alive has returned from the 1920′s to reclaim their original hits! RuPaul's Drag Race reigning queen – Jinkx Monsoon makes her Australian debut in The Vaudevillians with co-star Major Scales.
The Temperamentals
Brunswick Mechanics Institute Performing Arts Centre: 17 January – 1 February 2014
Chronicles the genesis of The Mattachine Society (one of the first homosexual societies in the US) as well as the love affair between two of its founding members, activist Harry Hay and well known fashion designer Rudi Gernreich. Set to the backdrop of 1950?s Los Angeles, the struggle, bravery, risk, sacrifice and passion  of Gay history is brought to life in a fascinating and utterly human way.
Rebel
The Butterfly Club, Melbourne: 21 – 26 January 2014
Drew Downing performs as fictitious 60s rock star, Rebel, exposing his life of affairs with the likes of Rock Hudson and James Dean. Supported by his band, Rebel recalls his life as a rock star and the  closeted lifestyles of those around him in the original era of 'don't ask; don't tell'.
Standing On Ceremony: The Gay Marriage Plays
Chapel off Chapel, Prahran: 22 January – 9 February 2014
The Australian premiere of eight short plays from top Broadway playwrights. Featuring Pia Miranda and Spencer McLaren, each of the plays gives a different spin on gay marriage – from witty, to warm to wacky.
Everything I Know I Learnt From Madonna
La Mama Theatre, Carlton: 22 January – 2 February 2014
After selling out La Mama with last year's Midsumma hit, Fag Boy & The Married Guy, acclaimed dramatist and actor Wayne Tunks is returning to La Mama with his most personal story to date, his own. Detailing his life-long love affair with Madonna, Everything I Know I Learnt From Madonna examines Wayne's theory that he can relate every important life moment to a Madonna lyric.
Caravan Burlesque
The Substation, Newport: 24 January – 1 February 2014
The legendary, genre-busting, globally-acclaimed seductive and subversive cult-hit storms into Newport direct from Paris & the Pilbara, Buenos Aires & Ballarat! And this time we unleash the wild in the west! Moira Finucane and her emporium fuses Parisian nightclub with jaw-dropping cabaret, sultry songs, undressing sirens and hula-hooping madness.
Without me, I'm nothing
Revolt Artspace, Kensington: 27 January – 2 February 2014
Jonathan Duffy is an accomplished actor; stand up comic and award-winning filmmaker. He is also painfully aware that most people have no idea who he is.  Give him one hour and he hopes to change that. With the help of a few friends, some well-crafted jokes and a bit of song and dance, he is sure you will never forget him.
Diamonds are for Trevor
Playhouse – Arts Centre Melbourne: 28 January – 2 February 2014
Trevor Ashley celebrates the musical legacy of one of the world's most acclaimed concert artists, Dame Shirley Bassey – a stunning evening of song and storytelling, accompanied by a 14-piece orchestra, in a spectacular, over-the-top concert extravaganza.
Pride March
Fitzroy St, St Kilda: Sunday 2 February
Victoria's GLBTI community and their supporters come together to march as one down Fitzroy St, St Kilda in a show of support that celebrates the community's future and commemorates its past. Pride March is the official closing event of Midsumma.
For more information, visit: www.midsumma.org.au for details.
Image: Pride March 2013 by Deanus