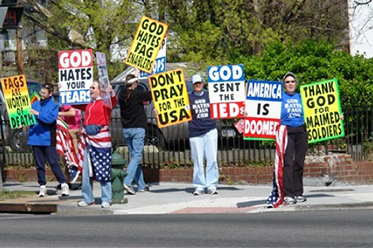 Margaret River Senior High School students preparing to perform The Laramie Project are firmly in the sights of the Westboro Baptist Church (WBC).
The Laramie Project depicts a gay American high school student, Matthew Shepard, who was bashed to death over his sexuality in the late 90s.
An article about the play alerted the WBC, who then began using Twitter to warn that they would preach their offensive mantra at the school's performance.
"WBC to preach God H8s Fags @ the Margaret River Senior High School — the land of the damned down under," several members of the Church tweeted to their followers.
Students at the school were pleased they had attracted the controversial Church's attention and said they must be doing something right if the WBC did not like it, with one student thanking WBC for promoting their show
"Yes [the students] are quite excited they've generated a response," said Margaret River Senior High School arts teacher Mem McCormack. "They have had an emotional response but they feel quite empowered by it – they feel they are doing something right."
Andrew Host , the school's principal laughed and said he was proud to hear of the students' response. "We're a school that promotes social tolerance," Mr Host said. "It's a challenging text and I'm sure they will do an outstanding job of performing it."
The Westboro Baptist Church is one of the most controversial and prolific hate groups in America, well known for their 'God Hates Fags' catchcry, and their picketing at the funerals of soldiers and rock concerts.
The death last week of the groups leader founder, the Reverend Fred Phelps has not seem to have curtailed their protests, after they picketed a recent performance by singer Lorde.
The Laramie Project will be performed in Margaret River on Tuesday 1 April before travelling to Busselton to perform for fellow students.
Image: Westboro Baptist Church at a protest in the US