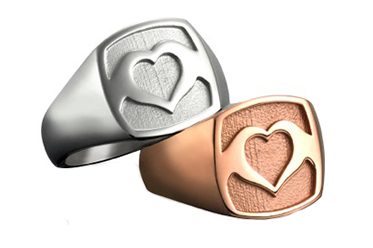 Designed to be an heirloom piece of jewellery, the recently launched Australian Marriage Equality ring is crafted with love and made here in Australia by award winning jewellery designer Nadia Neuman, Creative Director of Mondial.
"As a group, Mondial has always been very supportive of equal marriage rights and we have a cherished and growing customer base from the LGBT community. We are naturally, very excited to play a part in this amazing initiative," says Neuman.
"Jewellery often holds a sentimental meaning and I would like those who purchase an Australian Marriage Equality ring to be able to look at it in years to come and be reminded they contributed to marriage equality in Australia becoming a reality."
Sydney MP Alex Greenwich, an avid campaigner for Australian Marriage Equality supports the heartfelt project. "This ring provides marriage equality supporters with a meaningful way to express their support for this important reform. It is a wonderful symbol of love and commitment." says Greenwich.
The Australian Marriage Equality ring is available in a variety of finishes and is exclusively available for sale online and at Mondial's two Sydney boutiques. All profits made from the sale of the ring will be donated to Australian Marriage Equality and contribute toward continued lobbying and education of equal marriage rights in Australia.
For more information about the Australian Marriage Equality ring, visit: www.eternalbymondial.com.au for details.