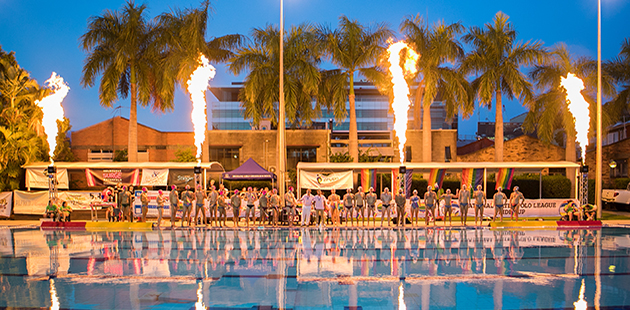 It was one of the highlights of the Australian Water Polo League in 2017 and this year, the Pride Cup is returning to Brisbane bigger and better than before. In its third year, the 2018 edition will feature local rivals, the Brisbane Barracudas and the Queensland Breakers with both the men's and women's teams competing for the Pride Cup.
In addition to the Pride Cup, two All-Stars teams will feature in the Pride Shield Inclusive match and will comprise of athletes from all four of Australia's LGBTIQ clubs* and representatives from the Barracudas and Breakers. These mixed teams will drive home the message that sport is for everyone.
"Last year's Pride matches were one of the highlights of the water polo year," said Jeremy Archer, Board Member for Diversity and Marketing, Water Polo Queensland. "Supporters, athletes, family and friends were able to watch three competitive games. But more importantly, we got to see athletes of various skills levels, gender and identity play on the same team, in the same pool as two national league teams, which reinforced that message of equality and inclusion."
Led by Brisbane Tritons coach and winner of the Australian LGBTI Inclusion Coach of the Year, Damien Hicks, the All-Stars teams will be bolstered by two of Australia's most decorated athletes, Katie Gynther and Bronwen Knox. The Olympic bronze medalists will cap up for each of the All-Star teams, which will be announced in the coming weeks.
The Pride Cup is an opportunity to champion and celebrate equality and inclusion. The event also provides the chance to raise awareness and donations for the Brisbane Tritons' chosen charity, Beyond Blue. Proceeds from the entry fee and the special edition Delfina Swimwear Pride Cup swimsuits will be donated to Beyond Blue.
"We're delighted to be able to host the Pride Cup again in 2018 as part of our ongoing commitment to making our sport inclusive for all," said Robert Donaghue, Chief Executive Officer, Water Polo Queensland. "Water Polo is a sport that can be played no matter your background, sexuality, race, gender or religion. We will always support initiatives like the Pride Shield Inclusive match and continue to work with all our clubs, schools and associations in creating an environment we everyone feels welcome and valued."
The Pride Cup was created by Water Polo Victoria in partnership with the Victoria Seals and the Melbourne Surge in 2016. Held during Melbourne's Midsumma Festival, the first Pride Cup was played between two Australian Water Polo League sides, the Victorian Seals and the Queensland Breakers. The event won the Inclusive Sports Initiative at the Australian LGBTI Inclusion Awards in 2017.
The Pride Cup and Pride Shield matches will take place during Round Eight of the Australian Water Polo League on Saturday 24 March at the Valley Pool, Brisbane from 5:30pm. For more information, visit: www.waterpoloqld.com.au for details.
Image: Water Polo Pride Cup (supplied)